My
Punk Rock Gift Exchange
secret pal sent me three
skeins
of this beautiful Sirdar cotton Indigo denim. It has a gorgeous sheen to it and is extremely soft and silky. I decided to try making a decorative tea towel using the Cascading Leaves pattern in Debbie Bliss'
How to Knit
.
I found the Lace Edging pattern in the book as well. It's just a 16-row repeat where you cast on 5 stitches, add one stitch every row, then bind off 8 at the end and start over (so it's sort of knit on the diagonal).
I can't wait to see how this looks after it's washed. It should fade like jeans!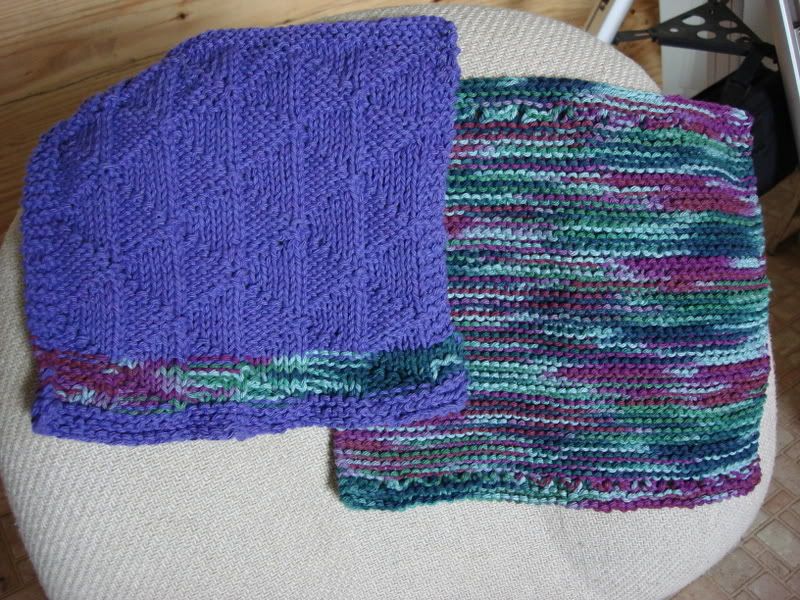 As you know, I'm having a love affair with Peaches'n'Creme. I still can't stop with the warshrags. The one on the left is a pattern called
Flying Geese
that I really like. It reminds me a little of a quilt.
I've finished knitting both halves of the Tsuki silk/mohair
shrug
. I just need to seam them together. So far it looks like it'll fit; I'm just a little nervous about the seaming bit. And the blocking bit. But just in time, the new KnitPicks catalogue has directions for blocking lace...