Shrug It off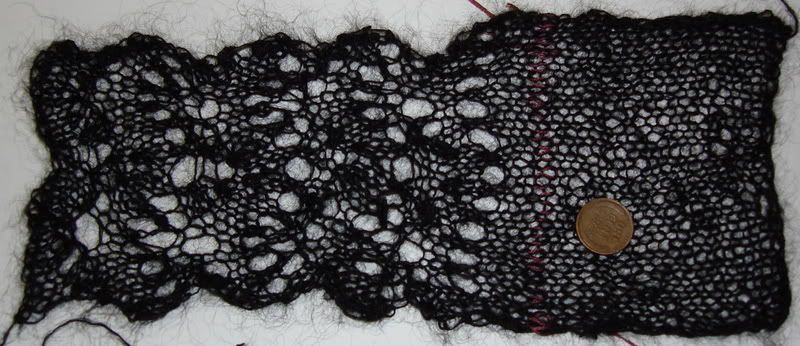 So here's a swatch for the shrug I've been knitting. I'm using this lovely, seemingly microscopic black silk/mohair called
Tsuki Tokyo
.
As you can see, I had far more success with it in stockinette stitch than while trying to manipulate it into lace with my very rudimentary lace skills. (Fortunately, upon showing Mr. O'Kitten said swatch, he pointed this out to me--and long before I bothered slaving away over an entire garment made out of shabby lace. All in all I think the stockinette looks really nice. Not that I was terribly delighted to hear this after hours of swatching, but better then than after knitting up half a shrug.)
Despite all the tugging, yanking, and general abuse I wreaked on this poor yarn, it hasn't yet broken. Not even once! So it's amazingly strong (thank goodness). You can see how unbelieveably fine it is—the colored strand in the photo above is a bit of embroidery floss I used to mark a row.

I decided to use
this shrug pattern
, but I'm only putting a few lace rounds at the bottom of the sleeves, and the rest is in stockinette. Since I took the photo, I've reached the halfway point. So far so good, except that the lace is sort of sloppy, but oh well. The Tsuki is feathery light and so soft—it came in a surprise package last fall from my friend
Purly Brites
. It also feels like it'll be surprisingly warm.
Velvet Smoothy
Yes, one more coat from
the collection
. I couldn't resist showing off yet another of my vintage jackets. This one has the loveliest satiny cuffs, collar, and covered buttons to match. The bustier was a gift from Mr. O'Kitten (yes, we love him!).