I promised details of the contents of the second package I received from my super-fantastic
PRGE
secret pal, who I now know to be none other than
motherofallneedles
. What a goddess!
The basket she knit and felted from yarn she dyed herself isn't in the photo, because it was already on display in a very special place in the living room.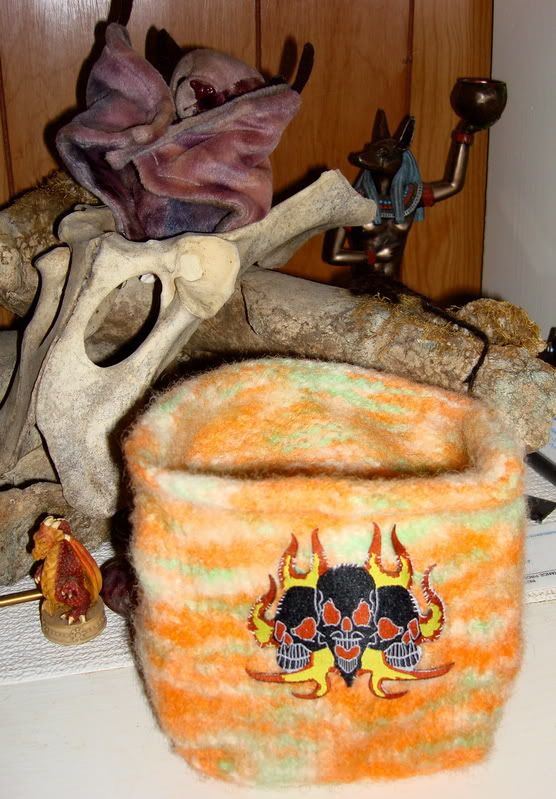 I found the package upon my return from the airport, where I had just dropped Mr. O'Kitten off--he's currenly visiting NYC for a week. Once again, perfect timing!
In her reveal she even sent a gorgeous photo of herself and her daughter PLUS a special surprise for Mr. O'Kitten. Two English lavender sachets (imagine how the box smelled, mmm!), a huge skein of new wool Conwy yarn in an amazing olive shade called "Celtic", and four really fun sparkly balls of "Zip"--I'm thinking these would make a cute summer top.
And check out the yarn tote! With a house full of cats I try to keep each of my knitting projects in a separate bag (needles, pattern, notions, and yarn)--so now I'm finally transfering them from ziplocks and knotted plastic grocery sacks (which cats and needles tend to eat through in short order) into
real
bags. And this one has a cat-proof zipper, no less!
She's such a sweety i can't even believe it. It's been a challenging couple months for me and having such a great SP has been a wonderful thing.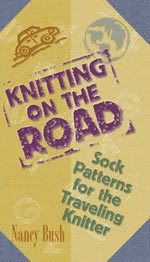 Now that y'all have gotten me addicted to knitting socks (oh, you know who you are), I've been searching high and low for good sock patterns. And look what Alison sent:
Knitting on the Road: Sock Patterns for the Traveling Knitter
.
It's full of amazing patterns, and now that I have those beautiful skeins of KPPPM and the Conwy wool I can't wait to dig into it. In the top photo you can see that I've picked out the first pair I want to try (unless I change my mind, lol). What a cool book--there's even a pair from Michigan.
What a great week. Well, I must begin to knit and put some of these goodies to good use...