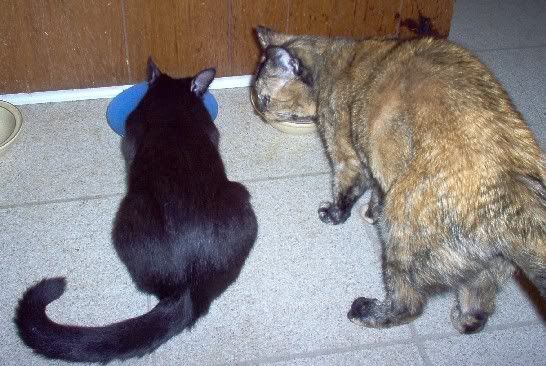 With all the pet food furor going on, a few people have mentioned that they're thinking of preparing food for their cats. If you can, you should! It's cheaper, it's better for them, and for goodness sakes, you know what's in it.
I started cooking for my cats in 1997 because I had an FIV-positive cat.
I can't recommend Richard Pitcairn's "
Natural Health for Dogs and Cats
" book highly enough. I've been using his recipes faithfully for ten years. (I also posted about it
previously
; you can get it used on Amazon for less than a dollar.)
It took a little while to get in the habit of cooking for the critters but now I'm convinced it's actually cheaper that commercial food, not to mention better for the fur babies. For convenience, I make large batches of food and simply freeze it.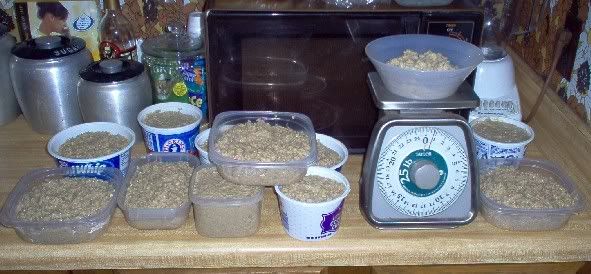 I generally stick to ground turkey (turkeys are less heavily farmed than chickens), ground beef, and canned fish. I do worry a bit about the salt content in the canned tuna, mackerel, and salmon that I buy (I used to rinse it) BUT at least I know what "salt" is. (I get dizzy just looking at the labels on canned cat food.)
The Pitcairn recipes add meat/fish and eggs as the protein source to hot grains (I generally use cornmeal or oatmeal since they cook quickly and are inexpensive), so this isn't a raw or BARF diet. I add calcium in the form of ground eggshells -- I simply wash and save eggshells and grind them in a spice grinder.
For vitamin A, I use cod liver oil (important--get the UNFLAVORED kind!). You will need to add a little nutritional yeast (which cats seem to love), powdered kelp, lecithin, and vitamin C powder--all of which are available in the bulk aisle [and cheapest that way] at Whole Foods or your health food store. You'll also need a little vitamin E and taurine capsules (health food store again). Canola and wheat germ oil are nice for the necessary oils, but you can simply use butter.
Once you get the ingredients you're all set for quite awhile. With three cats, I restock on the nutritionals maybe every four months or so. And when I decided to prepare a diet for the cats, I wanted to make sure it was a
balanced
one, because the vets and pet food manufacturers want you to believe that you can't possibly make a healthful diet for your cats at home. (Not true...in fact, they could find one for themselves in the barn.)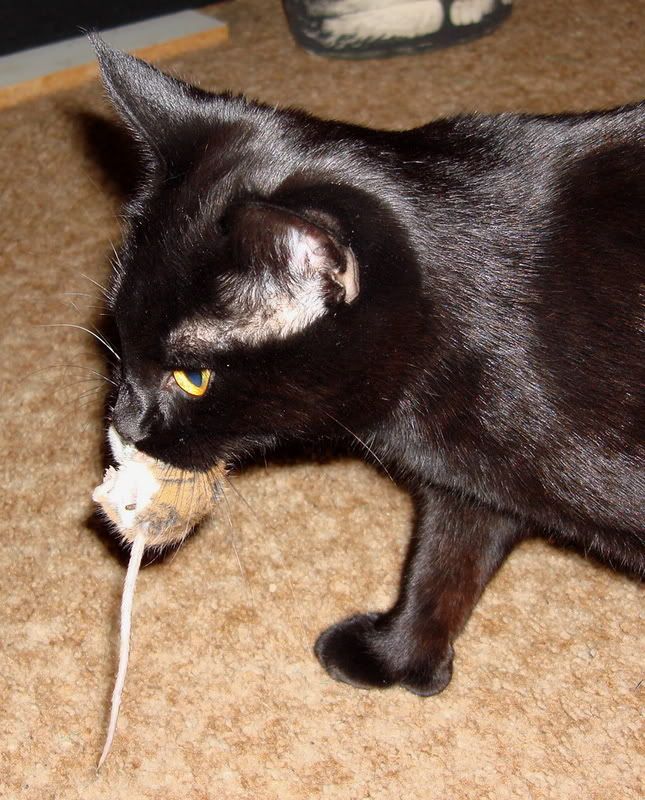 I confess that I do feed my girls dry crunchies in the morning and my own food at night. I'm mixed on crunchies--but the cats are all extremely healthy; Grey Cat lived to a robust 16 years of age (over half his life on this diet) and Emma is now nearly 8 without a single vet's visit since her initial shots and spay. Isis and Morgan were 5 and 6 weeks old and have reached a hearty year on it; Graty, the cat who prompted me to begin preparing home-cooked meals for cats in the first place, lived virtually asymptomatically with FIV for six years until she finally succumbed to breast cancer.
If any of y'all have any questions, please feel free to ask. It's a subject I've researched extensively, and I want all of our furbabies to be happy and healthy!