Bunny beanie
is finished. Now I totally want to make one in my own size (for myself, of course) because one simply can't have too many things with animal ears on them.
I was going to try to get Isis to model it for you, but thought better of it. (Her claws
really
need trimming, and I'm not quite
that
masochistic.)
In other news, I went trawling through my favorite antique/thrift shop the other day. It's in the upstairs of the local candle shop and has a number of different vendor stalls, so there's a lot of turnover and it's fun to stop by every month or two to see what's there.
I was actually hoping this odd thing would still be around, and still be filled with random needles and crochet hooks, and indeed it was.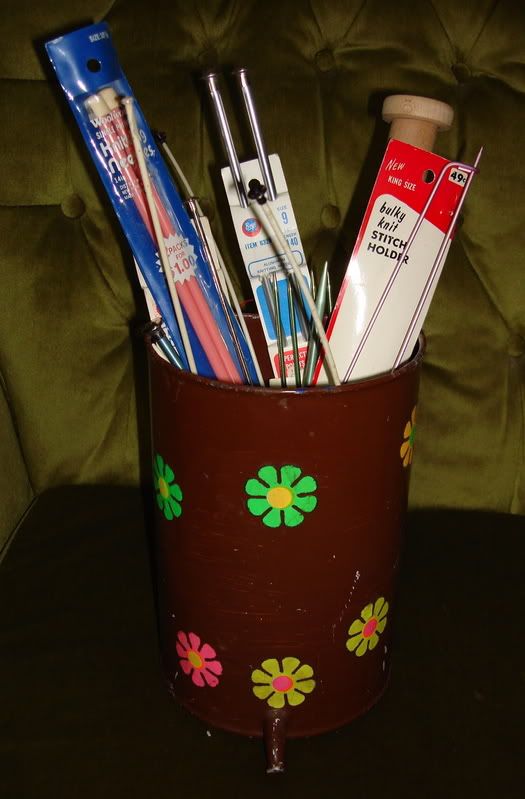 If the brown paint with the neon decals doesn't sufficiently scare you, the handwritten tag says it's a "German Urinal." Huh? Um, well, okay.
I figure I can either strip off the skimpy layer of paint (it's white enamel underneath) or do the goth default thing and (duh) spray paint it black.
But the main reason I wanted it was that it had all this cool stuff in it:
Like a shoe hook. And a few unmatched knitting needles (like a size 50--but only one...I figure I can beat off criminals trying to use my urinal with that one) but also several nice sets of long double-points, and other needles that actually still had their mates.
By the way, does anyone know what that thing at the bottom of the photo is? The wooden thing that sort of looks like a long clothespin? Seems like I've seen one before but I can't place it...it looks vaguely fiber-related. Any thoughts?