Grady
Elizabeth asked about grains. I'm conflicted about this too, and think they probably aren't necessary for cats. In the wild, cats wouldn't get any more grains than they would digest from their prey's stomachs, and possibly nibbling on a bit of grass here and there.
For me, the grains are more a cost issue; they make the food more affordable for me to prepare, and sometimes I do feed my cats fresh raw meat or fish. If you're worried about feeding raw, it's what cats prefer and I've seen no documentation of toxoplasmosis or other raw-meat transmitted problems with cats. I've also found that if the meat isn't really fresh, they won't eat it. (I myself like sushi, sashimi, and even steak tartare; if I wouldn't eat it, the cats won't either. Worry solved.)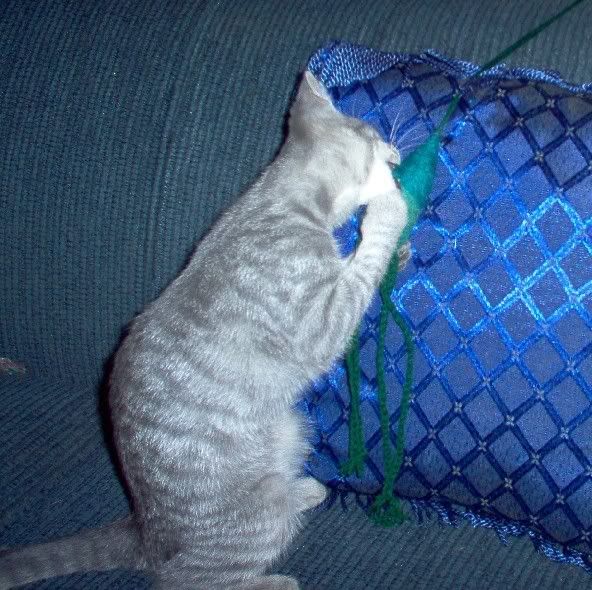 Morgan
I know people who feed raw poultry necks. (Note:
Never
cooked; cooked bones dry out and will splinter.) This ensures that their cats get to gnaw on nice, teeth-cleaning bones. I myself still worry about choking, but I think I'm overly paranoid. (Grey Cat did try to swallow a corn cob whole...) Here Morgan gnaws on a felted toy. Not, I might add, a nice, calcium-rich, chewy marrow-filled bone. This is probably something I should think more about.
Carrie asked about bonemeal. I used to buy bonemeal in the health-food store but it was really expensive. (Note: You definitely don't want to use the garden supply type.) In the Pitcairn recipes, you can use bonemeal or the ground eggshells as a calcium source.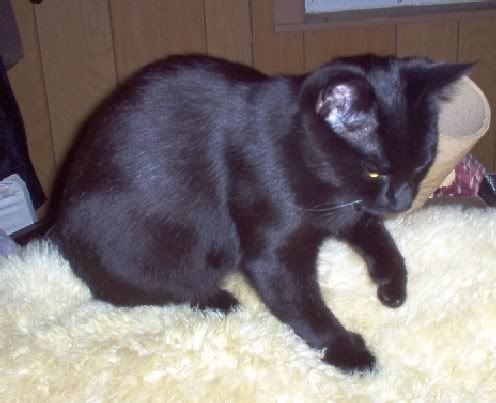 Isis
As for the taurine...it's optional because as far as I know studies are still conflicted as to whether cats really need it or not, but I add it just in case (one 500 mg capsule per batch of food). I just got 100 capsules for $7, and I know you can order them online as well.
I wait until cans of fish or ground beef go on sale. For example, I'll use four 15-oz cans of fish and 2-3 c. oats or cornmeal, and that makes about 8 lbs of food. Five lbs. ground beef or turkey with 10 c. oats makes 17-18 lbs. of food.
So if the salmon or mackerel costs $5 for four cans, that's
eight
pounds of food I wind up with for my $5 (aside from the cost of the other ingredients). Not bad considering the cost of canned cat food. If the beef is $2/lb, I've gotten 17-18/lbs. of cat food for $10. (And of course you can make it in smaller batches as well.)
Isis, Morgan, and Emma
And no, none of my other cats got FIV from Grady. She was an amazing cat. I'd adopted her off of a stoop in the winter of 1995 and had never heard FIV at the time. When I found out from the vet that she had FIV I was quite worried, but she did live a pretty long, comfortable life considering her condition. FIV is not nearly as easily communicable as HIV; primarily
FIV is transmitted
through deep, penetrating bite wounds and infrequently from cats to their kittens during birthing or through infected colostrum or breast milk.
Hope this helps!
Grady