Mr. O'Kitten Returns from NYC
Upon Mr. O'Kitten's return from New York on Saturday, Isis informed us that no further travels would be undertaken without her accompaniment.
Of course we were all very glad to see him. (Yes, even Emma. Actually, particularly Emma. She's extremely fond of Mr. O'Kitten. Me and the girls--eh, not so much.)
Mr. O'Kitten came bearing gifts from Toy Tokyo, a favorite stop when we go back to the city. We both wondered what kind of candy would be inside the mysterious box labeled "T for Candy."
It was not candy.

Rather, the "T for Candy" box contained tiny plastic food with fancy plates, napkin, spoon, chopsticks, and a wee spoon and chopstick rest.
I suppose this was fortunate, as Godzilla was very hungry after his long journey.
But not so hungry that he didn't invite some friends to join him to partake of the feast.
I'm Growing a Sweater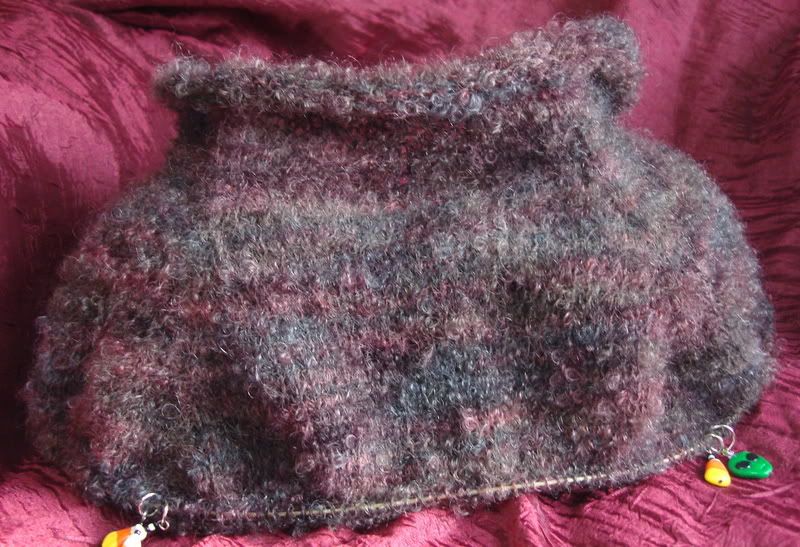 I've begun my very first sweater, using the Cherry Tree Hill baby loop mohair from my fortuitous goodyarnkarma swap. It's a simple raglan from instructions I got at Knitty Gritty. Don't click on the link unless you really want to look, as their site is painfully slow--but it is a nice, easy, design-to-fit-yourself, knit-from-the-top-down, all-in-one-piece raglan. So, so far, so good. This is the back, and the cool stitchmarkers are from MousieMasala.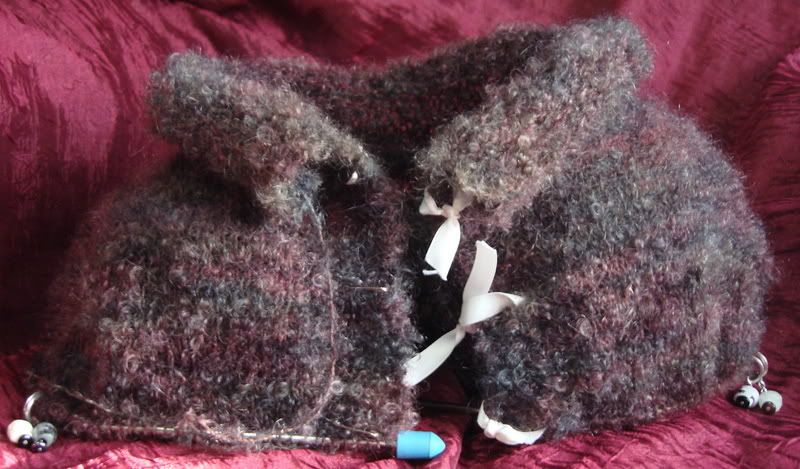 Here's the front. I've marked the buttonholes (which are tiny and very furry) so I can find them again later. The matchless Severina made the skully stitchmarkers. One of them even glows in the dark. (Things that glow in the dark are among my favorite things EVER.)
I wanted you guys to know I really did swatch. (Yeah, yeah, I'm such a good girl.) Actually, it was a necessity, since the pattern is a self-generated one based on—you guessed it—the swatch. This is the swatch that worked best, on size 6 (4mm) needles: the Addis my PRGE Secret Pal sent me that I've fallen in love with.
These reject swatches are really just an excuse to show you (a) what the yarn looked like on size 9s and size 15s (EWW!) and (b) the gorgeous hand-turned cocobolo rosewood needles I got at Turn of the Century. I was shopping there for my Secret Pal. What a bummer that she wanted something from there, because I simply had to get something for myself.

If you love handmade wooden thingamajigs, you absolutely must to go and look at his things. You will pant with delight. And they're hardly more expensive than the bamboos I've seen around here...only FAR more beautiful. And so light and silky...