I've Got Sitters
I have two hens sitting on eggs right now. This lovely lady has at least 15 eggs under her. I haven't been able to count them recently, because her beak is very sharp, and she has deadly aim when I try to reach under her to examine her clutch more closely.
This is Timmy. She's also been very diligent about sitting on her eggs.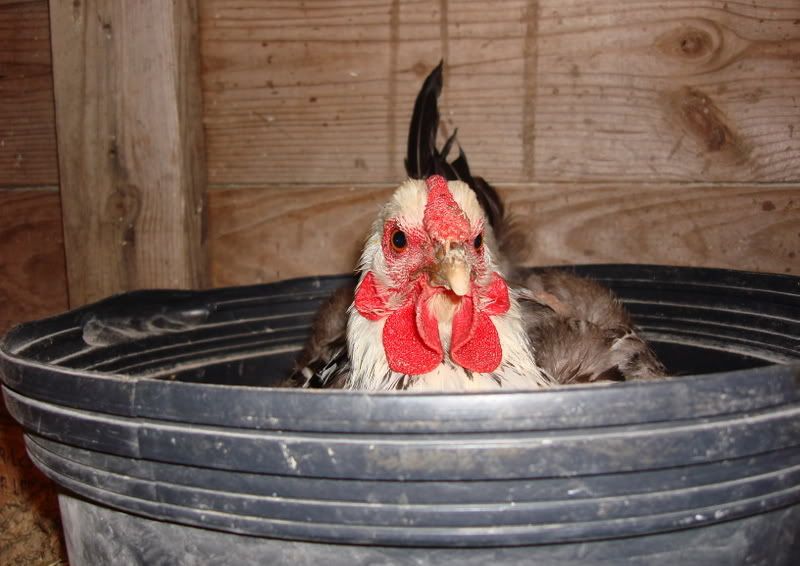 Sometimes someone sits on this nest, sometimes not, so I doubt any of these will hatch. It's really my fault, because I moved a clutch of eggs out of the nesting boxes. This did not make the hen that was brooding over them very happy, and after that she became rather neglectful of them. I thought I was doing a good thing by fashioning a nest for them on the floor, since the nesting boxes are about 3 feet up and only shoebox-sized--which didn't seem to me an ideal place to hatch a bunch of baby chicks. (But what do I know? Obviously, not much...now I know not to set about moving anyone's eggs.)
The disadvantage of the tiny nesting boxes is that, well, they're small, and the girls continue laying in them. Hence, some of the eggs do get broken. As you can see, here we have some egg on our face (as does Timmy, above).
Odo Shows His Tailfeathers
Last year the girls had pulled out all of Odo's tail feathers. Isn't that a sad sight?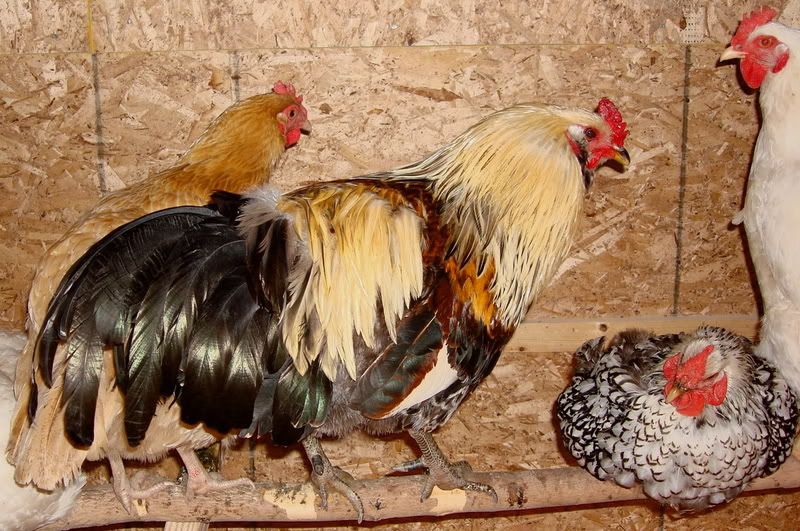 But just look at that iridescent green-black plumage now!
Chicken Feet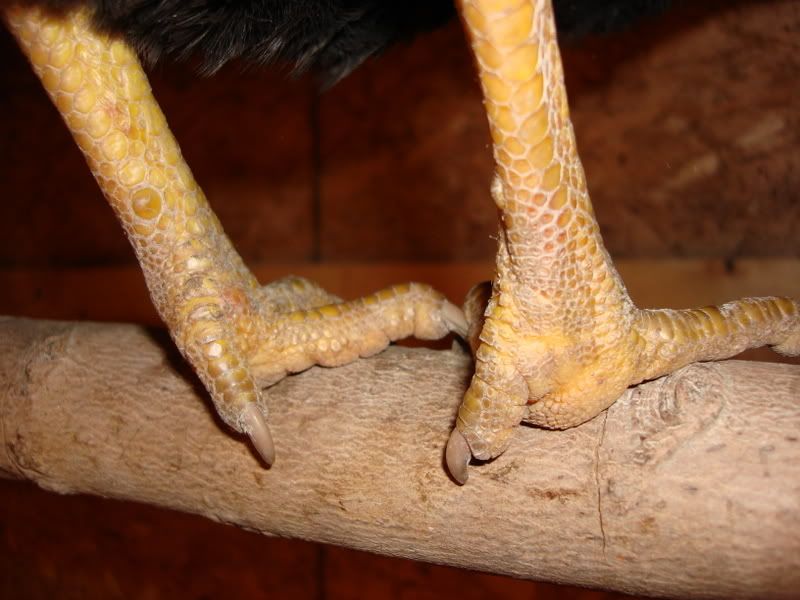 I have to show you these close-ups because birds really do have weirdly prehistoric feet.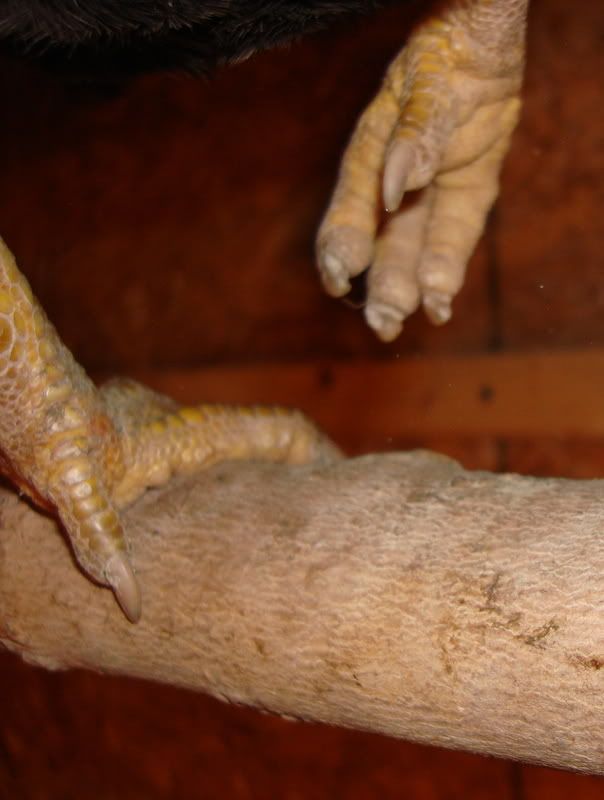 Couldn't you just as easily be standing under a dinosaur?
Until I had chickens, I thought they all had yellow legs. But nope, some of them are slate blue, like this Silver Spangled Hamburg's. (Others are speckled, some more cream-colored. Who knew?)
Bedtime Snacks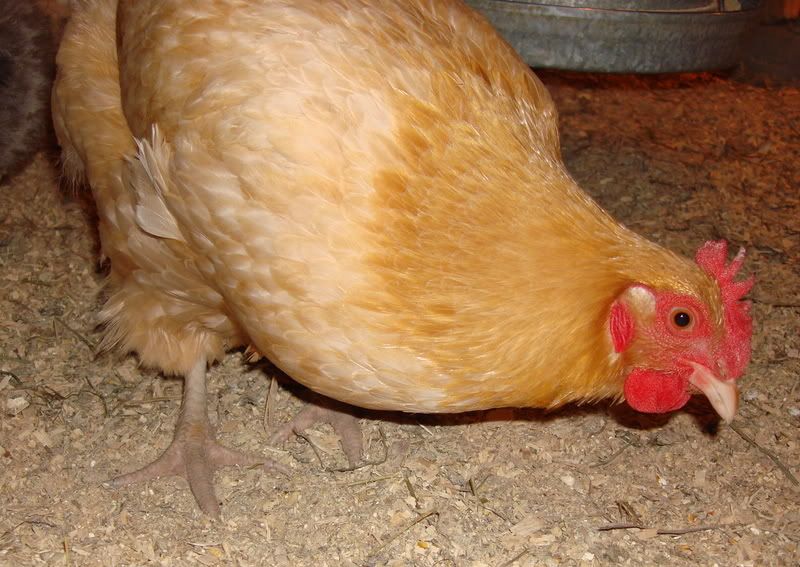 I usually give the birds a little cracked corn before I close them in the henhouse for the night. Here Buffy partakes of her snack. Notice that they even have dinosaur-like eyes! Different birds have different eye-colors, too.
Goldilocks (at right) is the one most likely to be caught trying to steal someone else's food.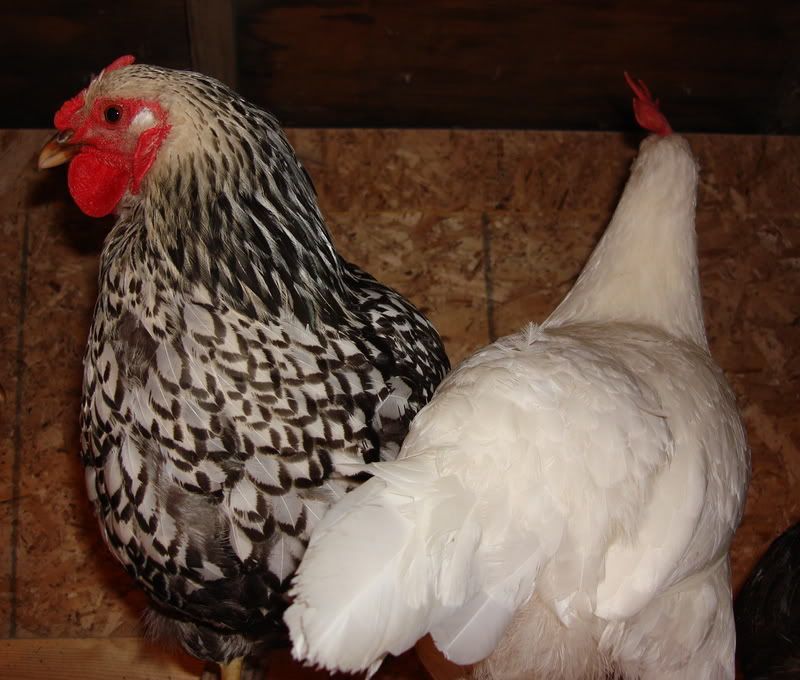 At left, a Silver Laced Wyandotte; at right, a Pearl White Leghorn. I like this picture because you can see the Leghorn's characteristically funny floppy comb.
This girl is Odo's buddy, Kira. She's one of our two Silver Spangled Hamburgs, and one of my favorites. They're very small and dart around like road runners, so I've never gotten any decent pictures of them before. I love her little blue-green earlobes, and the thumbprint-like markings on her feathers.