The Spinning Loft and Three Sheeps to the Wind
Look whose eggs (and yes, that's me spinning--er, holding up my bagel--as well) have shown up
elsewhere
! Yes, I went a'spinning Tuesday night at The Spinning Loft with my mommy (you can see a picture of her there, too) and much fun was had by all. Plus, Beth has a
great blog
with lots of cool, fibery stuff. And she's very funny. Funny ha-ha, not the Other Kind of Funny (funny-weird, not-safe-to-take-home-to-your-parents-and-small-children kind of funny like me).
The Spinning Loft
is brimming with gorgeous fibers and fleeces so don't click unless you really want to be lured into buying something or, at the very least, coveting your neighbors' sheep (which I'm sure would lead you into breaking one of the ten commandments, and I just can't be responsible for that).
McRay Weaving with a Side of Domestic Piracy
In other exciting fibery news, today I visited another place I recently discovered,
McRay Weaving
. Granted, I haven't ventured down the weaving path yet (as I just told
Shadkitty
, I need another fiber addiction like a hole in the head). But I went to McRay to find
Wild Fibers
magazine and discovered an unbelievable array of the most gorgeous yarns I've ever seen under a single roof.
And who should I meet there but Ragnar of
Domestic Piracy
? She works and teaches at McRay, and was as cool as (if not even cooler than) her blog.
Drop Dead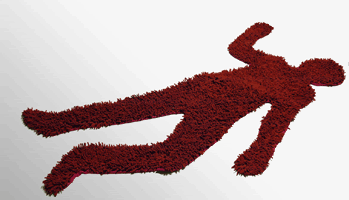 I want to make a rug like
Drop Dead
by Alex Carpenter. I think it would be great in the living room. Can't you just picture it adorned with some snoozing pussycats? I love the description:
The shape mimics that of an unfortunate soul which may have come to pass right there on your living room floor with their silhouette remaining as evidence.
It's not a kit or pattern, just a photo of the artwork, but I think it's a brilliant idea. Everybody should have at least one Dead Fred (Dead Daphne, Dead Doornail, or Dead Whomever). Latch-hooks for everyone.
Out to Pasture
The pasture is beginning to turn green. As you can see, besides a few blades of grass, it has llamas (Graty at far left, Llannie at center) and sheep in it. I just had my first sheep feet-trimming experience Sunday, and we all emerged virtually unscathed.
I will not say a good time was had by all, but aside from a weeny cut on my thumb--which hasn't even put a dent in my knitting, so it's scarcely worth mentioning, except that it is evidence of the very minor scathing that prevented the experience from being utterly without incident, since a tiny bit of blood was involved--it all went pretty smoothly.
Next up on the animal husbandry front...it'll be
shearing time
again, in about two weeks.