I have no pics to upload, so I'm going to tell you about three knitting t-shirts I found that I like instead.
First is from the fabulous Franklin of
The Panopticon
. [He and Dolores now have
a shop
--stop me now.]
The shirt
I'm dying to have says, in appropriate cell-block font, "I Learned to Knit in Prison." The quote comes from
a true story
based on a very strange bus incident that I will not attempt to relate here.
Next are the tattoo stylings of "
Born to Knit
." You've may have seen it elsewhere. It's very cool. A bit pricey for my blood, but I love it, and I want it, badly.
Finally, this. She's Georgia (don't ask me why, she just is), she's on
a shirt
, and at $15 I might just have to get me one.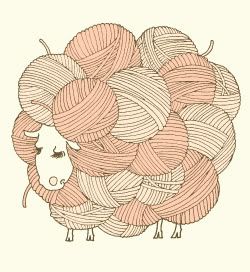 In other news, I actually left the house to knit today. It was my first ever foray into the world of group knitting, and it was the monthly Knit-In at
McRay Weaving
(a.k.a. Woven Art). The inimitable
Ragnar
was there working on a fantastic viking baby hat (for a baby viking) along with a nice group of fellow knitters, and a spinner besides.
Next Sunday they're having their first Spin-In, and I may just have to head back out with my wheel for a bit of additional human contact. No one says I have to be an absolute hermit, I just tend to like it that way.
But that depends on whether I have the energy after Saturday's Monthly Breed Study starts at
The Spinning Loft
. The May-July sessions cover Fine Wool breeds (like Merino, Cormo, Polworth and Corriedale). September-November will be Longwools and Crossbred Wools, and then January-March is Down Type, Double Coated and others.
Beth
is teaching three sessions on each kind of wool, covering everything from washing raw fleece to spinning. I'm really excited.
In the meantime, I dropped in on her again yesterday. She informed me that my little
Ashford Joy
really should have a name. I will be heading back to The Spinning Loft on Wednesday so that Beth can hold my hand while I wash Tyr and Thorn's fleeces. Can I have the Joy happily christened by then?