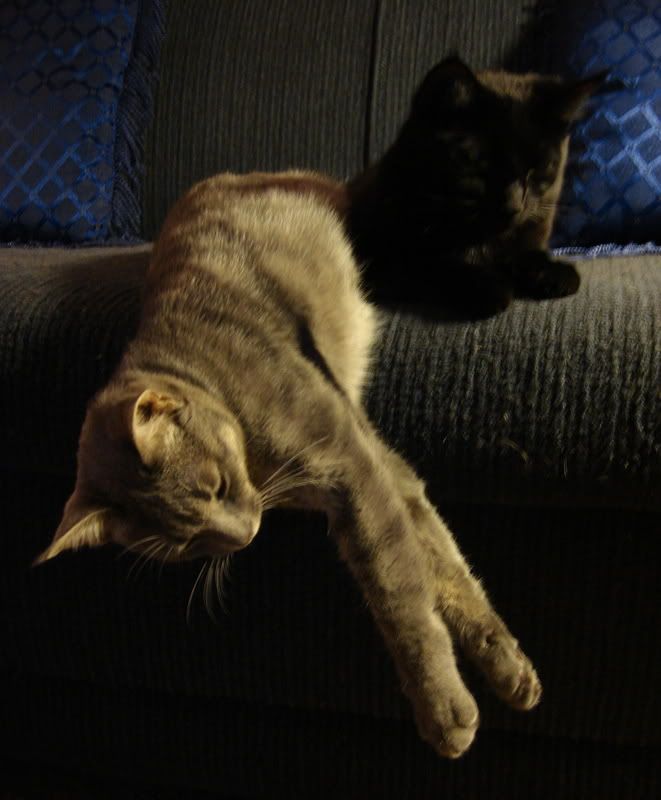 Our crazy Fleece Week has finally drawn to a close. Five llamas and two sheep were sheared (the cats voted unanimously
not
to be sheared) and, all told, 15 pounds of fiber were delivered to
Zeilinger Wool
this morning. I felt like Morgan--ready for a nice stretch and a really long nap. I only wish I'd rolled around in those fluffy mounds of fiber before we dropped them all off...
Oh, and I think I won something!
Bellamoden
had a contest over at her blog because she had surgery and needed some cheering up. It involved writing a haiku (you all know how I love a haiku, especially if it involves a big fluffy cat) and I was deemed an instant winner because mine was "the most out there entry" and "was inspired and frighteningly obscure enough to impress." Sounds like the O'Kitten you know and love, doesn't it?
If nothing else you should
click
so you can see her fantastic photo of Matisse the SUPERMEOW. (I should add that said entry was required to include the word SUPERMEOW.)
In other news, I love cows almost as much as haiku, and our neighbors recently got some cows that look like oreos: black on both ends and white in the middle. Apparently they must be
Belted Galloways
, commonly referred to as oreo-cookie cows. I scavenged some pictures for you so you could see what they look like.