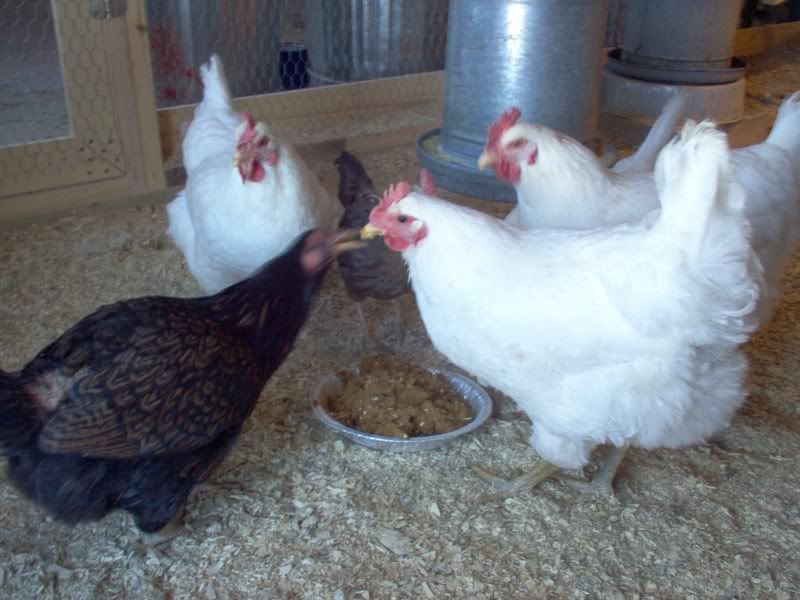 One of the Goldilocks, at left.
We have three hens named Goldilocks. (Not to be undiscerning, but they're all Golden Laced Wyandottes, and they all look pretty much alike).
Last year one of them insisted on sneaking off to the barn each day instead of hanging out with her hen buddies, and after a few days we discovered her in an upended cardboard box in the barn. There wasn't a thing in the box--not a scrap of grass or straw or a single twig--but there she was, with three nice light brown eggs. So my cousin's daughters decided this must be
Rebel
Goldilocks, since she was determined to stake out her own territory and put her eggs in a safe place, far away from any other meddling birds. (Rachel and Brittany also named Sunny-Side Up and Buffy).
So when one of the Goldilocks went missing about a week or so ago, I figured it must've been Rebel Goldilocks sneaking off once again to hide her eggs. But she wasn't in the cardboard box she liked so much last year. Fortunately the weeds aren't very high yet, so that eliminated a lot of potential nesting spots. Instead I swept through the all my mom's sprouting tiger lilies, checked under the brush piles, in the shrubbery around the hen house, and anywhere else I could imagine a hen might hide.
Yet Rebel Goldilocks was nowhere to be found and I began to fear that perhaps some carnivorous evil-doer snuck up and ate her in the middle of the night, or dropped out of the sky and gobbled her up one sunny day.
Then one afternoon when I went out to the egg cooler she came running around our house towards me. I was fairly certain it was Rebel Goldilocks because she has more tail-feathers than the other two Goldilocks. But by the time I finished whatever it was that I was doing she had disappeared again, and when I locked the other birds up for the night there was again no sign of our rebellious hen.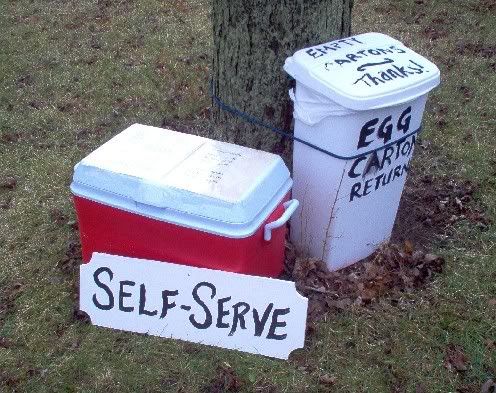 The egg cooler.
So we set out once again, flashlight in hand, to look for her. I suspected now that perhaps she had set up a nest around our house, and aside from looking under the deck, I hadn't really searched for her there. And about eight feet away from where I set up my egg cooler, in the basement window well, there indeed was Rebel Goldilocks--sitting on ten perfect, light brown eggs. The Prodigal Daughter was home (and right under our kitchen window no less!) all along.
Where's Goldie?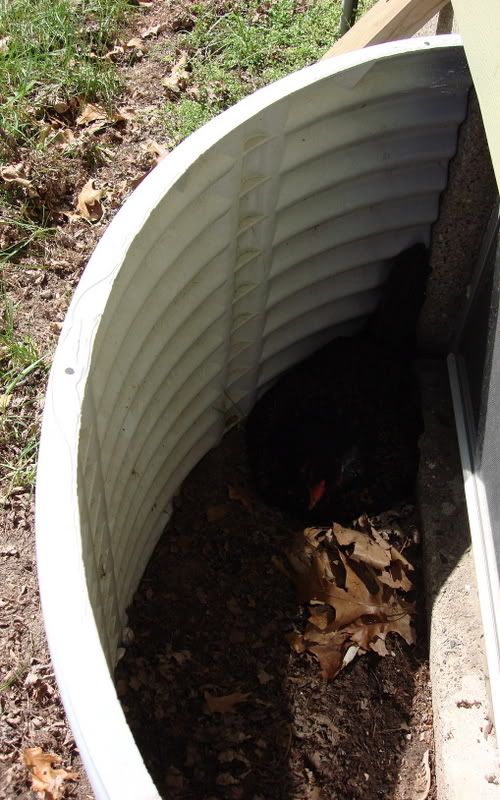 Perfectly camouflaged...
Aha!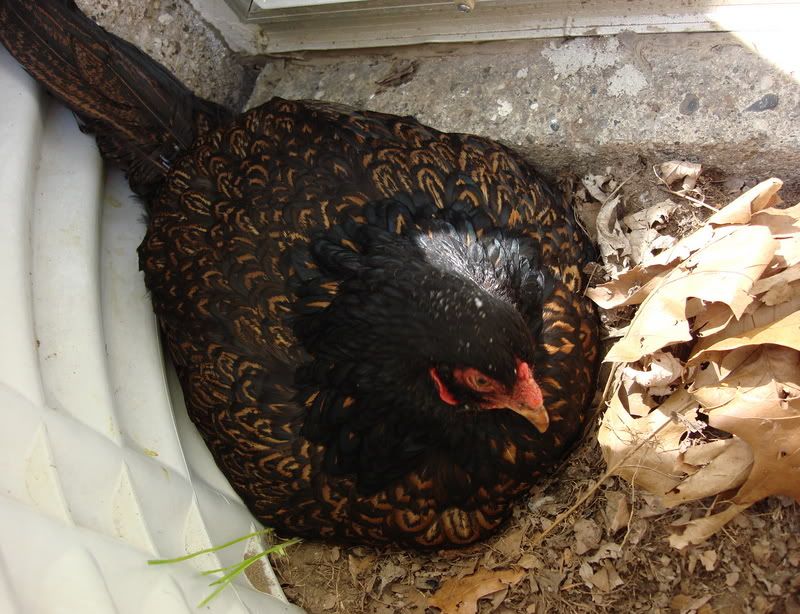 The renegade has ten eggs under there. Pretty exciting!