Yesterday was a big day for our little llama family--the annual shearing day. It was particularly challenging for Pepper, as it was her first ever haircut (not to mention first nail-trimming and first shot), and it couldn't be over quickly enough.
She's worn her halter before, but had never been on a lead. She simply couldn't understand why there was a strange rope (with a human at the end of it) attached to her head. This was most perplexing--and rather irritating. Then the strange man with the thing that went snip-snip-snip and buzzzzzz-buzzzzz...it really was a lot for seven-month-old llama to take.
Woolly Pepper before.
All in all she was a very, very good girl, considering all the strange new things that she experienced. ("Why is grandma in that funny chute? What is the man doing to her? Wait, why is my mom in there now? Oh, it's all SO confusing!")
Pepper was all too happy to race into the pasture with mom and grandma after her ordeal was over.
My mom took more pictures than I did; we took turns scooping up fleece into bags, holding llamas whose turn was coming up, trying to snap a photo here and there. My parents hadn't been around for last year's shearing as they were still down south, but since it was only Graty and Llannie then, things were a bit easier. (Mr. O'Kitten got some good
shearing photos
last spring.)
All the girls afterward.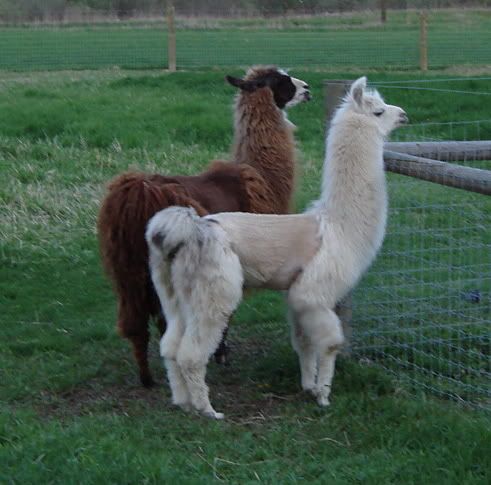 You can tell how much Pepper has grown in this photo.
Her fleece is like angora feathers, and turned out not to be all white, but a sort of off-white/cream mixed with pure white. So pretty! I read somewhere that when you see "baby llama" fiber it refers to the micron count rather than the age of the animal, but this really is
baby
llama. Heavenly!
All the excitement made Pepper quite hungry.
Here's Graty with my mom after his haircut, all blowin' in the wind.
Graty, the big-boned Chilean macho-guy, always makes me laugh when he stands out in the pasture ogling the girls with his billowy mane blowing in the wind. I swear, he thinks he's Fabio, but with his silly llama grin he's really something else (as in--NOT the cover of a steamy romance novel. Then again, I'm not a female llama--what do I know?).
Llannie in the chute after he's been trimmed.
Llannie is still our cranky llama, and constantly groans and spits at Graty (even though he's about half Graty's size). He's neutered, so he's not the least bit interested in the girls, but remains
extremely
interested in whatever goes on in his pasture. For instance, he clucks most disapprovingly whenever Graty demonstrates too much interest in the females.
He also has the most beautiful fleece (probably because he's not all distracted by his hormones)--soft, silky, and a deep espresso brown to jet black. Of course, the fineness means that he picks up hay and vegetable matter as if he were made of velcro. He also carries himself with a haughty air as if he's fully aware that he's extremely handsome.
Graty and Llannie are like our Oscar and Felix--quite the odd couple, but completely inseparable. They love to go for walks together around the farm (no spitting then!) on their leads and are completely cooperative under these circumstances. (Perhaps they know their walking privileges might be revoked if they act badly?) I'm constantly amazed by their distinct and quirky personalities.
And yes, there will be fleece pictures coming soon!