We have our winners! Many thanks to everyone for voting. Here is the hat from which the lucky names were drawn.
Contrary to original plans, Morgan and Isis did not select the winning names. At the last moment, fear that they would bend, fold, mutilate, hide, or swallow said names gripped me, and I asked instead for a human participant. Mr. O'Kitten stepped up to the plate and choose two slips at random from aforementioned hat.
And the winners of O'Kitten's first ever contest are
Sunshyne
and
Rhelynn
!
As Sunshyne expressed quite an interest in the tortoiseshell-esque buttons some days ago, she will receive the set of vintage buttons and some O'Kitten bionic fridge maglets. RheLynn has her choice of Button set A, B, or C, and will also get some fridge maglets. Woot! Congratulations, grrls!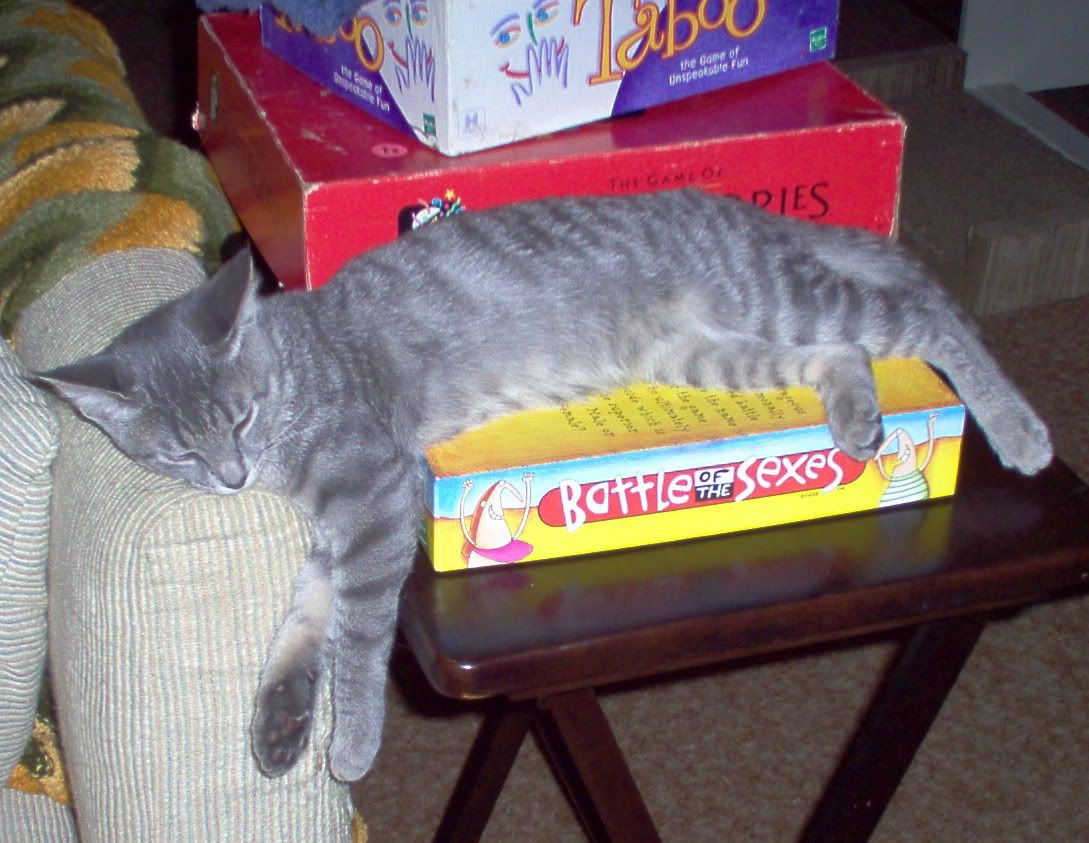 I regret not posting sooner, but family visiting from out of town kept me happily busy over the weekend. Game night was a highlight, featuring Scattergories, Taboo, and Apples to Apples. I learned two new games as well, Phase Ten (a rummmy-like but colorful card game) and Sets. If anyone knows where I can get my hands on this last one, let me know--it was really cool and quite addictive. As you can see, Morgan was thoroughly worn out by the end of the evening...
...but it takes more than a marathon night of games and constant entertaining by my 12 and 14-year-old nieces to exhaust Isis.
Eventually, it does happen. Kittens wind down; batteries must be recharged.
O'Kitten will now be on a three-day break to visit some people at a lake somewhere northerly in a place she has never been before. I note here that kittens, including this one, do not like to get wet, but there will be much napping and knitting, and food is promised. We shall return on Thursday or Friday. Wishing all a wonderful week, and bountifully recharged batteries!