MsFortuknit
made me some buttons! Now I don't know what to do. I need some opinions! I need YOU to VOTE!
I like the kooky Hell'o'Kitten button you see now on the sidebar, but Sanrio will probably come and get me someday. Case in point: Starbucks came after a friend of mine some years ago for making a Star&ucks sticker. I will not fill in the blank "&" for you here, but it was not the letter B or even the letter S. It was very
F
unny. Anyway, they made him pay. How did they every find out? Who knows?
They
are everywhere...
If you are kind enough to vote, I will put your name into a hat and there will be
prizes
. Yes! Prizes! Morgan and Isis will draw from the hat, and the winner will receive a set of ObsidianKitten bionic fridge maglets and a box of buttons. Yes, buttons! The kind you can sew onto things. I will post a photo tomorrow to entice you. I have some vintage buttons and boxes of many sizes--large to small, many that actually match. Enticed? Vote by midnight Saturday, July 15 (EST) to win win win!
Please choose from: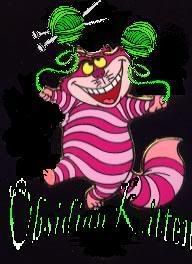 No. 1: Cheshire Cat Juggling Green Yarn
No. 2: Cheshire Cat with Yarn Under His Hat
No. 3: Black Kitten (black and white)
Now, vote ahoy!