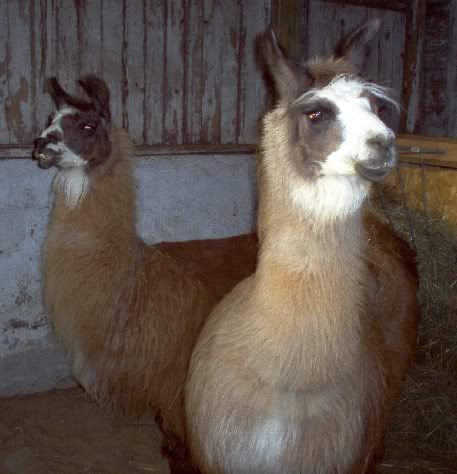 Meet Switzer (at left) and Lacey (in the foreground), who just arrived last Saturday. You may notice the family resemblance--Lacey is the 3 year-old daughter of 14 year-old Switzer. I'm posting this (not-so-great) photo of them in the barn first, so you can see what an interesting beigey-grey color Lacey's fleece is.
Llamas are herd animals, so the two girls came together to keep one another company. The exciting news is that Lacey is pregnant, due to have her first cria (baby llama) in October, give or take a few weeks.
The dent in Lacey's chest fleece (above) is from leaning through the fence on whose other side, as we all know, the grass is always greener.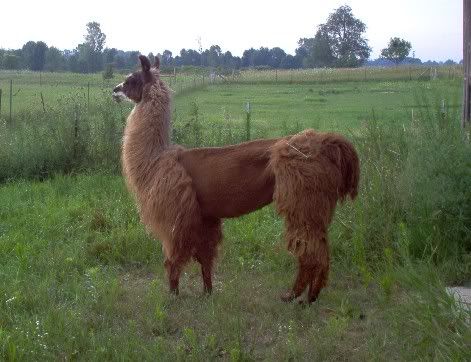 Switzer, being 14, is an experienced llama mama and will hopefully help Lacey along with her first pregnancy. The other reason Switzer was chosen to accompany her daughter to our farm is that she suffers from some arthritis, and our place is much flatter than her previous home and should stress her joints less.
The
surprising
news is that Switzer may also be pregnant! A particularly lively, fence-hopping male llama by the name of Sal paid her a visit and it is entirely possible that his seed was not sown in vain. We'll have to wait until fall to have the vet confirm whether or not she too is with baby.
Meanwhile, Graty and Llannie are quite fascinated by the new arrivals and have learned to make all sorts of strange new sounds (snorts, raspberries, tuts, clucks, and snuffles) to express their various feelings on the matter. I'll keep you posted...
However, I don't want you to have to go completely kitten-less, so here are shots of our latest XXX-Treme Cage Match, held in the increasingly popular Laundry Basket Arena.
Weighing in at 5.25 lbs, we have 4 month-old Isis "Moose" Kyle in the black robes, facing off against her fierce competitor, 6 month-old Morgan "Squirrel" LeFay at a wiry 4.5 lbs in the silver-striped trunks.
Ladies and gentlemen, let the battle begin!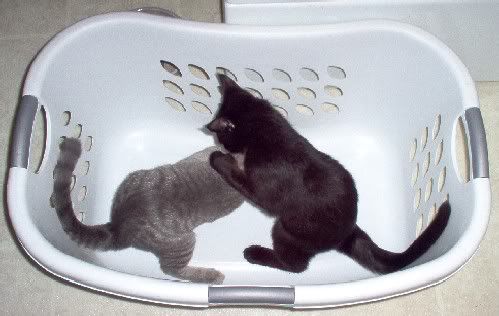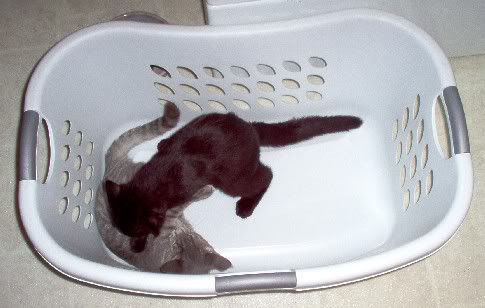 Once again, I believe it was, uh, a draw.
The competitors retire to their dressing room to recuperate...judges?
Judges?!