I'm finally back. Yes, yes, I know I said I'd be back on Thursday. (Promises, promises!) We actually returned on Friday evening, and it's taken me the weekend to recuperate from vacation. It was a great little trip: much napping, some knitting, good eating, some great thrifting...but you know, I'm not used to so much human contact.
Then we had our two new llamas arrive on Saturday morning, so much excitement was had here at the O'K Corral here over the weekend. (More on that in another post.) And I had my first crocheting lesson with my grandma. Turns out she learned to crochet when whe was 8, meaning she's been at it for 80 years. She does want to knit, which she somehow never learned to do. Crocheting, it turns out, is harder than it looks, and I need to practice. Something about holding that yarn in my laft hand...bah. Anyway...
One nearly finished project, the Dream Baby yellow
pixie hat
. It just has some ties that need to be added. If I'd wanted to keep it simple, I would've made I-cord, but no, I'm knitting a 26-inch band to go around the back of the hood as per the pattern. I think I'm also going to make a pom-pom to go atop the point, just to make the baby look as silly as possible. (I have no babies--isn't that the point?)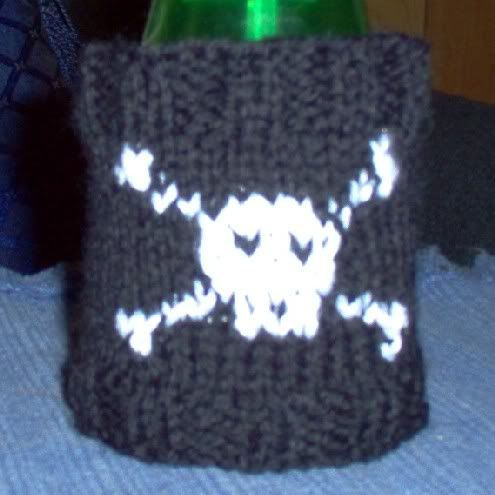 And one actually finished project, a large wristband for a friend. I used the S'n'B wristband pattern with Severina's cool
Jolly Roger skull chart
and this was my first intarsia attempt. Not great, but not awful. If he doesn't like it, it makes a nice headpiece for a sock monkey.