Someone
here
commented that "granny squares are the building blocks of fashion." This prompted me to show off one of the most prized pieces in my wardrobe, a full-length granny-square skirt my grandmother made for my mom in the 70s.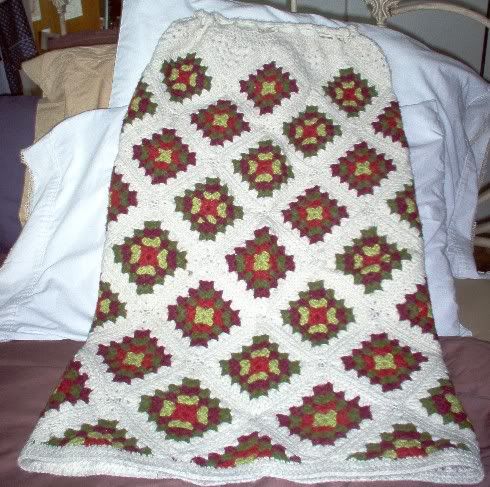 I
love
this skirt, and often wear it around the holidays with a long vintage burgundy velvet jacket. First of all, it is SO warm (yes, much like wearing an afghan, duh!), and it is so stunning. Quite the conversation piece!
I should probably mention that this skirt wasn't made by the grandma who is currently teaching me to crochet, but by my other grandma, my mom's mother, who passed away a few years ago. She was also quite the seamstress, making many of my clothes for me when I was little, and a very avid knitter. My mom recently found this fisherman's sweater, which Grandma made me.
Now that I've learned very basic cabling skills, I'm completely in awe of the detail on this very small cableknit sweater. I remember wearing it a lot, but aside from a tiny bit of pilling on the elbows, it could practically be new.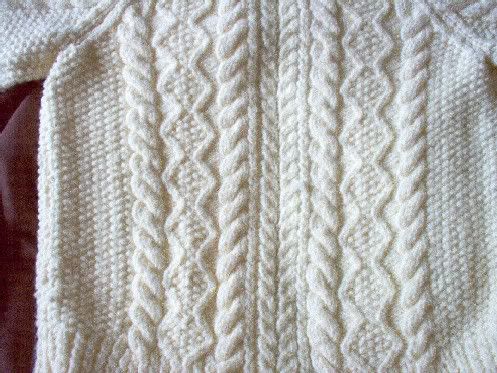 My mother and I decided to pass this lovely little sweater on to my cousin's daughter, who would be Grandma's great-granddaughter. I think that's a perfect idea.
And one more handmade-me-down--a granny-square poncho! Now bear with me, there's a little story behind this one.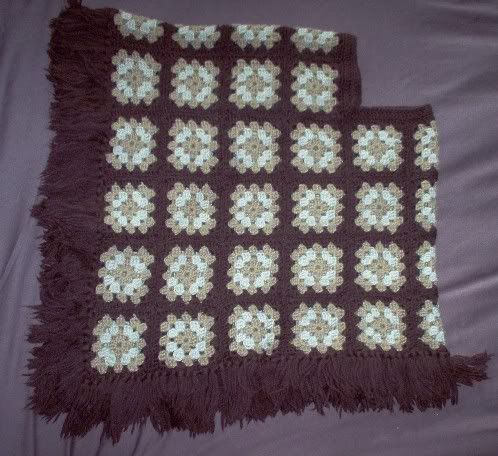 This brown and tan one is my mom's, also made by Grandma in the 70s. I had a small matching purple and lavender one, and we even had little skully caps in matching colors.
Purple was my favorite color, and I wore that poncho and cap to school every single day that Michigan weather would allow. (I'm sure my mom had to tear it off of me when the weather got too cold for it.) I was in kindergarten, and had to ride the bus with big kids...you know, like third graders, maybe even
sixth
graders. And you know what they called tiny little Obsidian Kitten in her purple poncho and matching hat?
Purple Puddy Tat!
Imagine!
Well, I wore it anyway, despite the teasing and the taunts. I loved it too much to change.
I don't know whatever happened to my little purple poncho, but I was truly delighted that my mom kept her brown one and passed it on to me. Ponchos rule!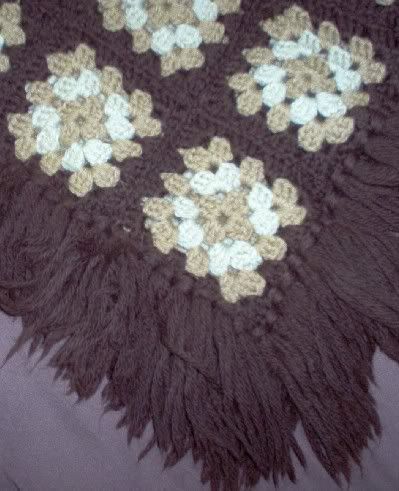 Granny squares are obviously "the building blocks of fashion" (gee, I wish I'D thought to say that)--and for all we know, they may well be the windows to the soul as well. The things grannies make certainly are!