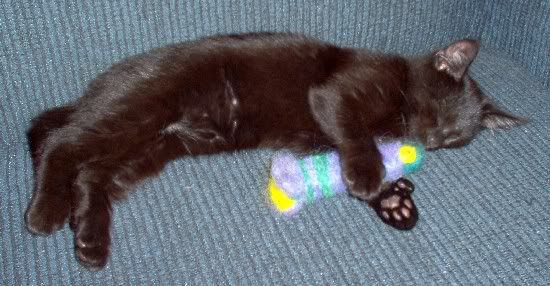 I haven't been able to sit still for very long lately, so I began needle-felting some cat toys. I can't really make the girls much with yarn since Isis likes to
eat
yarn, so I tried to felt them a fish.
Chris, my dear spouse, says it can't be a fish because it has no fins. I can't bear to be wrong, so I decided that it's a
kuhli loach
, a kind of bottom-feeder we had in our aquarium when I was growing up. And the girls seemed to think it was worth fighting over, fish or no fish.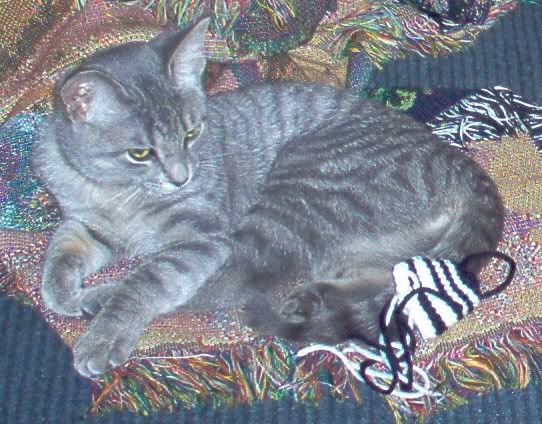 Earlier, I'd been working on a
catnip mouse
for Rebekah's
Critter Charity Drive
. I found Morgan sleeping on the unfinished specimen. She looks cranky here because I'd just followed some stray yarn to her tail and pulled the mouse out from under her belly, waking her up. She must've dragged it off the tv tray while I wasn't looking and then fallen asleep on it. (At least she's not a yarn-eater like Isis.)
I was making progress on my critter blanket until my other assistant woke up and had to test it out. It's the yellow and white thing below (yes, you have seen it before). Underneath it is the familiar and much-loved orange and pink Snowball Bed from the S'n'B book. It remains quite popular among the four-leggeds in our home.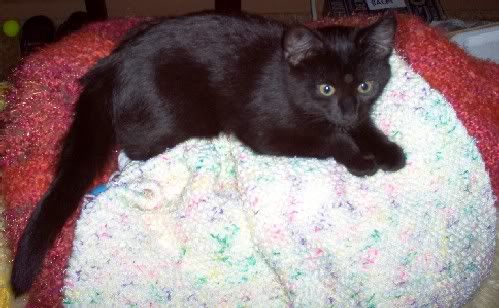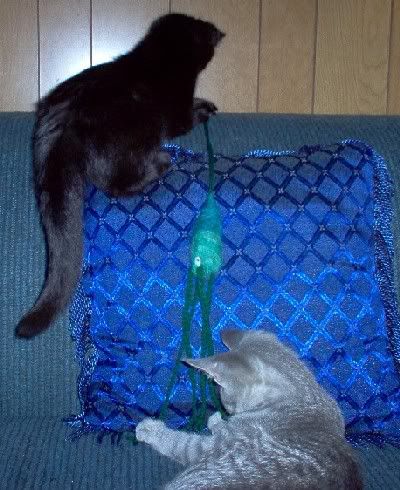 Here the girls model the felted cat-squid. This toy was destined for a
new home
.

So was this very strange Pippi-Longstocking-legged
Jumping Spider
.
You can stop now if you're tired of cats-in-projects photos, but Chris caught Morgan rolling around in the tentacle basket today.
She got all excited when he tried to take her picture...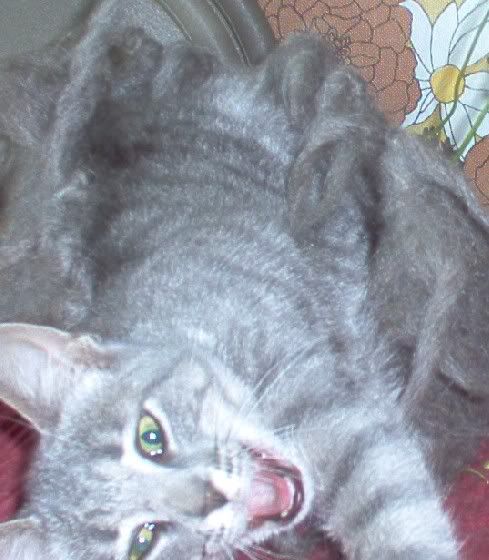 Grrrrrr!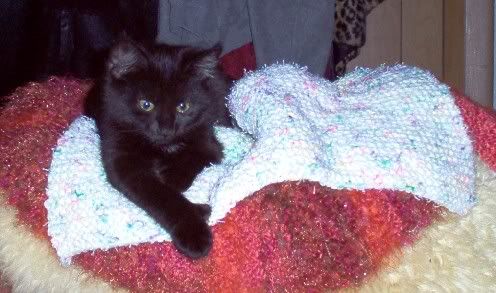 And just look at the mitts on this girl...