O'Kitten has been busy with a strange visitor.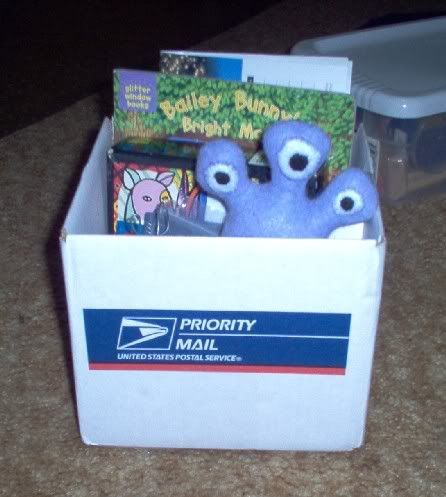 He arrived, oddly enough, in an interstellar travelling craft disguised as a package from the US Postal Service. The return address was familiar: that of the inimitable KnitOwl. What a clever ruse! Silly alien. He even came bearing gifts.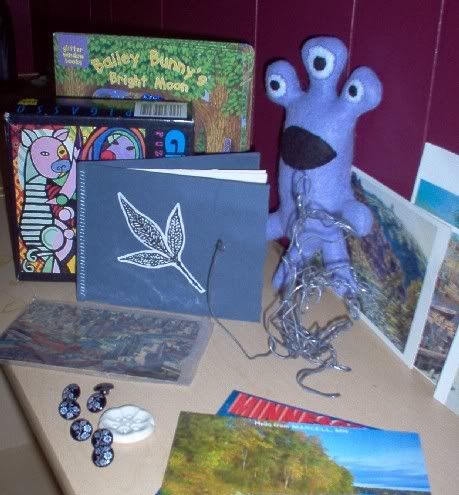 Upon closer examination, the items accomanying my visitor led me to suspect that perhaps this package had been sent to me by KnitOwl, and was no UFO at all. Was this little alien actually a stowaway?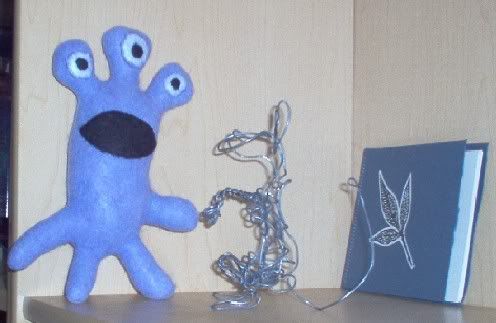 Indeed, my odd visitor had brought a friend that could only have been fashioned by the hands of KnitOwl.
Now in a quandry, I determined to watch my visitor more closely. Surreptitiously, I began following all of his actions. He was very curious about everything in his new environment.
He seemed eager to make new friends...
...but remained wary, as some were more forthcoming than others.
I found him in strange and unusual places...
...yet my research and observation have given me no clues to his origins.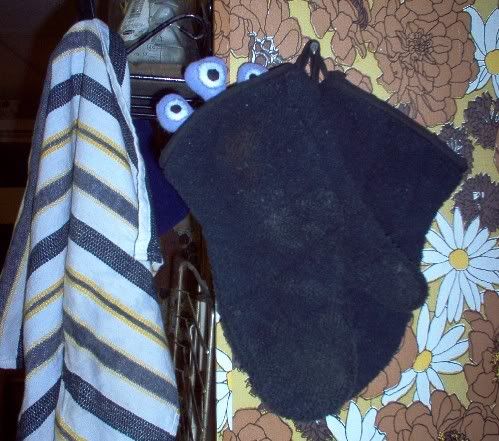 He seems particularly fond of the kitchen.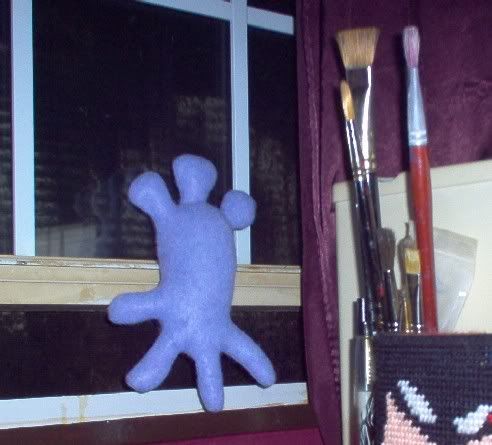 I now suspect that both of my hypotheses may be somewhat accurate: my visitor IS an alien, but is NOT from outer space. I am about to present a rather startling theory, but please do bear with me. I believe that he was created in the secret KnitOwl Alien Laboratories, Associated (possibly referred to as KOALA in highly classified government documents).

I hold that my visitor is an alien clone, as seen here. Note that she refers to them as "dolls," but observe the uncanny similarity to my arrival!
Granted, he has brought me nothing but amusement and entertainment since his arrival, but who is he looking for in the photo, above? Perhaps I am merely becoming subject to a far more sinister plan by allowing myself to be lulled by vintage postcards and cool buttons and puzzles and sparkly books...OOOH! must read sparkly book again...