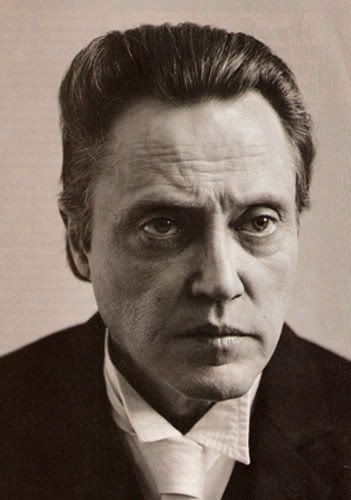 When choosing a film to watch, I'm pretty easy to please. I have three primary criteria. A movie should have 1) lots of explosions, 2) Christopher Walken in it, and/or 3) a happy ending.
Hence, I am devoting this post to one of my absolute favorite people, Christopher Walken (see #2 above).
"This Queens, New York born actor/performer has been in show business since 1946 when he was just three years old. ...He began films as early as 1968, but it wasn't until a notable appearance in the film
Annie Hall
, playing Diane Keaton's suicidal brother that he began to regularly work in film. Shortly after, he appeared as the haunted character Nick in
The Deer Hunter
, for which he won an Academy Award. This catapulted his film career and Walken has gone on to do more than 90 films, two music videos, and notable appearances on
Saturday Night Live
. [See below.]
"His specialty has always been playing villains or psychos, but Walken does very well in comedy, romance and drama genres as well. His unique look and way of speaking has made him a favorite of impersonators and a scene-stealer in any movie he appears."
(From Walken's bio)
Birthdate: March 31, 1943
I should've known Walken was from Queens, as is my beloved spouse, also a born-and-raised Queens boy.
Following are my Favorite FAQs from
Walken's Fansite
:
Q. Does Christopher Walken have any affiliations with any charities?
A. Not publicly. He really loves cats, so we assume that he probably gets involved with cat-related charities from time to time. There was a campaign shortly after September 11th to raise enthusiasm and tourism for New York City. Mr. Walken did an ad for this campaign dressed as Santa. He also did a voice for a firetruck in a short film about September 11th.
Q. Why does Christopher Walken always play menacing roles, can't he do anything else?
A. Well, he doesn't always play these roles! People who ask this obviously don't know his body of work. If you look at his
filmography
, he has done many different roles. He has played a stoic farmer from the 1910s, a janitor, a record producer, a 1960s family man, and even a cat in a children's film! If asked, Walken always says that he gets menacing parts because movies are a big gamble and the producers want to make sure they have the right person for the job, so many actors will get typecast in this way. He also attributes these parts to the way he looks, his pale skin and sunken eyes can always translate into intimidating. He also has an interesting way of speaking, which makes him a bit unusual and a favorite for strange characters.
Q. Is Walken scary or strange in real life?
A. Not really. Being raised in show business, Walken often says he is from another planet. When we met him, he seemed like an Earthling as far as we could tell. He is actually a very nice person; charming, charismatic and with a wry sense of humor. If you expect him to be intimidating, then you might interpret him that way. Interviewers are notorious for this. Maybe it is good to keep the reputation going, but his fans know him as friendly.
The Song and Dance Man

Liza Minelli's first starring theater role was opposite Walken in
Best Foot Forward
(1963). Go Liza...I heard her say this on the Biography channel, and it is confirmed
here
. (This bio also has great archive photos plus excellent quotes from Walken.)
Here my hero
cuts the rug
in 2001 to the Fatboy Slim. (Is that what the kids are calling it nowadays?)
Behind the Music
Don't Fear the Reaper: A
classic appearance
on Saturday Night Live. (Watch how the cast can't even keep it together. If you're one of the few people who've never seen this sketch, trust me, this song will
never
be the same.)
(Walken as Music Producer) Bruce Dickinson: That...that was gonna be a great track. Guys...what's the deal?

Band: Are you sure that was sounding okay?

Bruce: I'll be honest. Fellas, that was sounding great. But...I coulda used a little more cowbell. So let's take it again and Gene, really explore the studio space this time.
I could go on and on, but I'll spare you.
Wikipedia
(of course) has good pics and bio, too. [Where do you think I found the links for obsidian the other day?]
But mostly you should just watch him over and over and over again.
Because he is Christopher Walken.