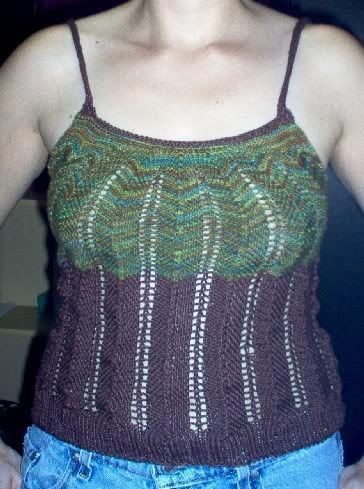 I finally finished the Razor Cami that I started back in July. The really sad part is that it's been a mere six inches of I-cord that's been holding me up for the past month.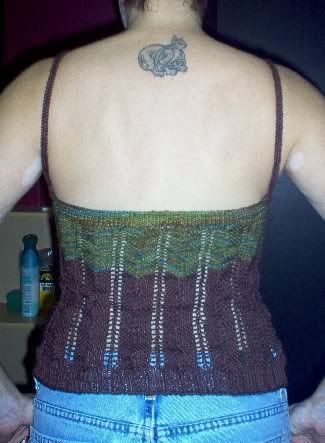 The dark brown is Filatura di Crosa's Millefili Fine 100% cotton and the variegated is merino wool from Fleece Artist.

I wish now I'd made it a little bigger, but this is the pattern that some pixie made for size XS 30-32" bust, so I'm glad it worked out as well as it did. (Pattern said it would stretch...heh! Leave it to some tiny waif to define "stretch"...)

But I do like the pattern, and it's both my first actual garment and my first stab at something lace.
Pepper, 3 1/2 Weeks
Oh, they grow up so fast. Sigh...
She weighs a hearty 45 pounds already. Which means she's doubled in size in 24 days. How is that even possible?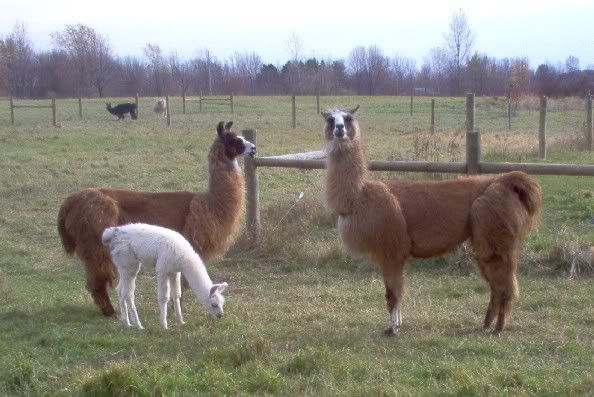 She's begun nibbling on grass and hay just like a big llama. Here Grandma Switzer and mama Lacey look on as Pepper daintily samples a few blades of green.