All kids out of the pool!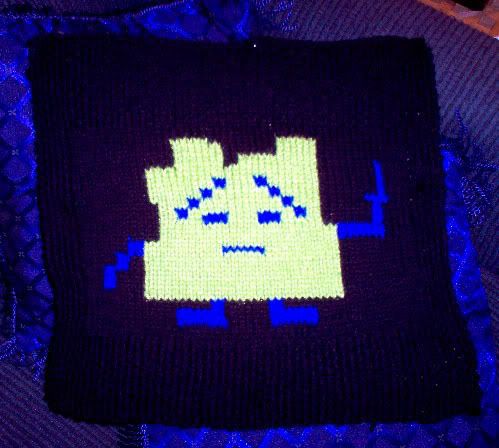 I hope you are watching this. I am doing it as hard as I can.
Harder than I have ever done it before.
Yes, the infamous Ignignokt has materialized from bits of string. He is not blocked and looks a bit haphazard, but as you can see he is quite happy to meet you.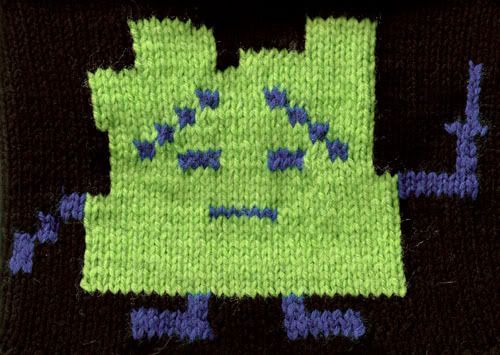 This is what happens when you put your knitting on the scanner. You have to fold it up and it gets all squashy, so I'm not sure I recommend it. Still, it was an interesting experiment. The color of Ignignokt is much more neon green, with a bit of sparkles in it; the blue is quite electric; and the black is, well, black. This combination of colors seemed to utterly baffle scanner, camera, screen and Photoshop. I'm sure it's even worse now on Blogger. You probably think Ignignokt is lavender and orange.
p.s. Ignignokt chart coming soon.
I Promised You Cat-Knitting Tips
They don't seem as exciting to me now as they did in the middle of the night.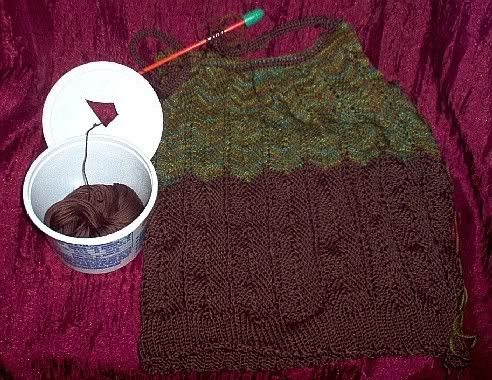 Yarn in plastic pint container is neither as wiggly nor as appetizing...
...nor can aforementioned yarn be seen when container is closed (or at least not most of it, anyway).
Rubber bands (at right) keep stitches from sliding off the ends of a needle that falls into the wrong hands (er, paws). Yes, they sell those little rubber tip thingies, but Isis seems to think those are delightful toys -- it takes her a lot longer to remove a rubber band (which is, I note, also a delightful and very cat-unsafe toy).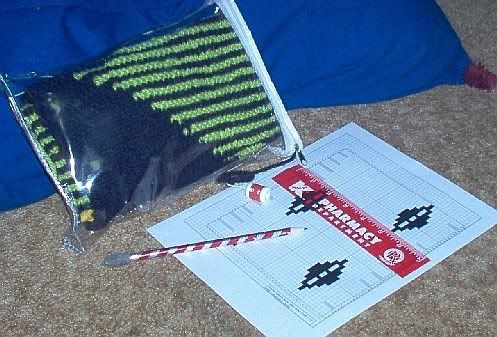 I've taken to securing all my projects in their own ziplock or zippered baggies. This includes the pattern, a pencil, all the yarn, etc. -- any or all of which are fun things to hide under the couch, in the bathtub, behind the stove...anywhere I may not be able to find them when I want to work on said project.


This after I discovered that using plastic shopping bags (highly engaging) or regular tote bags (a little less enthralling, but still intriguing) merely invited delightful exploration, games of hide-and-seek, and the surreptitious sequestering of necessary project items throughout the house.


The upshot is that there is no cat-PROOFING of the knitting to be had, but merely a couple things I discovered that decreased the frustration I was experiencing. I mean, they DO love to help.
Did I hear someone say they needed some help?
Here I am! Here I am!