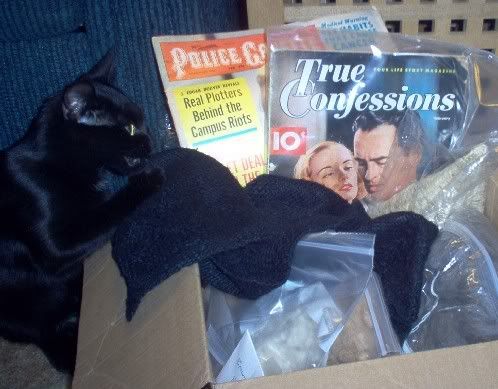 Another alien craft, this time disguised as a package from my Punk Rock Gift Exchange Secret Pal. Isis was immediately suspicious.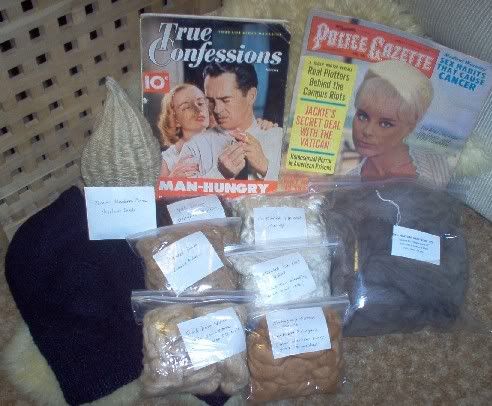 Elke Sommers observed with a most sultry look as I unpacked a tremendous cache of goodies.
The amazing assortment of exotic fibers for my spinning delight includes:
--cultivated silk noil, 1 pkg. carded & 1 pkg. of roving
--gold dust sliver (1/2 cotton, 1/2 tussah silk noil)
--camel down (yeah, CAMEL down! the color is an amazing light cinnamon shade)
--mahogany cotton roving/fox fibre colorganic ("color darkens every time it's washed"—how cool!)
--yak down ("dehaired fiber") And here I was thinking she was making it up about the yak. Buttery soft and brown like a Hershey's kiss.
--a huge bag of 56's heather grey wool top (Australian and domestic wool)
--a packet of Brown Nankeen Cotton Heirloom Seeds (future fiber! woohoo!)
And as if this wasn't enough to make me weak in the knees (all that petting, mmm...) there was also a gorgeous black silk/wool Bat Lace Scarf for me!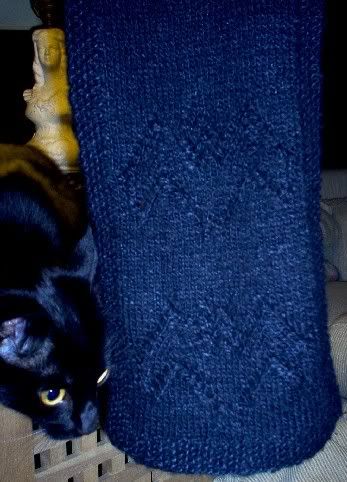 Isis: Can you eat it?
OK: No, demon seed! That's mine!
Isis: It smells like kitty...
OK: Well, that's because she wove in a little fur from her own demonseed. That's what we do to bad kitties, you know...we knit them into SCARVES! [evil laugh]
And just as Isis and I had finished our exchange about MY exquisite new scarf, I noticed this unusual object...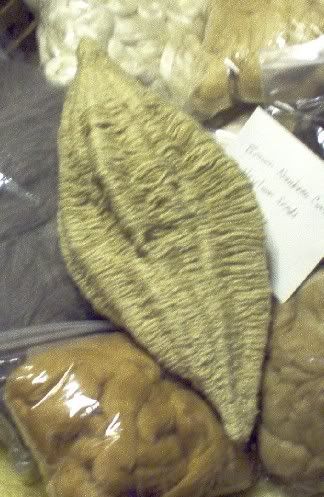 ...a strange sculpture about the size of a nerf football. Very interesting! What a wacky and creative Secret Pal I have, I thought, and busied myself with my newly-arrived copy of the Feb. 1970
National Police Gazette
.
I found much of it quite fascinating...for example, I learned on p. 14 that "men who were married to women with high voltage sex desires were more susceptible to prostate cancer than those men married to women who were less passionate." Furthermore (the article kindly points out), "There is no question in Dr. Gerschwander's mind that oral-genital copulation is a factor in promoting prostate cancer. It puts a strain on the body, the heart, and the prostate gland that exceeds the normal biological capabilities of the individual."
(He does add that "self-abuse" on the part of the male is NOT a contributing factor. So, if I happen to have any male readers, you may breathe a small sigh of relief.)
So...uh, wow! In addition, an article touting "The Sex Wonders of Tomorrow" accurately predicts a "retroactive morning after pill," as well as "potent super vitamins currently being tested which are capable of restoring to a male past 60 the vitality and virility of an 18-year-old-boy." (Guess it took them longer to get Viagra on the market than anyone expected back in 1970.)
Then I commenced to peruse the pages of my steamy 1953 issue of
True Confessions: Your Life Story Magazine
:
"Sometimes in the night, when I can't go to sleep, one question haunts me still. Can the miracle cure of a weak, dissolute man be accomplished by a woman's love? If I had known the answer to that question two years ago, I would not be writing this story. Even in the first weeks of my love for Nicky Barron, I did not know that the answer to that question was to shape my entire life..."
Suddenly, there was a rustling at my foot. I had to tear my eyes away from the lovers on the page, clenched in a passionate kiss (well, a dark handsome man kissing a woman's neck, her eyes turned toward us, lips slightly parted, head thrown back, dark hair tumbling into shadows above the title "I'll Never Leave You, Nicky" – a title which blurs into the back of her crisp white blouse, the shoulders of which are grasped by his large and manly hands. Don't forget to picture this in black-and-white.) Oh, yeah, I heard a rustling, looked down and saw this...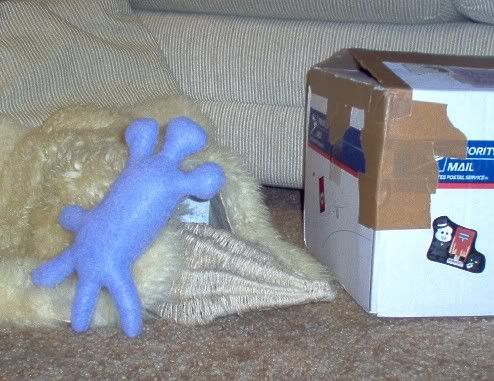 The strange sculpture! Perhaps it wasn't a fiber sculpture at all...perhaps it was...a POD! Good thing I had my camera handy, as I caught Gort (yes, my purple alien visitor has a name now) red-handed...
Gort jumped, I could see Isis had been ready to pounce, and Gort himself certainly looked guilty. Guilty of what remains to be determined. I do not yet know the nature of this strange pod, but I do know that I am now afraid to go to sleep.