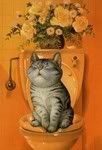 More About Morgan
We adopted Morgan to keep Isis company. She is about six weeks older than Isis, although only about two-thirds Isis' size. She was born last February, so she probably won't get much bigger than the dainty six pounds she weighs now.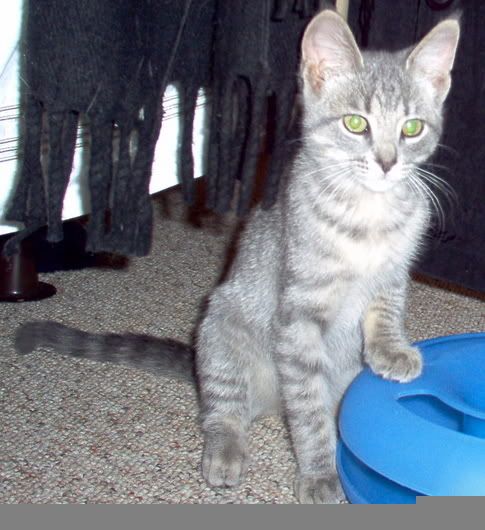 She was a stray found at the Michigan State Veterinary Clinic, living at our vet's office when we took Isis in for her first check-up. She was such a busy little acrobat in her big cage in the corner of the waiting room—performing for all the visitors and capable of the most astounding acrobatics, including climbing across the top of her cage while hanging upside down.
We were convinced she and Isis would be great pals.
We were correct.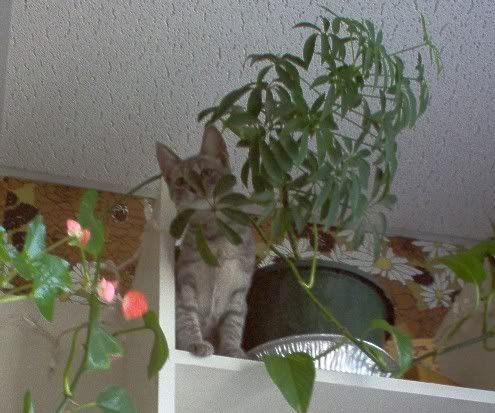 Morgan loves anything related to plants. Live plants, dried plants, fresh flowers, dried flowers...she's Mother Nature's best friend. Many a plant has enjoyed her attentive ministrations.
While Isis has a lot of muscle and momemtum, Morgan definitely wins out when it comes to agility and strategy. They have some stupendous catfights (we constantly enjoy the free WWF around here--World Wrestling Felines).
While Morgan runs up a cabinet or a wall like a little ninja, Isis often finds herself skidding right past her quarry, sliding across the linoleum, and running headfirst into some solid object. Morgan, meanwhile, has handily doubled back and disappeared into another room, or sidled herself into some narrow opening where Isis can't follow.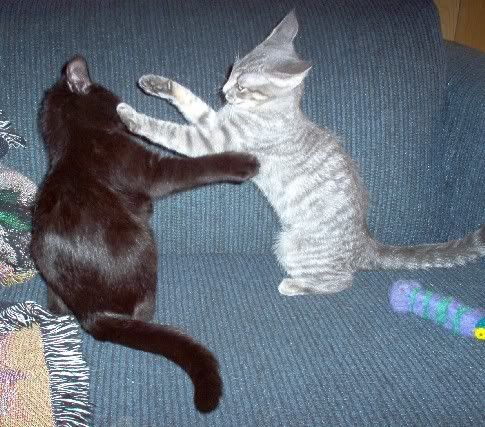 Sparring on the couch…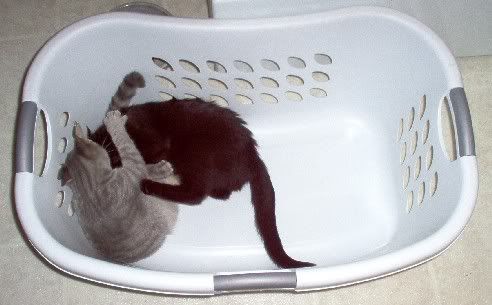 …in the laundry basket...
...and in the cat tree.
Morgan is also a big love-bug. For such a small cat, she has the loudest purr of the three girls. At bedtime, she likes to do a little dance, prancing around on the bed in circles and purring, patting my face, and kissing me on the nose with her nose.
She'll even lie down for a few seconds but—psych! She's up again for more waltzing and kissing and dancing. More purring until she finally settles down to sleep.
Sharing the love.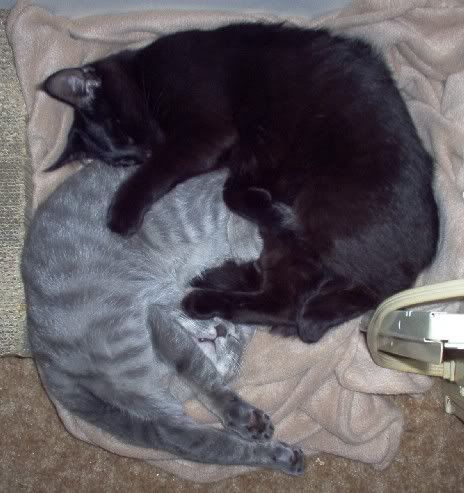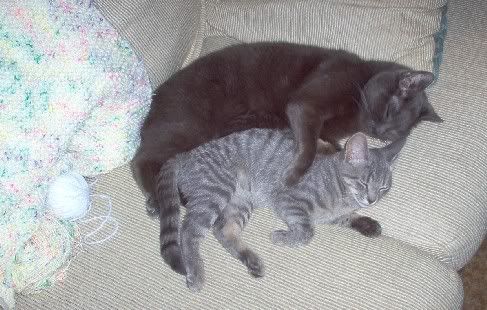 Morgan and Grey Cat.
Because there's always enough love to go around...