I've been in semi-hibernation for the past week. Actually, I didn't spend the whole time sleeping. When I wasn't in repose, I was making these.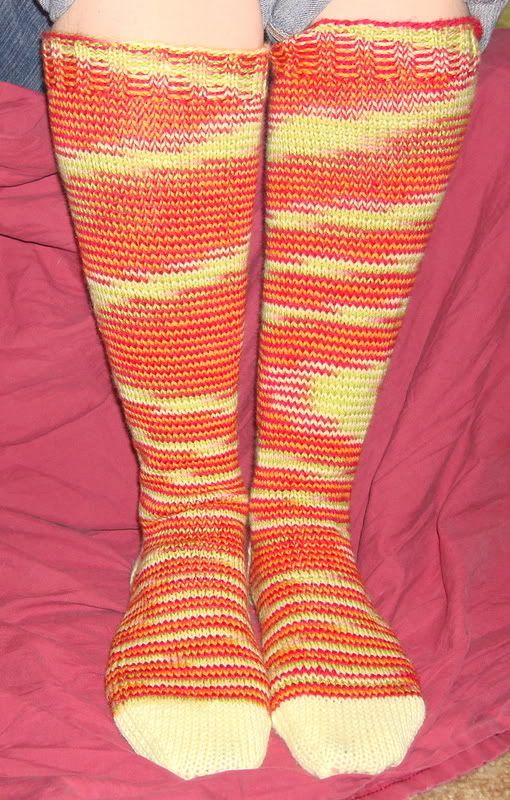 I should first tell you that since I began knitting a little over a year ago, I've had absolutely no desire whatsoever to make socks. None at all. They seemed like a lot of work for something that goes on your feet and no one really sees. And you can get a halfway decent pair for just a few dollars. I'm not very picky about socks—they've interested me, well, just about not at all.
But I had two skeins of this nice 100% merino KnitPicks Sock Memories yarn that my friend
Purly Brites
sent me last fall in a very wacky color called "Flower Power." I hadn't been able to figure out what to do with it (especially in such a crazy colorway) and it just looked like it wanted to be made into socks. And I wanted to prove to myself I could make socks.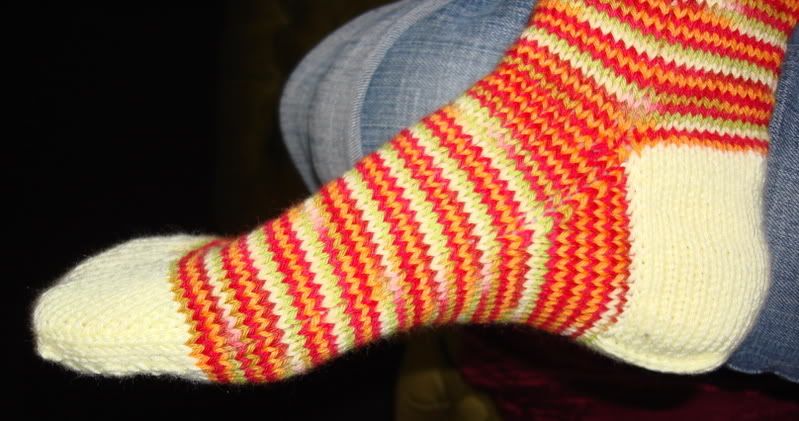 So socks I made. I used the Pippi Kneestockings pattern from S'n'B vol. 1. I figured that as a sock first-timer, I probably couldn't go too wrong with instructions from S'n'B.
The only thing that strikes me as kind of funny about them (aside from the completely chaotic riot of colors) is the heel flap. But it works, they fit, and they're so kooky they make me giggle.
Oh, you're wondering about the Irish Nachos? Irish Nachos consist of an enormous pile of french fries smothered in melted cheddar and mozzarella cheese and a hearty dose of green and red peppers.
So these are my Irish Nacho Socks.
By the way, the mozzarella cheese color used for toe and heel is (brace yourself, purists and fiber snobs) 100% acrylic Dream Baby yarn. I like to force the common fibers to mingle with elites like the high-falutin' merino. And it's all I had that matched.