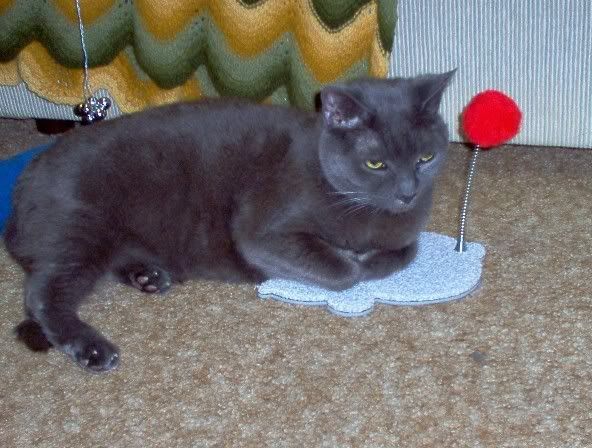 Grey Cat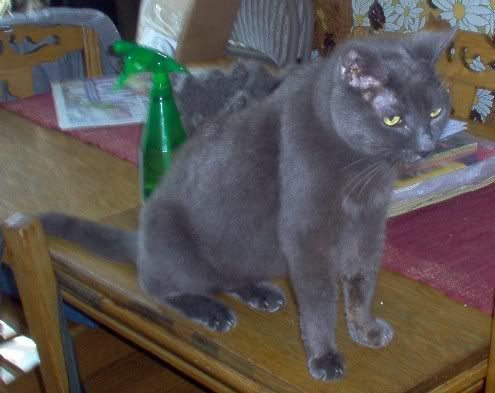 Watcher, Friend, Companion, Keeper of the Fort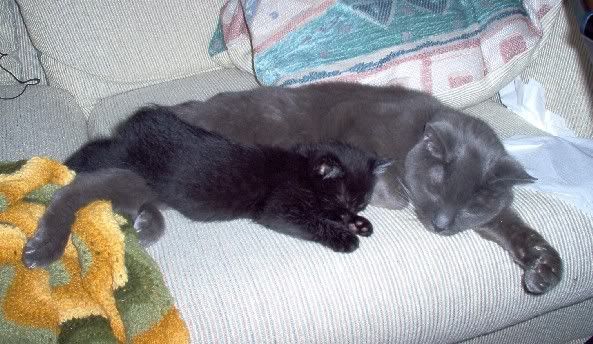 Grey and a very small Isis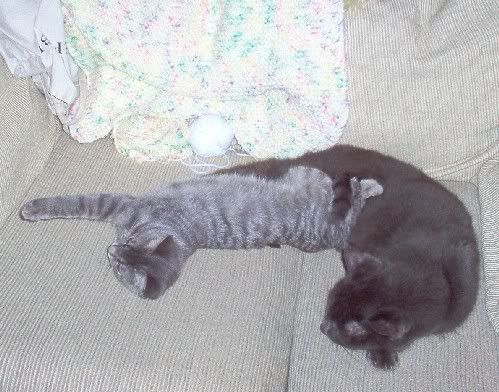 Grey with Morgan
Grey and Emma in the Snowball Bed
Grey testing catnip mice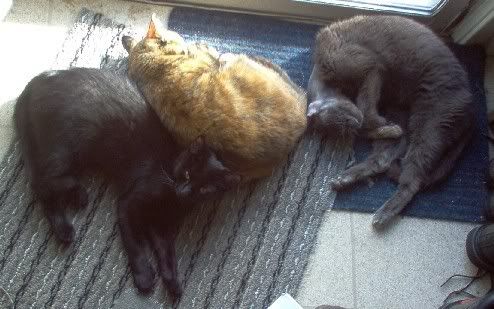 Group catnap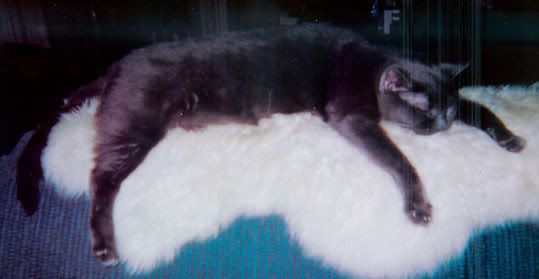 Yes, you probably noticed that Grey Cat is sleeping in most of these photos. That is because sleeping is pretty much his favorite thing to do, and has been since he was a youngster.

We took to calling him The Napster, since his superpower seemed to be putting any person or creature in proximity to him fast asleep as well.

When I had trouble sleeping, I'd simply curl up with Grey under my arm, listen to his rumbling purr for a few minutes, and I'd soon be out like a light.
As you can see, his narcotic power extends even to kittens.
Grey Cat is the
feline mentor
who taught me the following:
1. The only two words you really need to know are "Me" and "Now."
2. Always wait at least 15 seconds before responding.
3. When responding, do so as if it's an inconvenience.
4. Keep your priorities in order: Food, Sleep, and Food.
5. If you can't eat it, sleep on it, or play with it, it's not worth getting excited about.
6. You don't have to pout for long--just long enough to make your point.
7. Never let them forget who's really in charge.
Grey Cat is now sixteen and quite elderly, and has grown increasingly ill over the past few weeks. Emma has not left his side for some days.
He has been my constant companion since he and I were both kittens—well, he was very small and I was 21 and just out of college.
This morning (Thursday) he must leave us. We have an appointment with the vet at 11:30.
Please send some warm thoughts and peaceful wishes. I am ridiculously sad.