Thanks for all the great input on your favorite knitting needles! As I mentioned, I have a gift card from The Hobby Lobby and am thinking of getting interchangeable circulars. I'm actually not sure what I'll be able to find there, but it's worth a look.
To tell you the truth, I myself am not all that particular about my needles--at least not yet. I'm a relatively new knitter (I've been knitting about a year now) so I'm still experimenting with needle size and type and, no matter whether it's metal or bamboo, circular or straight or double-points, it's all still pretty much on the learning curve to me.
Which is probably good, because I'm not sure what
The Hobby Lobby
will carry. Is it just me, or is that sort of an odd store? I was really excited when ours opened, because it's much closer than the Michael's or the JoAnn's, but it has a really strange vibe to it. But I can't help but love a craft store of any stripe (I think
Ben Franklin's
remains a favorite, though, probably for it's five-and-dime feel, and the sheer randomness of it) so The Hobby Lobby entertains me just about as much as any of them.
On The English and The Continentals
So I'm continuing to practice throwing the yarn leftie, continental-style. It still feels a bit unnatural, but I'm convinced if I can just get the hang of it that it's going to be far faster than the English way, which entails constantly letting go of the needle to throw the yarn rightie.
Before you totally glaze over on this subject, let me just add that I am one of the
most
right-handed people ever. I broke my right hand during senior year of high school (extra unfortunate as I'd been studying piano for ten years) and was stunned to find that I couldn't find my mouth with a fork (ow!), could barely brush my teeth, and even the simplest thing, like using toilet paper, was an extraordinary challenge.
But if you currently knit English (i.e. wrap the yarn with your right hand) I'm telling you, the only difference with continental is that you wrap the yarn with your left finger instead! (And no one told me this before because why? Oh, right, because I wasn't listening...the mere mention of it made me drowsy.) If you've ever tried to crochet this will probably come completely naturally to you. (Thanks, DomiKNITrix...I obey, I obey...)
Hot Taste Bowl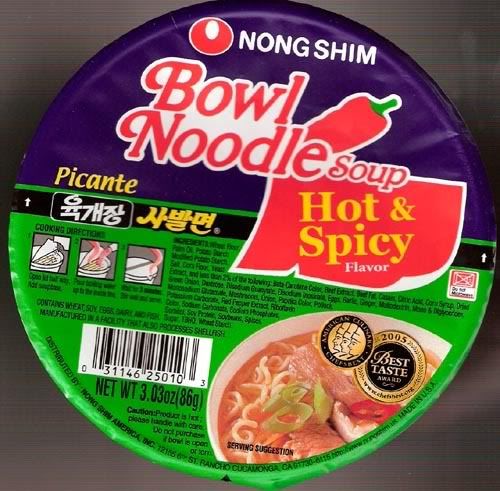 In honor of
Severina
, I now share with you my favorite snack, Hot Taste Bowl. This is a Korean version of ramen noodle that is guaranteed to clear your sinuses. This classic "Hot & Spicy" flavor is quite good, as is the Kimchi ("Vegetal") version.
But let's not forget the Camarón/Spicy Shrimp Flavor (and no, Sev, it doesn't contain clam broth). Although you can't get these on sale at seven packages for a dollar like some brands, they run about 99¢ apiece at Korean groceries (or mayhaps in your
international foods aisle
[though apparently not this one]; our Meijer store carries them), and they're at least twice as big and 18 times as spicy and flavorful as your college dorm room ramen packet or Bowl'o'Noodles. Yummy!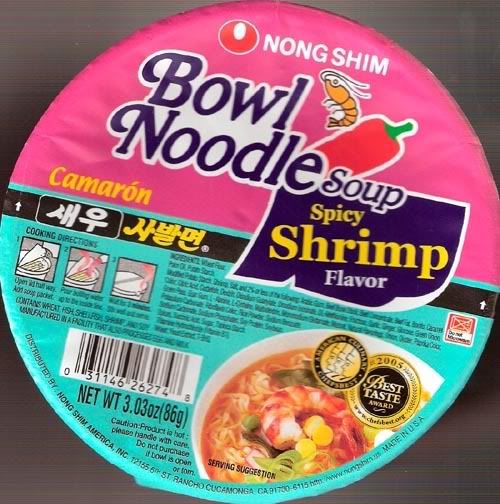 Cat Treat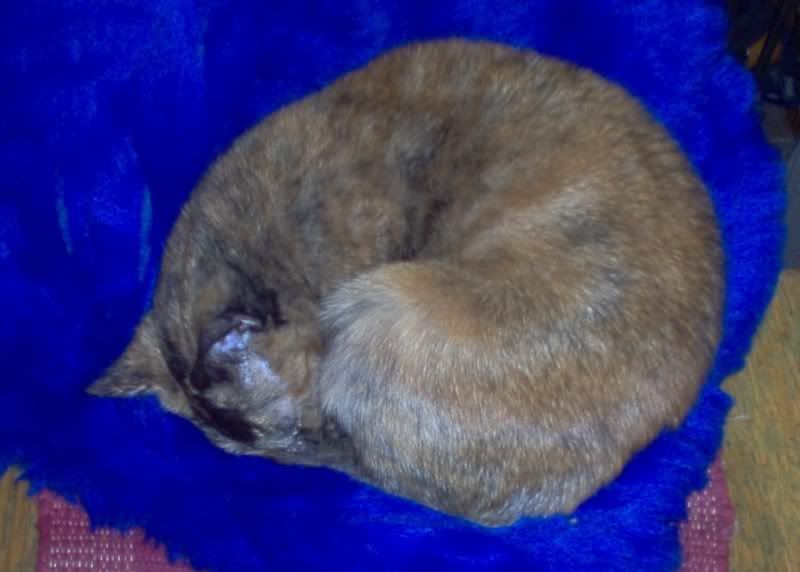 Here's Emma sleeping on my fuzzy electric blue Cookie Monster coat, her new favorite nap spot.
And here she is on a page with some new
French friends
! (That Emma Peel, she really gets around...)