On Pajama Pants
I realize
I made it sound
as though I wear my flannel pajama bottoms everywhere. I would like to take a moment to clarify. (Granted, there was a time back in the '80s when I wore men's boxer shorts everywhere, but who didn't?) What I was describing to you are the flannel pants I am fond of wearing
in
the house--
my
house--although I realize that it is no longer uncommon to see people wearing sweatpants, sleepwear, and even their undergarments in public. I personally choose to wear mine at home.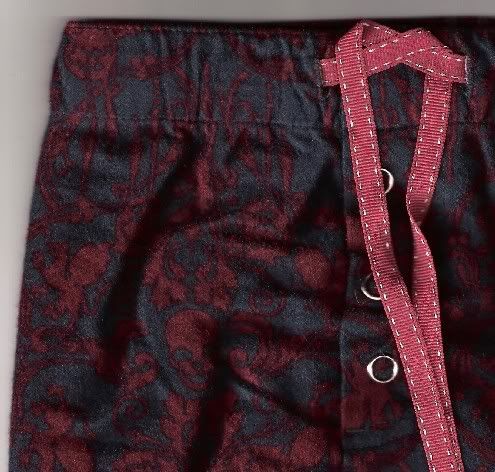 And I figure if I'm slouching around the house I may as well feel halfway cute while I'm doing it...sweats are SO comfy, but somehow the frump-factor just makes me feel so--well, extra-slouchy, you know?
Llama Beans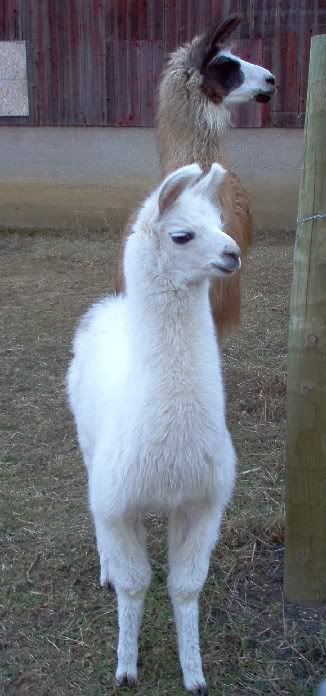 Okay, the llamas are great and everything, all cute and fleecey and whatnot, but this evening I shovelled 4 (yes, that would be FOUR) heaping wheel-barrow loads of
llama beans
(and yes, by that I mean poop) out of the barn and pasture...ew! (It'll go on the garden in the spring; llama beans make wonderful fertilizer.)
Isn't there an animal whose poop you DON'T have to scoop up?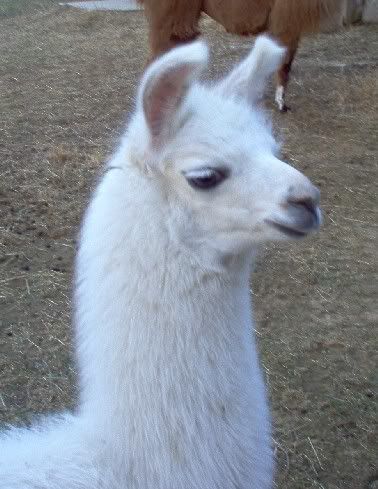 Slave to the Swatch
I diligently obeyed DomiKNITrix's directions and made my first true gauge swatch.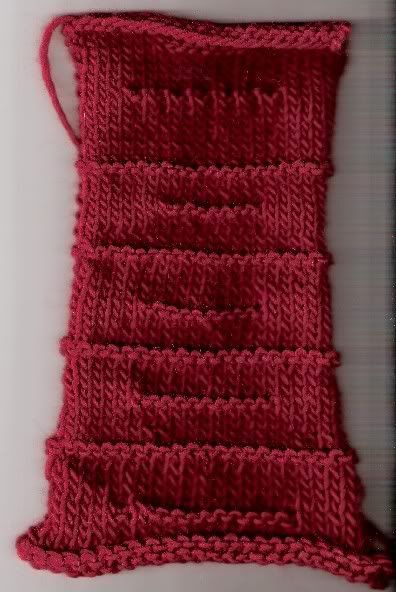 I've never used Lamb's Pride worsted before (this is a really lovely color called Raspberry, although it doesn't look like it here), and I'm using it to make a hat. I've done the band in that crazy, fuzzy Lion's Brand Homespun (or it could be Red Heart Light & Lofty).
Anyway, I followed protocol and knit a 24-stitch-wide swatch using size 7-8-9-10-10.5 needles. The little purl bumps indicate the needle size (as per DomiKNITrix--I thought this was a brilliant idea) and the purl rows separate the different gauges.
I generally swatch since I'm still a relatively new knitter and don't have a very wide vocabulary of yarns yet. (For example, it seems very strange to me that the Lamb's Pride has so little twist to it.) I wouldn't have swatched like this for something as simple as a hat, but I made myself do the exercise because, well, the DomiKNITrix said I had to!
Well, mostly, I thought it would be good practice. And it is interesting to see the varying characters the yarn has at the different gauges. I was hoping to work the rest of the hat on 10.5s, since that would go quickly, but I think it'll look best on something smaller, possibly even 7s (7 and 10.5 are the two circular sizes I have to work with, and I don't really want a seam).
Hm.
Moose and Squirrel
I've noticed that some cats are sprawly, loosely-knit cats, and some are curly and more tightly-knit.
Isis is the former, and Morgan and Emma are the latter. I can pick Isis up and she'll hang in my arms like a fuzzy doll; I carry her into bed with me and she stretches out under the covers next to me, purring and purring.
You can only pick Emma up one way--upright, like you would a small child. She has to be able to see over your shoulder, no cradling, and definitely no lying on her back! And Morgan is such a squirmy little squirrel that no sooner to you get her in your arms than she wants to hop right back down again--you know, things to do, people to see, stuff to chase.
It's the same when they sleep. Grey Cat was always a sprawler...on his back, on his belly, head lolling around, front legs stretched out like Superman...whatever. Emma sits with all four feet neatly tucked together, and sleeps with similar tidiness...curled into a tight little ball.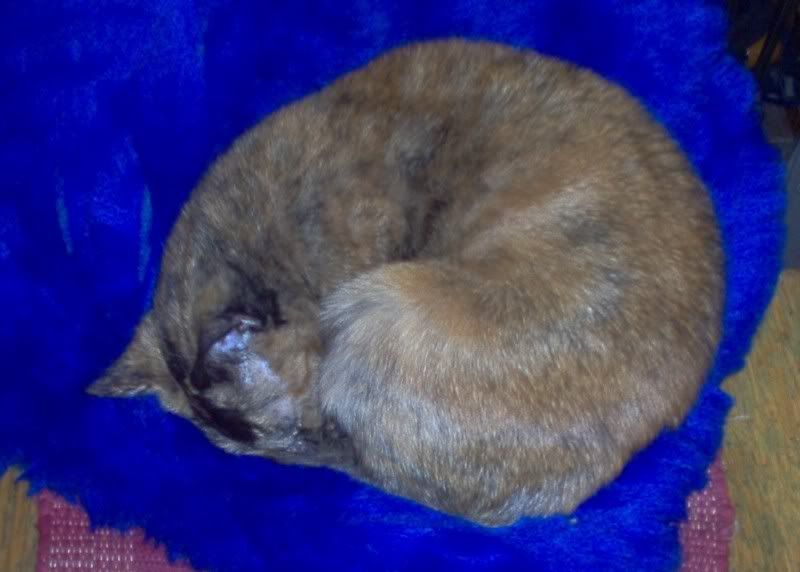 Isis is more of a sprawler, and sleeps soundly.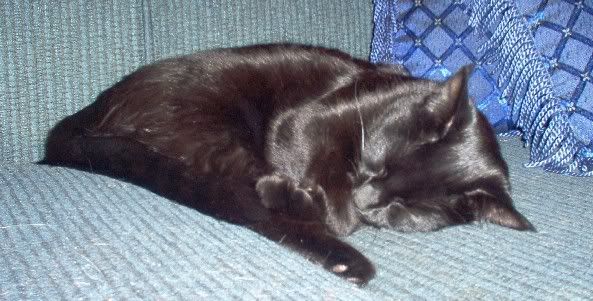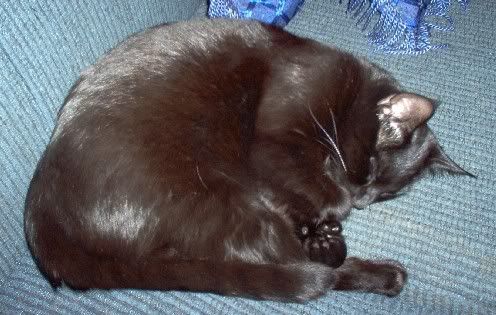 Morgan is definitely a curler...
...and always ready with one eye open.