One of my life-long dreams came true today.
Imagine my surprise when I was awoken from a midday Christmas Eve catnap by our friends Rick and Laura from
Queso Cabeza
knocking at the front door.
I invited them in and we chatted for a few minutes; then, assuming they had simply "been in the neighborhood" and wanted to see 'their' llamas (Llannie had been the first llama born at Queso Cabeza, and we got Graty, Lacey, and Switzer from them as well), I asked if they wanted to check on their old friends and see Pepper.
"Sure!" they said, never giving away the
real
reason for their Christmas Eve drop-in.
It didn't strike me as odd that they had their trailer hitched up behind their truck. I figured they'd been out picking up some sheep or something, and as we were heading to the barn, Rick asked me to take a look in the trailer.
And there were two Icelandic sheep inside.
I was rather puzzled.
Laura informed me that two of their sheep needed a home—OUR home!
So please meet the two newest additions to the O'Kitten Corral!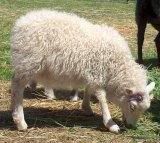 Curly (at 6 ½ weeks)
b. 20 April 2006
White Icelandic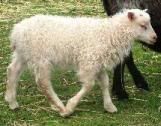 Curly (at 3 weeks)
Tiny Engebretsen
b. 13 May 2006
Moorit Gray Icelandic
Tiny, when I met him at Rick & Laura's over the summer
Tiny trotting out of the barn this evening as if he already owned the place.
I have dreamed of having sheep for as long as I can remember, and today I have become a
shepherd
! In fact, on our honeymoon a psychic told me that Mr. O'Kitten and I had been acquainted in several previous lifetimes. [Cue
Twilight Zone
theme music...] In one of them, we had sheep...Mr. O'K was a barrel-maker who crafted musical instruments on the side, and I tended to the animals and the garden and spun...
Happy hollydays to all, and to all a good night!