Is it just me, or does everyone have that day where they feel particularly unlovely, unlovable, unlikable, incapable, cranky, awkward, and generally unfit for human contact?
I had a friend who said this sort of thing hit her once every month...and she'd go through the whole litany of her faults and shortcomings, concluding she was so stupid she should drop out of graduate school and, anyway, what
had
she been thinking in the first place?
Then this friend--who was, I should add, very bright and quite attractive--would realize it was That Time of The Month and that PMS had fooled her yet again.
Well, I'm having that day today. (I can't spel whin I have PMS either. Ugh. Pleese fergive me. And I SO haate bad speling and typeos.)
Stupid PMS. Grrr. Arrgh.
More On The English and The Continentals
Chris' point on picking versus throwing the yarn is well-taken...I notice that when I get the proper tension in my left hand it actually takes very little "throwing" at all, but of course I'm not adept enough at the continental thing yet for this to happen consistently.
But when I get the right tension and rhythm going it's more like pulling the yarn from my left finger with the right needle, then through the stitch, slipping it off at the same time. (I assume this is what y'all mean when you say "picking" the stitch...it kind of happens naturally when working with the yarn from the left, I think.)
The again, I could just be making up my own kookoomamie way of knitting, and am just
imagining
that I'm knitting continental.
I have PMS, after all.
I can't even drown myself in wine and narcotics, as I've exceeded my lifetime capacity already.
Darn.
Pepper Sprouts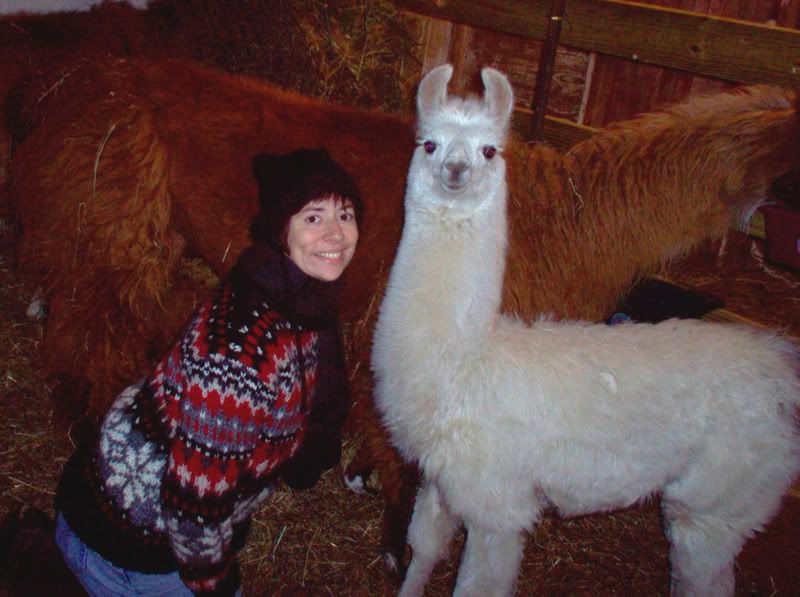 Pepper at 9 1/2 weeks (just ignore the non-llama at left)
Pepper gives the non-llama a llama-kiss