Mr. O'Kitten has (repeatedly) asked me to knit him a sweater. An Irish cableknit pullover sweater. Like the above. The pattern for
this one
might as well be in Greek (no chart). But I do like that the guy in the photo looks a bit like an aging
Colm Meaney
.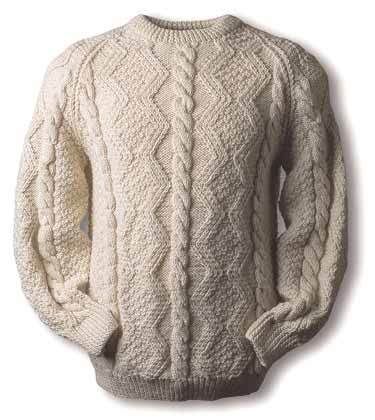 So anyway, I'm looking for an Aran cable pattern for a men's pullover. Something kind of like the above (although maybe a bit less complicated). I can cable, and have followed cable charts before. I actually love cable, and aran patterns are so gorgeous.
Course, I've never actually constructed an entire sweater. But I'm very brave. And very good at following directions.
Here's a good example of what I'd like to do. This is the sweater my grandmother made me when I was little. She was a very good knitter.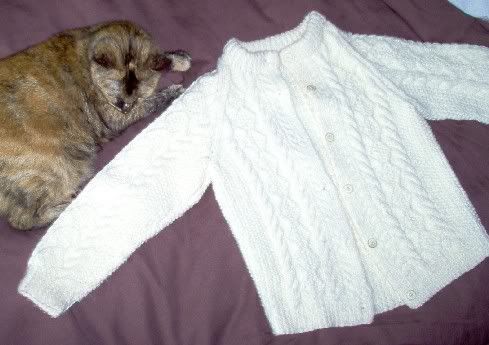 Although of course it's a cardigan, and very small. Too bad, because otherwise it'd be perfect for Mr. O'Kitten.
I thought long and hard about trying to spin yarn for said sweater, but I just don't think my hand-spinning skills are up to making such a great deal of yarn yet, and I think the cables would look nicer with something a tad more consistent than what I can spin. (What Mr. O'K really wanted, at first, was a Graty-llama sweater...)
But I would like to make something kind of cool for the man who got me sheep for Xmas.
So if you have any suggestions pattern-wise, I'm all ears. I don't object to buying a pattern, but would really prefer not to splurge on an entire book. Extra points if it's some wacky vintage Celtic pattern...of course, I have to be able to interpret the instructions so if they're in Gaelic I'm out of luck (minus points in that case). And I'm not like
Sev
, I don't specialize in reading ancient patterns written in Ye Olde English on lambskin or papyrus and then knitting them up with microscopic whalebone needles.
Thanks for any help y'all can offer the hapless O'Kitten!