I got books from my super-fabulous Secret Pal today! Of course I dug right into Jennifer Stafford's
DomiKNITrix: Whip Your Knitting Into Shape
--what a fantastic book. For one, it has great patterns; two, it's a fun read; and three, the how-to's are excellent. I think in three easy pictures she taught me continental knitting, and I may be a permanent convert--believe me, I'm as shocked and horrified as you are.
Accompanying this volume was the slim and hysterically funny
Paint It Black: A Guide to Gothic Homemaking
. Mr. O'Kitten lives by the credo that you can do anything with spray paint and a glue gun. We decorated the entire Elks Hall for our wedding this way: some coat hangers draped with floor-to-ceiling swaths of gold dollar-store wrapping paper, a garbage-bin chandelier-turned-candelabra (turned upside down and spray-painted gold), and dollar-store plastic faux-crystal centerpieces (also spray-painted gold) bearing candles and sugared fruit.
But I digress. I was tickled no end to find that the
Paint It
author's first rule is Paint It Black (via our handy-dandy spray paint) and his tool of choice (after spray paint) is the glue gun. Ah, the joys of hot melted glue sticking to one's poor bare skin...
Yay! My Secret Pally rules! And this package really made my day, because the thermometer has been stuck since Saturday between 18-20 degrees F (that's about minus 6-8 degrees C for everyone else in the world), and I had a shrink appointment today as well, driving some 30 miles to a not-so-fun thing in snow and ice. Yuk! In other words, a surprise package was VERY much in order here today in the Yukon. Okay, okay, so it's not the Yukon...but today it sure felt like it.
Oh, in the background above you can see another surprise I got today--a purple PVC catsuit courtesy of Mr. O'Kitten. An early Xmas gift, I was told. (I think I talked too much about that little purple poncho my grandmother made that I loved so much...) Now I'm gonna be a SUPERHERO!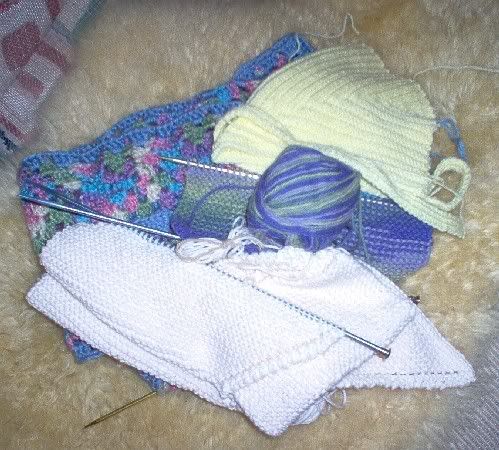 Teaser: some works-in-progress. I can't show more until after the holidays, but you may guess that I've been busy with the Sugar'n'Cream...
What I'd really like to be is spinning; between the spring shearing's llama fiber, the angora bunny fur, and the big box'o'exotic fiber my secret pal sent me, I'd love to be behind the wheel. But I've got too much to do with the holidays fast approaching. And I've got this, from my aunt and uncle:
Wool, fresh from the sheep! We visited their farm when we were in Pennsylvania, and they have 70-some sheep (or so they say, they don't really know how many, but it's a bunch). They raise Merino-Rambouillet. Now I want sheep! (Oh, that's a Morgan--not a grey sheep--at the lower right, inhaling the aromatic sheepy scent. Cats sure love wool. And yarn. And knitting needles...eeesh.)
Baaaaaa!
Coming tomorrow:
Cats on Tuesday
...