Reflections on Sock Yarn
So what
is
sock yarn? This is a very good question, and I realized while reflecting upon it that there's no easy answer. I can give some of examples of yarn I believe to be sock yarn, primarily because I made socks from it.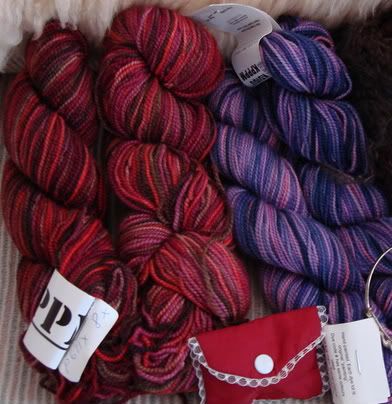 Here's some "sock yarn" known as KPPPM (Koigu Painter's Premium Palette Merino). It is a hand-painted merino yarn.
Here's some of that KPPPM turning into a sock, with Morgan's help.
For those non-knitters among us, I apologize for not explaining myself better with regards to sock yarn . And for us knitters, "sock yarn" is kind of a catch-all phrase and rather vague anyway. So I'll try to be more specific.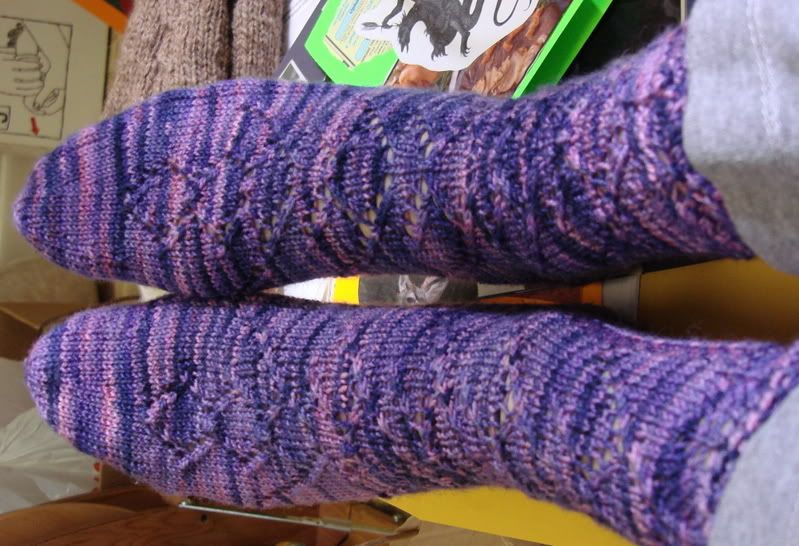 Here's the purple KPPPM as a completed pair of socks.
Since I'm going to be making hats for some babies and toddlers, sock yarn came to mind because it is generally soft (since it's made to go on your feet) and hand-washable (some of it is even machine-washable nowadays).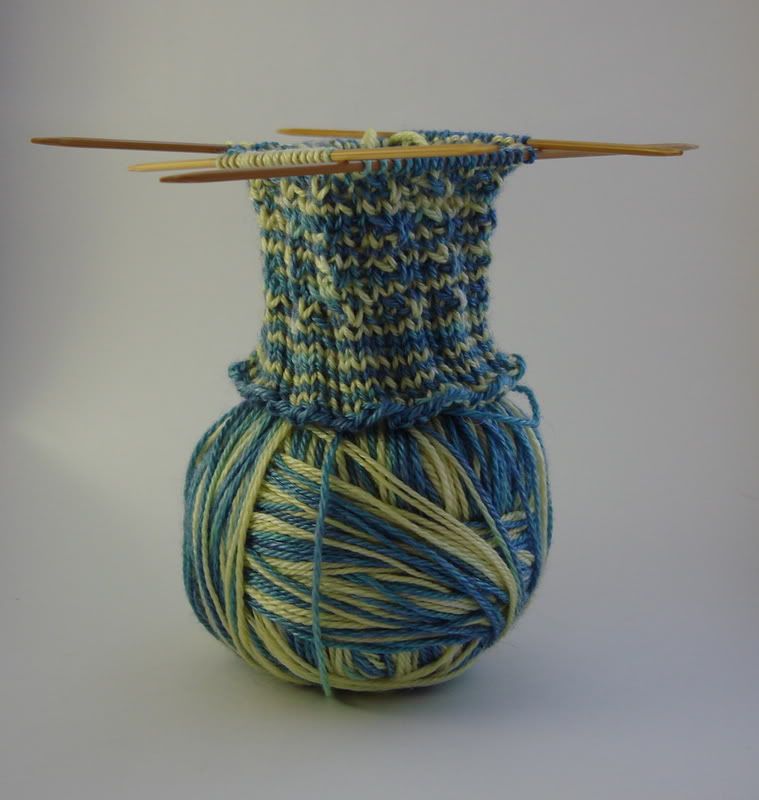 Sock yarn from Yarn Lust. This is a hand-dyed merino-tencel blend. It is also the yarn I used for Zack's Monster Hat...
...as well as a pair of socks for my mom.
I also use the term "sock yarn" to refer to a lighter-weight yarn than what you might use for a scarf or a sweater (a debatable point). To clarify, yarn weight--or, to visualize, its diameter--can be measured in "wraps per inch" (wpi)--the number of times you could wrap a given yarn around a ruler within the space of an inch.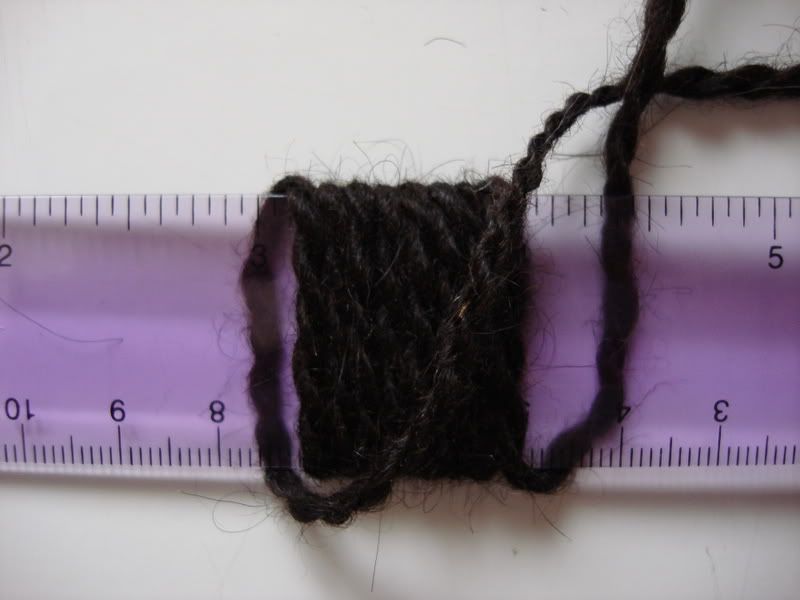 Wraps per inch (wpi)
For example, 'fingering' or 'sport' yarn is generally what I would use for socks, and it is 12-14 wpi. For an average sweater or scarf, there are aran and worsted yarns at 8-9 wpi. For quicker knits, bulky yarns from 5-7 (or less) wpi are available. And if you knit very lacy shawls and things, there are eensy weensy yarns at 16 wpi and up.
This lovely sock yarn is from Bellamoden.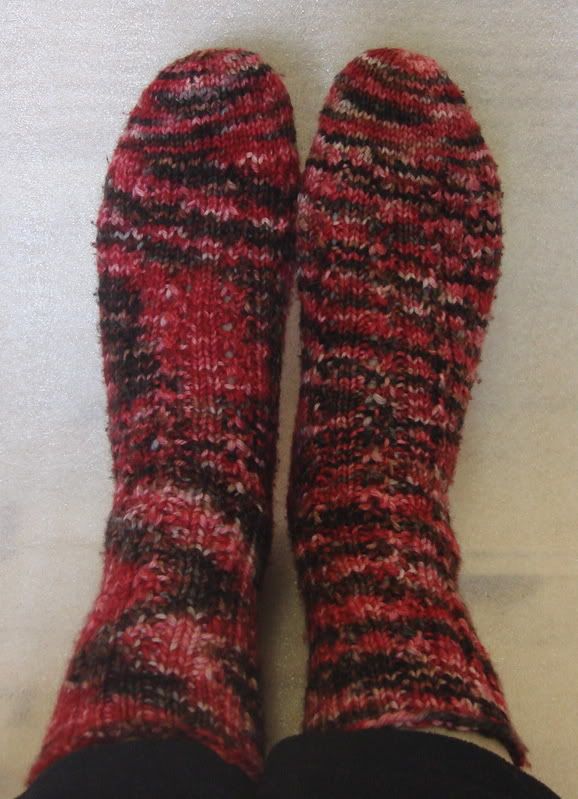 It made a beautiful pair of fraternal socks.
This is some sock yarn I spun myself from Blue-Faced Leicester (BFL). From spinners I learned that a yarn you plan to use for socks should have more twist to it than yarn you might use for other things--ideally, it should have some stretch to it. You may notice when buying a designated 'sock' yarn that it will be springy. This is good!
Sock yarn comes in all kinds of materials, too, not just wool. Mohair strengthens it, alpaca is super-soft, silk is super-strong
and
super-soft, and even the vegetable kingdom makes an appearance in the form of soy, corn, seacell, bamboo, and more.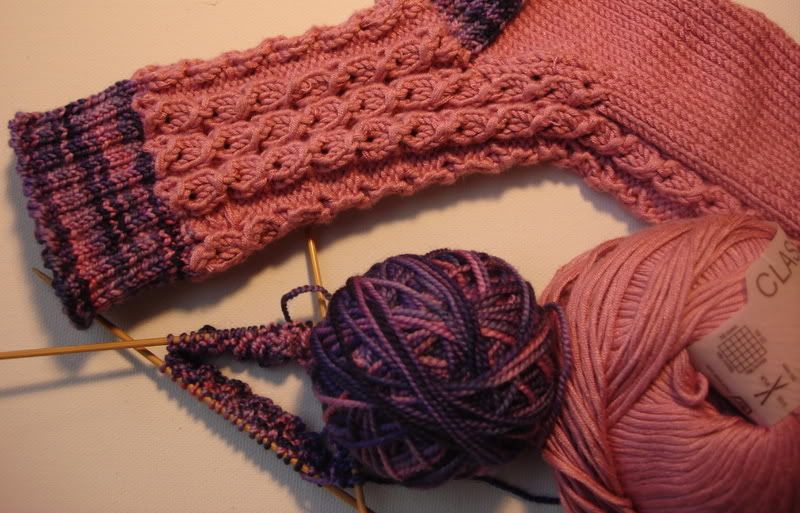 The mauve yarn is 100% bamboo. It's very soft but takes forever to dry after you wash it. The purple is a bit more of the KPPPM.
Of course there are people knitting beautiful scarves with bulky yarns and making socks from worsted yarn and scarves and sweaters with laceweight and
things other than socks
from sock yarn--like, um,
baby hats
.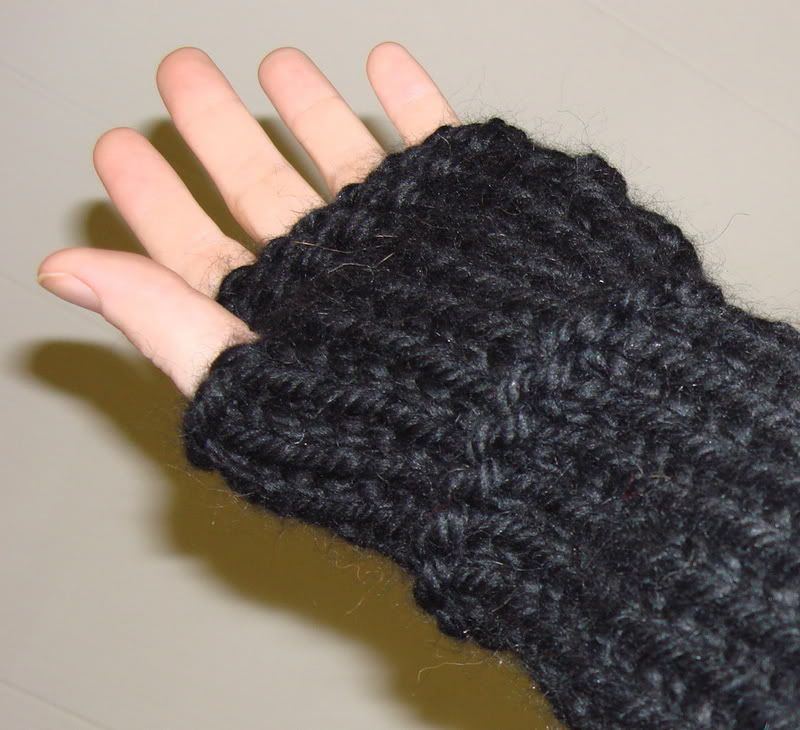 I made these gauntlets using super-bulky alpaca. Definitely not what I would call sock yarn.
The Contest
I'm looking to find some fingering-sport yarns for baby hats. Send me some of your leftover yarn by Halloween and you can win stuff!
Contest info here
. Thanks to all, and happy fall!