In the Bag
Some of you were wondering what was in the bag that my dear friend Ros was holding at Jive Turkey about two weeks back.
In the bag there were more bags...
...and in those bags there was much wonderful yarny goodness. As I've mentioned, Ros is a friend I've known for some ten years who has now created Yarn Lust and whose hand-dyed and hand-painted yarns are simply to die for (hehhehheh, I made a punny joke).

In short, her yarn is some of the loveliest and easiest to work with that I've ever used, silky-smooth (deosn't split--love that) and luscious and simply wonderful. Colorways I got in my favourite tencel/superwash merino 50/50 blend include Secret Affair, Charity, Leprechaun, Tokyo Tea, and Gluttony.
She even custom-dyed some monstrous colourways just for my Monster Hat project, like the one you see here on the needles.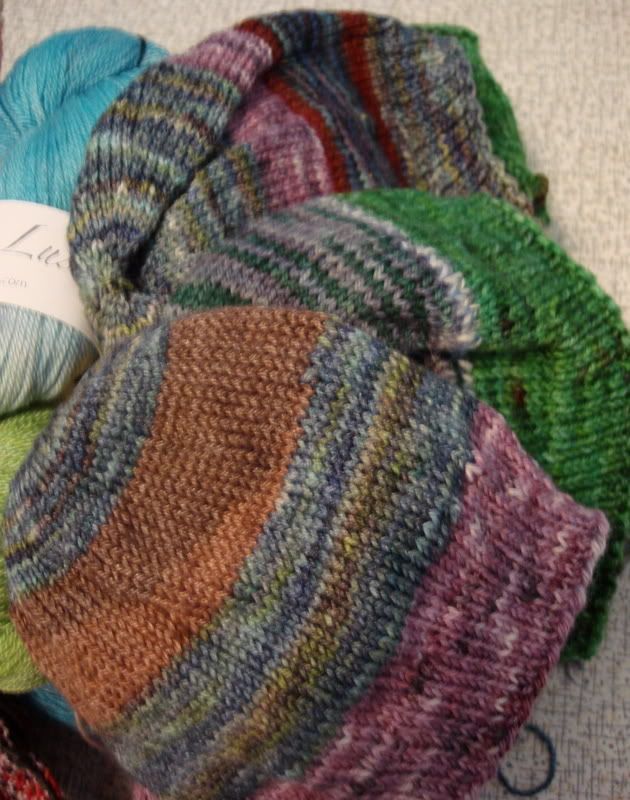 So far I've finished four (and a half) of the dozen or so hats for the holidays--sans eyes, ears, horns, and flashing wicked teeth, of course. But it's a start. After all the wee ones have been gifted with their monsters I plan to continue making monster headgear, so please do send in a bit of yarn in for the contest if you haven't done so already!
To enter, just email me at sohopixieATyahooDOT com for my snailmail address.
Just a Bit of Yarn Porn (Under the Guise of FOs)
One of the fun things about making Monster Hats is putting together odd color combinations. Okay, so this one isn't so odd but the green merino is pretty radioactive in person. The green-grey merino is a little softer, but still kind of monster-y--like a T-Rex behind a bit of foliage. Just wait until it has spooky little eyes.
Mmm...mauve, blue-green, and a rich and scaly copper colour. Truly prehistoric. I'm sure this one will have horns--probably three of them. The lavender/mauve and blue/green are both bamboo/merino/nylon/superwash (that's my swatch looking like a deflated snake at the bottom); the copper is 50/50 merino/tencel.

Grrr.
Again the mauve and the blue bamboo blend, this time with a couple donegal/merino wool/nylon superwash and colonial wool/nylon stripes in the middle.

Grr-arrgh

, I say.
Pick the Halloween Cat from the Line-Up
Behind Door Number One we have Morgan Freeman LeFay. She says she is dressed as a little grey-striped ghost. Ha. All I know is that she is often caught spinning in circles which we believe are the precursors to spell-casting.
Behind Door Number Two: Emma Fife Peale. All I can say about her (aside from pointing out her general lack of Halloween spirit) is that she is decorated in perfect Halloween colors all year round.
And behind Door Number Three we have Miss Isis Kyle. I gave her a felted candy corn (note: it is a CANDY CORN) for effect. She looks cross because she does not appreciate my stereotypes about black cats and Halloween. But come on...it doesn't get much more Halloween-y than this, does it?