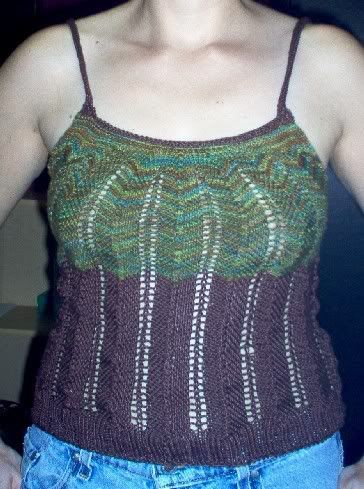 Several people asked about the alterations I made to the
Razor Cami
pattern to make it fit a slightly larger bustline than the 30-34" (76-86 cm) bust for which it was designed.
I really enjoyed knitting this pattern. It was my first attempt at anything lace, and it was an easy knit. There's no shaping, but the end result fits well, and the alterations (a.k.a. "math") ware easy and actually worked out. I'm about a 36" (92 cm) bust so here I'll let you know the three things I changed in the pattern to make it fit me.
FYI re. yarn/gauge: The yarn I used is not what's called for in the pattern. Instead, the dark brown I used is Filatura di Crosa's Millefili Fine 100% cotton and the variegated is merino wool from Fleece Artist. The pattern gauge is 24 sts and 29 rows = 4" (10 cm); my gauge was 26 sts/29 rows = 4 in (10 cm).
I used the better part of two 50-gram balls of the Millefili (136 yds/125 m each) and part of a skein of the Fleece Artist merino.
NOTE 1 -- Cast on. The pattern repeat throughout is 12 stitches. She does note in
her pattern
to cast on an extra 12 stitches for each extra 2 inches (5 cm) you need.
So I cast on 180 stitches. I wish now I would've made the cami a bit bigger, but this was just about sufficient for a 34-36" (86-92 cm) bust. If you're any larger than that, just add the 12 extra sts for each additional 2 in (5 cm).
NOTE 2 -- Divide at armpit. I
didn't
divide the stitches evenly. I divided 96 to the front, and 84 to the back (total 180 sts, or however many you cast on). I left more stitches at the front to allow for the bust.
You may also notice how short-waisted I am. I only needed to make the body 12" (30.5 cm) rather than 16" (40.5 cm) in length. I highly recommend trying the cami on (or holding it up to yourself) to adjust for length and check how you want to arrange the stitches to front and back when you divide the stitches here.
NOTE 3 -- Finish the back.
Don't
"Seam edge of top ribbing to front edge at each side." Fortunately I tried the cami on at this point, because if I'd seamed the ribbing under the armpits here, it would've been way too tight. So guess what--for a pattern with minimal finishing, you get to do even less of it. And it looked just fine to me without it.
By the way, I didn't use any sparkly contrasting yarn for the edging, just did it in the dark brown Millefili. Also, I made I-cord for the straps instead of the flat 1x1 rib.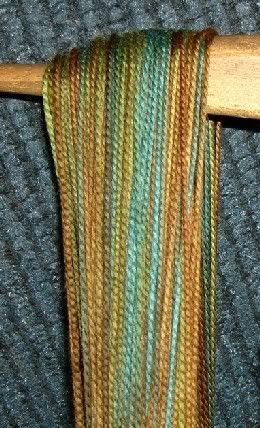 This is a close-up of the pinch-hitter Fleece Artist yarn I got when I realized I was going to run out of the Millefili.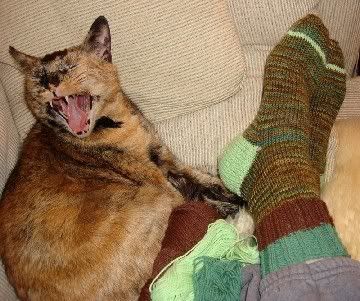 And to Emma's amusement, I had more than enough of it left to make a pair of socks.