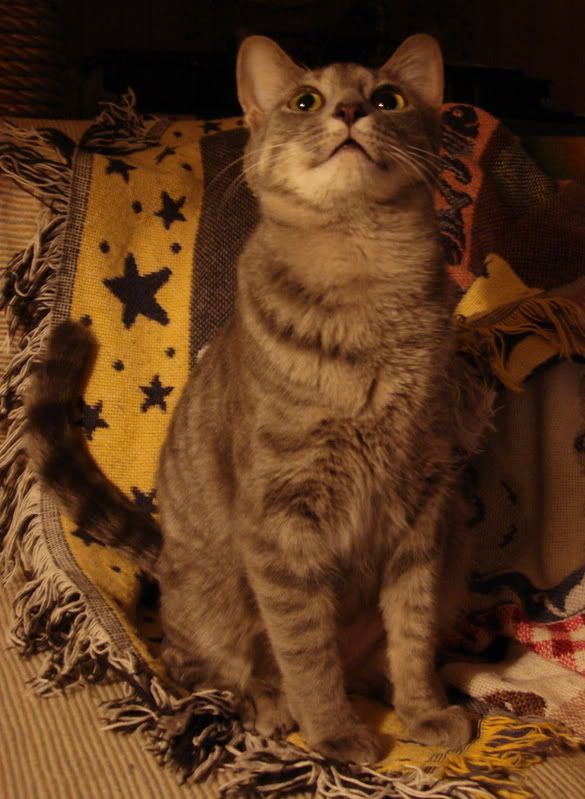 Everybody Wants To Be a Cat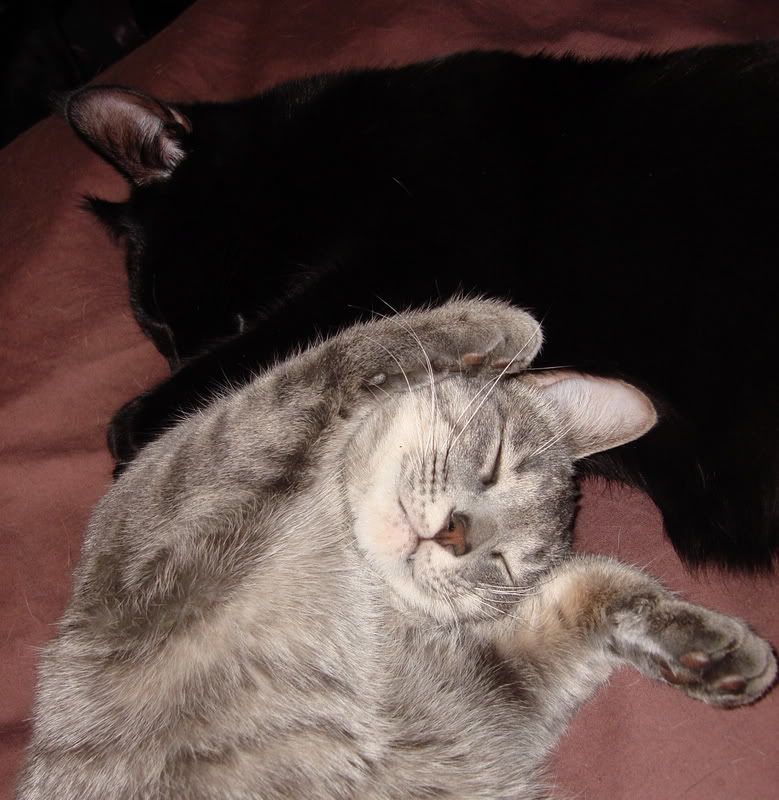 Chris
's Cat Mix CD ("Everybody Wants To Be a Cat"—well, d'oh) has been enjoying a lot of airplay here chez O'Kitten.
She included two versions of "Everybody Wants To Be a Cat"—one by Psapp and one by Michelle Shocked, who I absolutely adore.
Other favorite tracks include the previously featured "
Señor Don Gato
," here performed by Kelly Hogan; The Weakerthans' "
Plea from a Cat Named Virtue
" (you really should go listen to this song—I
adore
it—if you follow the link and click on the "audio & visual" buffalo herd you'll find it); a great bluegrass cover of "Cat Scratch Fever" by Hayseed Dixie; and "Mbube (The Lion Sleeps Tonight)," a most wonderful version of one of my favorite tunes by the inimitable Ladysmith Black Mambazo.
Here's my own
High Fidelity
-esque top 5 list of favorite pussycat songs.
1. The Cure, "Love Cats"
2. The Presidents of the United States of America, "Kitty"
3. Adam Ant, "Puss N'Boots"
4. Lords of Acid, "Pussy" – though this is not exactly family-friendly listening, it is a very funny song.
5. Beastie Boys, "Cookie Puss" -- mostly I just like to say "Cookie
Puss." Funnier still that Cookie Puss is also Cookie O'Puss in March, and that Cookie Puss isn't even a cat, but a very disturbing-looking alien (or so Carvel says) from Planet Birthday.
Cookie Puss
Finally, best cat album: Cat Stevens'
Teaser and the Firecat
which I've loved since I was a small child. Partly because his name is Cat (what could be cooler?) and because Firecat is a cat whose picture is on the album cover.
If you've forgotten what's on this 1971 classic, here's the track list:
1. The Wind
2. Rubylove
3. If I Laugh
4. Changes IV
5. How Can I Tell You
6. Tuesday's Dead
7. Morning Has Broken
8. Bitterblue
9. Moonshadow
10. Peace Train
Both Peace Train and Morning Has Broken were #1 singles on the Billboard chart, Moonshadow reached #10, and the album hit #2.
Teaser and the Firecat
is also a children's book (in English, French, and Spanish, which is kind of neat) by Cat Stevens. It has beautiful illustrations. And a cat.