Occassionally people come to visit New York--I know it's surprising, but they do. And occassionally they ask for suggestions regarding places to go and things to do. My suggestions are highly biased and lean toward the eclectic and the affordable (if not downright cheap). But here I begin a series of just such suggestions, beginning with "Things to Eat in NYC."
One of my own personal faves is
Virgil's BBQ
in Midtown--an area I used to work in but which I now generally try to avoid. However, if you're visiting the city you will inevitably end up in the Midtown/Times Square/Theater District area, and you could do far worse in this overpriced part of town. Virgil's is admittedly a bit cheesy and not exactly cheap, but is reasonably priced for the neighborhood and still fun.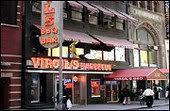 Some good friends took me and Mr. O'Kitten there to celebrate when we got married. I grew up in Georgia, and I have to say they have pretty darn good bbq, considering it's nowhere near the Mason-Dixon line. I'm especially fond of the pulled pork and the collard greens. And the sweet tea is to die for.
Wondering what
collard greens
are? And I don't even really like greens much. But it's good to eat anything that comes in a quantity known as a mess, as in "mess o'greens."
Greens, growing
A cowgirl (presumably), serving
Another place I enjoy -- mainly just because I love the totally corny decor and even cornier gift shop -- is the
Cowgirl Hall of Fame
. The food is pretty decent, too, especially the mac'n'cheese and the onion blossom. You gotta love a place with a good onion blossom.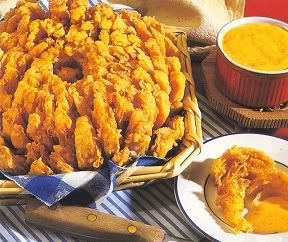 Onion, blossoming
Mr. O'Kitten and I went there on one of our first dates. We were both cross-dressed, and no one at Cowgirl batted an eye, which is probably par for the course in just such a West Village establishment. It was a lot of fun, and I've been to a party there in one of their party rooms as well which was also a hoot.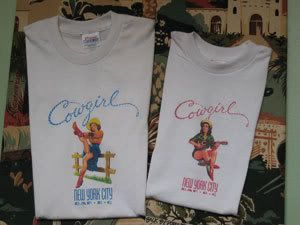 Cowgirl tees bespeak the spirit of Cowgirl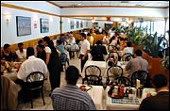 Nha Trang
For positively delicious and affordable Vietnamese food, I can't recommend
Nha Trang
enough. It's located far downtown at 87 Baxter Street, but easily accessible by subway. Not big on ambiance (as you can see above), but I get colossal cravings for their summer rolls and the syrupy iced coffee they serve. Mmmm...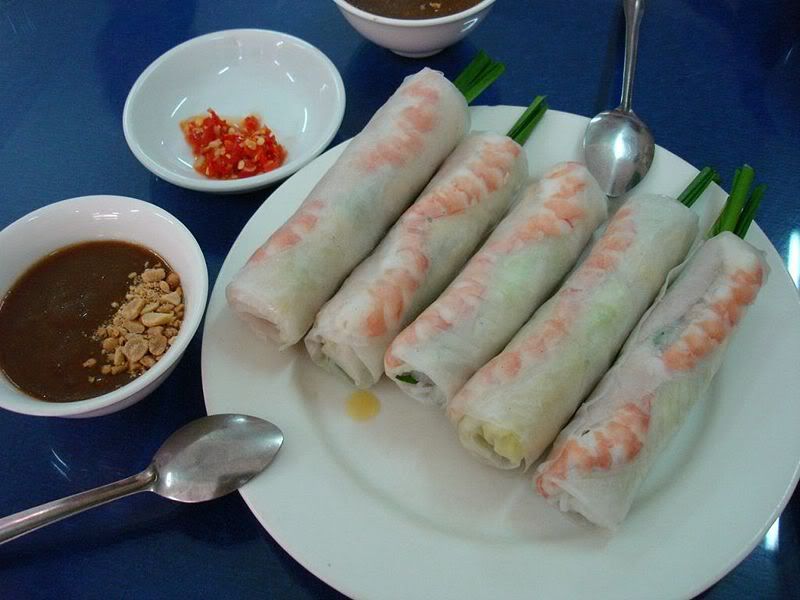 Drool-inducing summer rolls. Just look at those awesome shrimp in there! (Wikimedia photo)
Manatus, diner extraordinaire
My favorite NYC diner is
Manatus
in the West Village. I always have Eggs Benedict. Probably not the best dish this lovely Greek place has to offer, but it's kind of become a tradition with me. They have a huge menu, are open all hours, make beautiful food, and generally you can get a table if you have just a little patience--which says a lot considering its prime West Village location.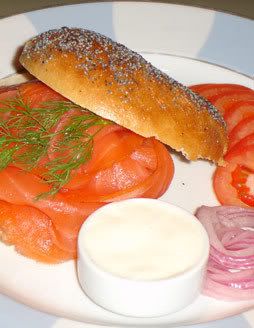 More good diner fare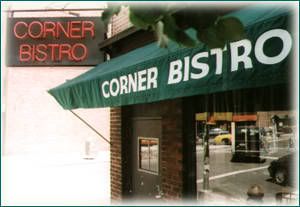 Corner Bistro
The best burgers to be found in NY are at the
Corner Bistro
. It's cheap and requires patience, since it can be pretty tricky to get a table. It's no frills and cash only, with ancient wooden booths full of crazy carved grafitti -- a total West Village landmark/NY experience. But there's absolutely nothing like a Corner Bistro burger, and the micro-fries are pretty awesome as well.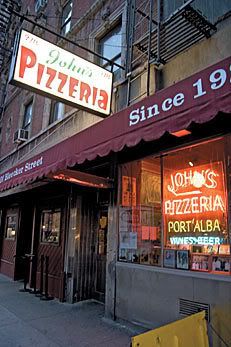 John's Pizzeria
Last but not least, my favorite pizza, hands-down, is
John's Pizzeria
on Bleecker Street. Just look at the thin, crispy, brick-oven baked crust, the home-made tomato sauce and the freshly-made mozzarella cheese in the following photo. Pretty much says it all, no?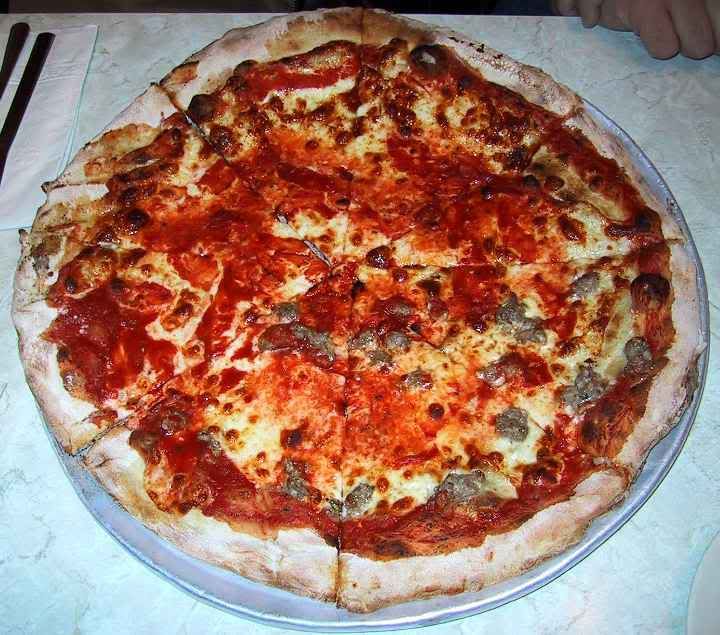 When the moon hits your eye...