I love rollercoasters, and didn't ride the world-famous Cyclone the day we went to the Mermaid Parade. So yesterday we headed back out to Coney Island and I braved the Cyclone.
Mr. O'Kitten had ridden this monster of a ride once before, incurred some abrasions and proclaimed it "the scariest ride [he'd] ever been on," refusing to do it again. So I was on my own, while he documented the adventure on film.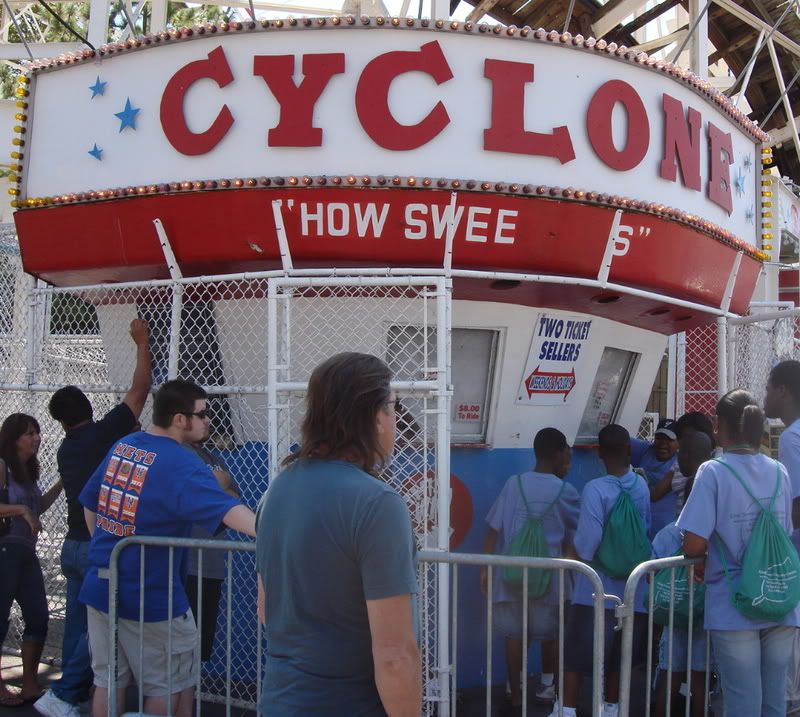 We got there early and I was on the second train of the day. I actually got to sit in the second row! This didn't afford me the front row view of the wooden track, which apparently you can see straight through, but it was totally exhilarating and I was giggling and rubber-kneed and giddy for about a half hour after the ride.
In other words, it was fantastic.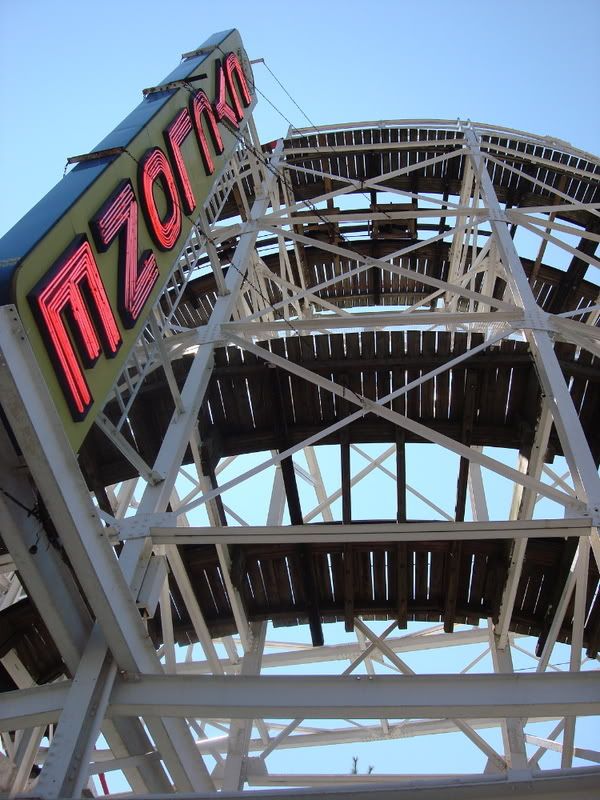 Built in 1927, the Cyclone has this amazing wooden track which rocks and rattles and makes all these incredible creaky and totally terrifying noises. Fittingly, at the start of the ride, the operator pulls a huge, wooden, waist-high red lever that looks like it should open up some comic-book villain's trap-door--and off you go.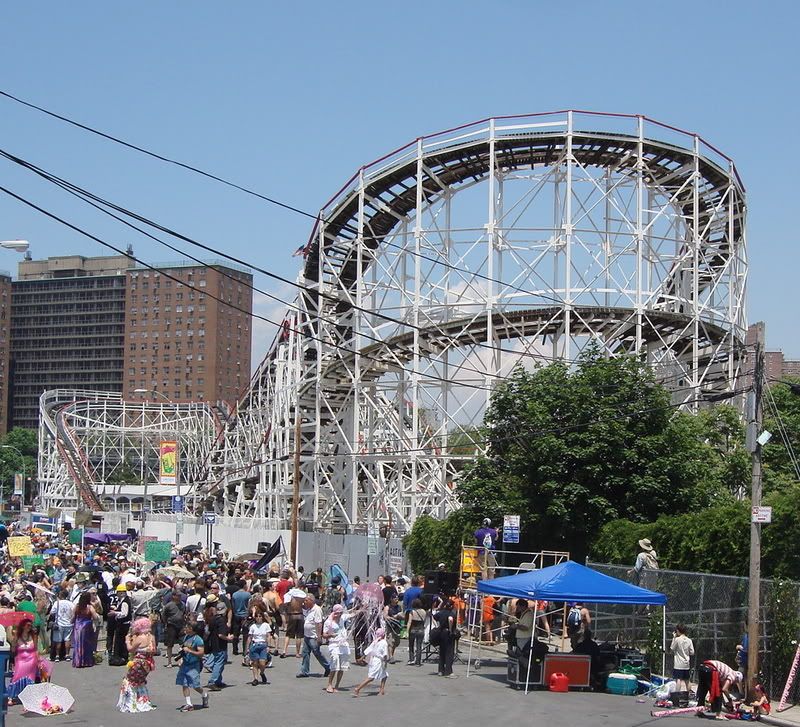 Despite (or perhaps because of) its age, the Cyclone is a whopping 2,640 ft (800 m) long, offering a nearly two-minute thrill ride. With a maximum height of 85 ft (26 m), it propels you up to 60 mph (97 km/h)!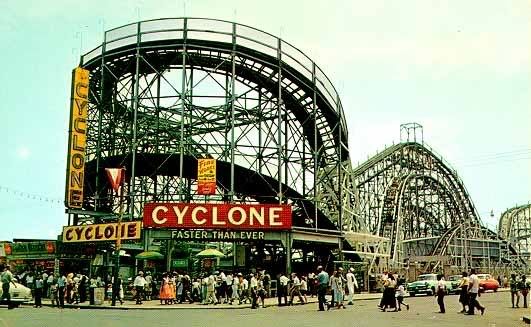 Here it is in 1949. Now the Cyclone is a NYC Historic Landmark and has been added to the National Register of Historic Places.
Some Cyclone stats:
Year operation began: 1927
Designed By: Vernan Keenan
Built by: Harry C. Baker
Initial Investment: $175,000
Type of Ride: Compact wood twister
2008 Price to Ride: $8 ($5 to ride again)
Ground dimensions: 75 feet by 500 feet (23 m x 152 m)
Height: 85 feet (26 m)
Length of first drop: 85 feet (26 m) at a 60 degree angle
Track length: 2,640 feet (800 m)
Maximum speed: 60 mph (97 km/h)
Number of 180 degree turns: 6
Number of drops: 12
Changes in direction: 16
Number of track crossovers: 18
Number of elevation changes: 27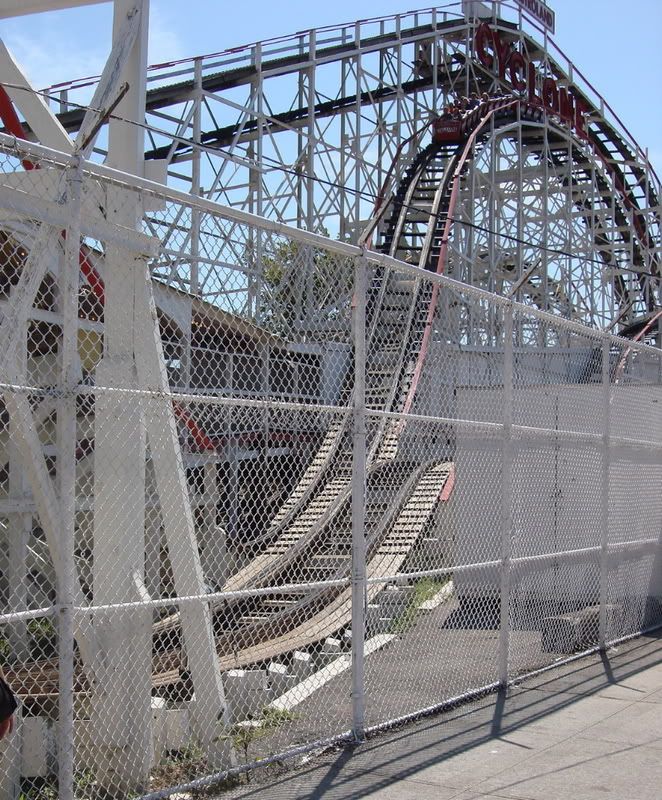 Here's me. Okay, so you can't tell it's me, but it's me, in the front car at the top of the hill. Photo courtesey of Mr. O'Kitten.
Ride the Cyclone yourself in this YouTube video. Imagine you're me sitting behind the guy with the camera, with the folks behind you intoning "I don't wanna die...I don't wanna die..."
"

Hold on to your car keys, hats and wigs..."
On the Boardwalk
After the Cyclone, we went to the beach. Mr. O'Kitten did a little swimming (his verdict: warm water good, no waves bad) and then we hit the boardwalk.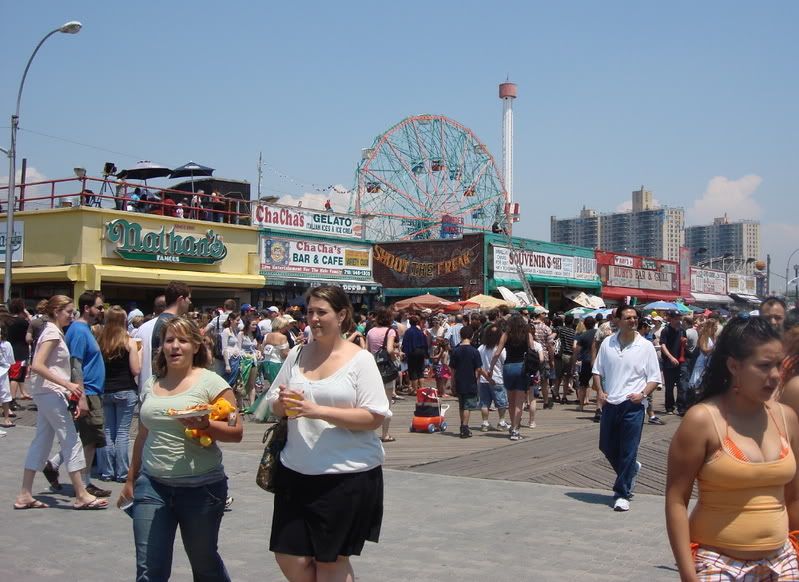 My fascination with signs is not limited to the subway, and the boardwalk is rife with great signage.
You may remember that I was very fond of the Astroland burger guy with his big retro rocket.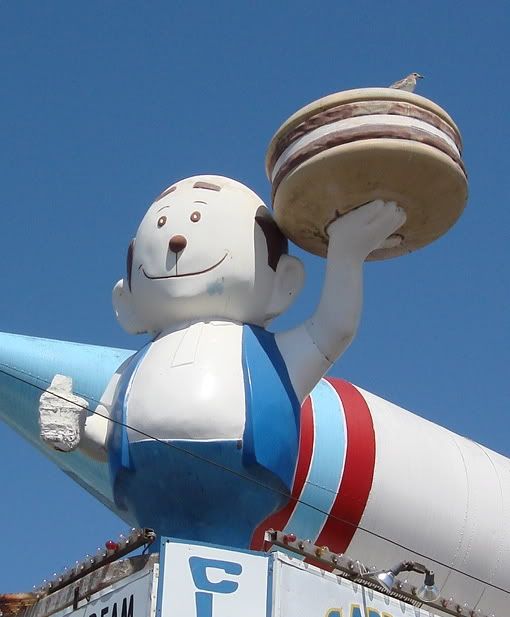 Yesterday he was serving up a seagull on top of his burger...
...and the clams at his bar were really yukking it up.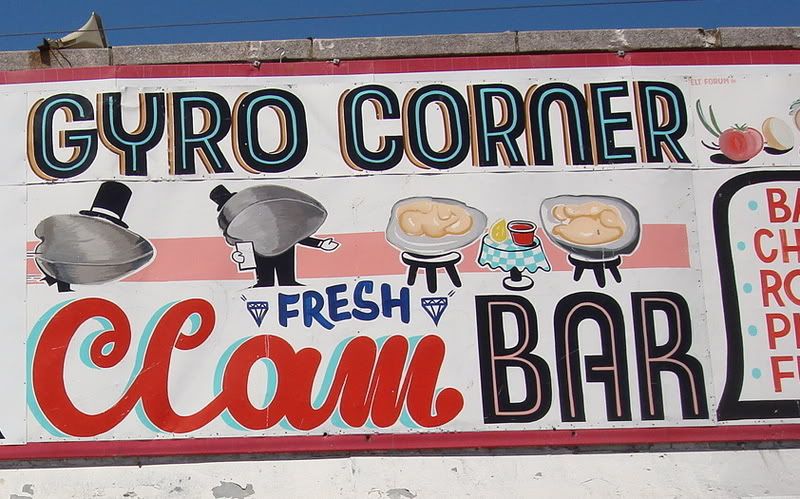 More clams were out on the town at the Gyro Corner...
...where I gather Joey is a regular.
I don't know what

mozzarepa

is, but this sign almost makes it sound good.
Around and About Coney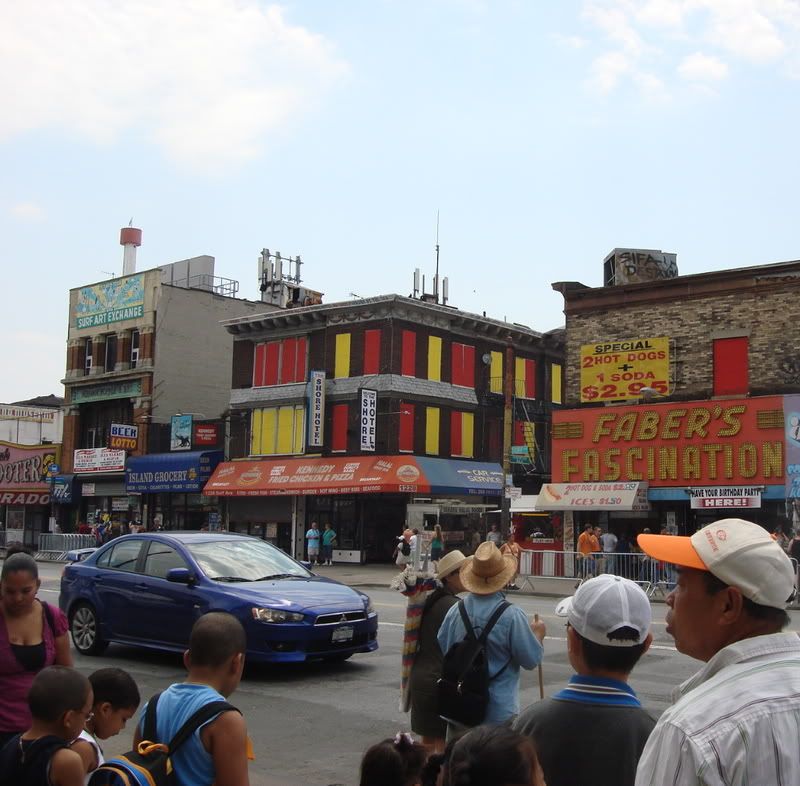 'Faber's Fascination' strikes me as a great name for something.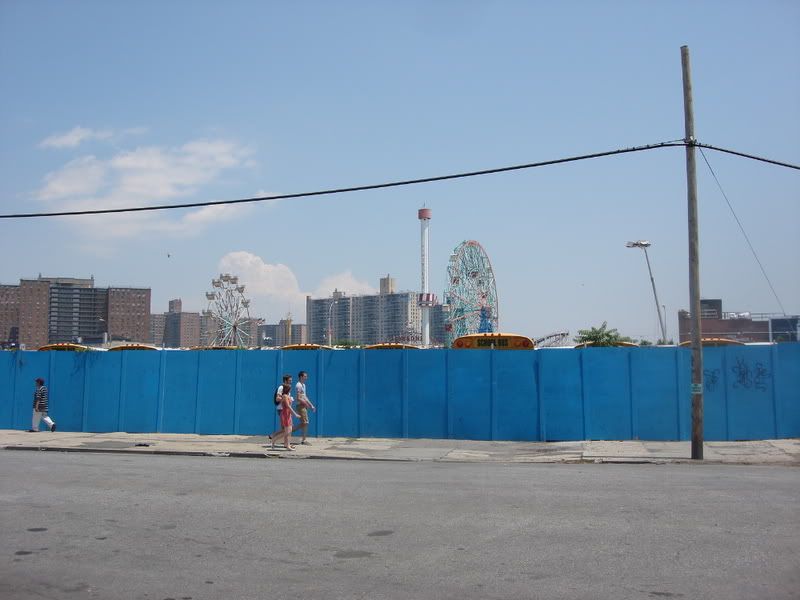 Yes, of course we had Nathan's again.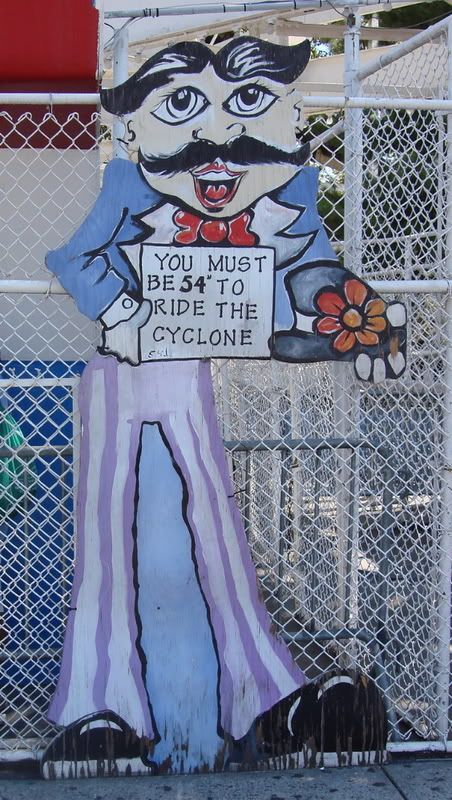 Coming soon...actual knitting content!