My mom went to a neighbor's garage sale and came back with a huge bag of goodies for me. I may have said already that pastels are not my favorite, but I'm not complaining about this score: six skeins of Dreambaby DK 104 (pale yellow) and eight of Dreambaby Kokonut 504 (kind of a soft confetti on white).
Also shown is my first attempt at lace with the
Branching Out
scarf. Not sure lace is my thing (at least for now), but I did want to try it. On the third repeat I missed a row, hence the weirdness of the leaves below the needle. Think I'm done with lace for now. It requires too much concentration for me (i.e. close attention to every other row), unlike cable, which only demands it every, say, 6 or 8 rows.
Anyway, for $10 my mom not only got all that yarn, but also some nice notions, like 29-inch size 15 bamboo circulars and the fanciest crochet hook I've ever seen. Cool!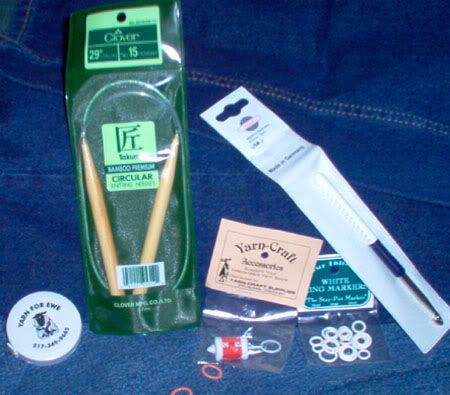 After giving up on the lace for the moment (not crazy about pastel yellow anyway), I decided to make a critter blanket for Rebekah's
charity pet drive
. Wanted to post a picture of blankie-in-progress, but in flew interference in small feline form: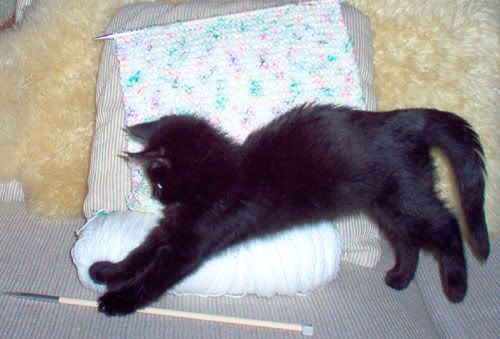 For the critter blanket, I used a strand of the Dreambaby Kokonut held together with a strand of some old off-white Red Heart yarn my mom had lying around. It's knitting up quick and easy on 10 1/2 needles in mindless garter stitch while I watch late-nite tv.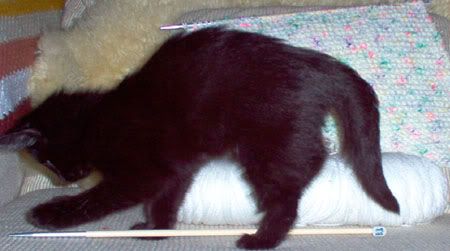 But as you can see, I have to wait until the kitten shuts down to knit. She can be momentarily distracted by other toys, but nothing is as much fun as wiggly yarn or flashy needles, especially these metal-tipped ones. Speaking of which, does anyone know where you can find such needles these days? This pair dates from my
first knitting project
(and until very recently, my last knitting project) some 20 years ago, but I love them. They're Phildars. Can anyone tell me if they'd be like
these
?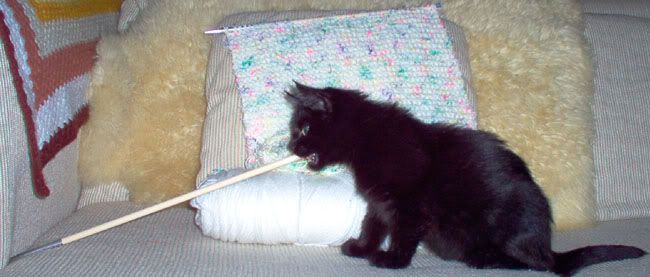 I'm trying to learn to knit with minimal movement, but Isis is not easily fooled. And here I am, thinking of getting
another
kitten. (Four will make me officially "crazy cat lady," won't it?) I'll
never
get anything done. Oh, but look! How adorable! Demon-spawn turns into good-kitty.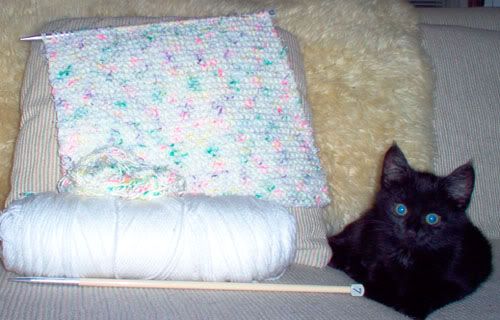 Oh, and today (June 4) is my birthday. Hooray! We had some friends over last night with a chocolate cake my spouse decorated with a big ball of yarn on it. *giggle* (No, silly, not
real
yarn -- the frosting from my name turned into a ball of icing yarn. Yummy!) My mom brought over a beautiful bouquet of irises from her garden. It's all good. Really good!