I wanted to share a quick shot of my mom's old stash of knitting mags--three Boye/Columbia-Minervas from the late 50s, a Bernat from 1958, and two more Coats and Clark's from the early 60s. There are also two "101 Sweaters" Issues from Womens Day (1971 and 1973, not shown above)--but alas, no bikinis or speedos to be found there.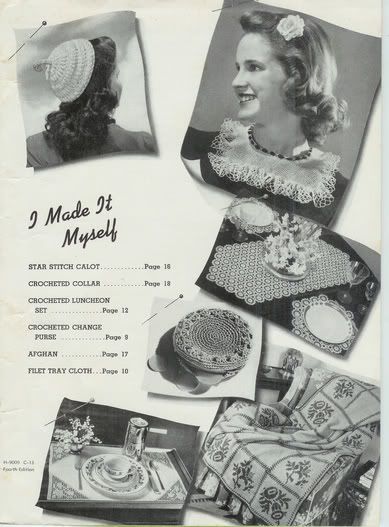 The green book at top left is actually my grandmother's 1941 "Learn How Book"--a slim 50-page volume with instuctions to teach yourself knitting, crochet, tatting, AND embroidery. In case you didn't believe me, here's a page from the inside. All for 10 cents! I like that little hat at the top left--I assume that's the "Star Stitch Calot." Does "calot" mean hat? I looked it up, but
calot
is not in my English dictionary. (However, turns out it's in the French dictionary.
Calot
means "large marble." Hmm...Oh wait.
Calotte
means "skullcap." And just in case you ever need to know,
calotte glaciaire
means "ice cap." Beacuse, you know, there are so many of those in France.)
I didn't bother to photograph what I found to be the two scariest issues, a 1987 Phildar sweater booklet (knitwear really should have neither puffy sleeves nor shoulder pads) and a 1995 McCalls crochet mag (imho, sweaters should not be quite
that
colorful, nor be knee-length). But it's okay, I don't know how to crochet anyway. Of course, with the Learn How Book, I have no excuse anymore, do I?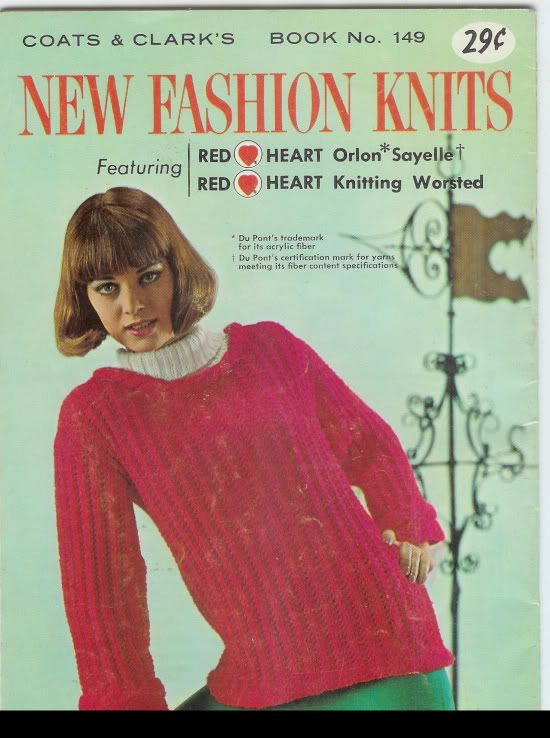 I've mentioned elsewhere that my very favorite sweater is a gold cable-trim pullover that my mom knit for herself in the sixties and gave me a few years back. She dug out the pattern for me a couple months ago and this is it. See how cool the sleeves are? I still love this sweater, and aside from needing a little hem repair, it looks like new, even after forty years of wear.
Another favorite of mine is a poncho my aunt knit for my mom when she was in college (also in the 60s--sorry mom! I apologize to you in advance if anyone does the math). So, fellow fiber friends, you can see that your handknits really are destined to become heirlooms with possible generations of longevity.
P.S. I really did not ask Isis to act like Chaos and pose in all my pictures. She just keeps getting in them, one way or another. The only reason she isn't in the page scans is that she didn't fit under the scanner cover.