Thanks to all of y'all for all of your good healing energy and loving thoughts. Mr. O'Kitten flew back home for the holidays and is now in the hospital in NYC. Maybe the doctors out there will figure out something that the Michigan doctors haven't been able to. Fingers and paws all crossed for luck and healing here.
Meanwhile, I took refuge at the
Spinning Loft
with
Spinning Spider Jenny
(she was so wonderful and what a treat to make a new friend and learn SO much) and dear friends like
Beth
and the new spinning buddies that I made over the weekend. This has been my thread to sanity and thank the spinning goddesses or I'd likely be in the hospital by now, too.
There are pics of our Wool Shop Sleepover and other excitement
here
at Beth's blog, including what seems like an inordinate number of pictures of me making funny faces and gesticulating wildly and the like. But all in all you can see what a fantastic time we had -- at least I suppose you can; maybe you just had to be there.
Since I didn't take my camera to the Spinning Loft--not even last night when Sean and I went to see Michelle's
baby bunnies
--I will insert here some of my birds. You know, just for fun.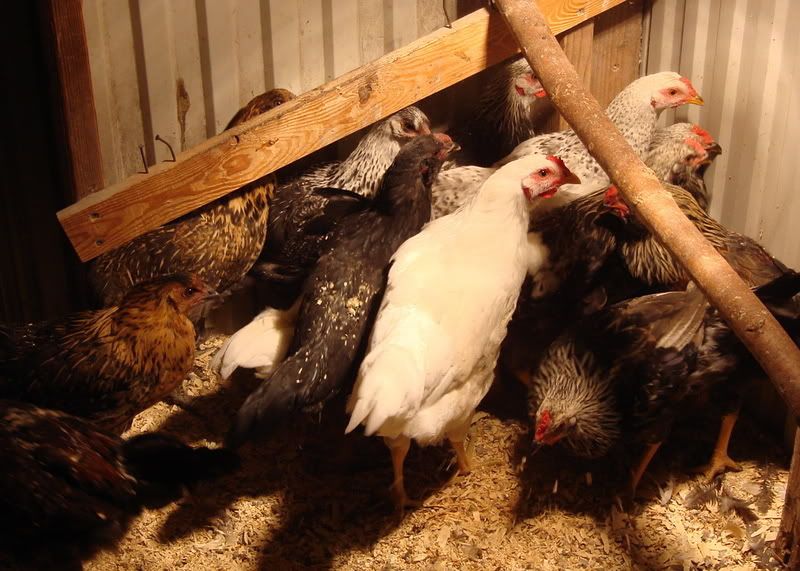 These are my last incubator hatch. The black one with white speckles in the middle was an unusual all-black chick that Mr. O'Kitten named Johnny Cash.
They are getting very big already; I've heard a couple of them trying to crow.
Now I have to go and do my profile and stuff on Ravelry at long last because that's what all the cool kids are doing. My ravelry name is okitten if you wanna find me there. Woo-hoo!