I'm home safely, belly full and fiber happy. Tomorrow (Saturday 12/1) at the
Spinning Loft
Beth
is celebrating her one-year
anniversary
with snacks, lots of door prizes, and gifties for everyone, so I'll be there all day for the Open House. Should be fun.
I'm too lazy to get my camera out, so you're getting recycled photos. That's me on our honeymoon trip to New Mexico in 2002. We went to Roswell, if you hadn't guessed. Because, you know, if you're in NM, you just have to go to Roswell.
I've been talking to Mr. O'Kitten every night and getting long letters from him. He sounds like he's making some improvement and may get out in about a week. We all have our fingers and paws crossed here.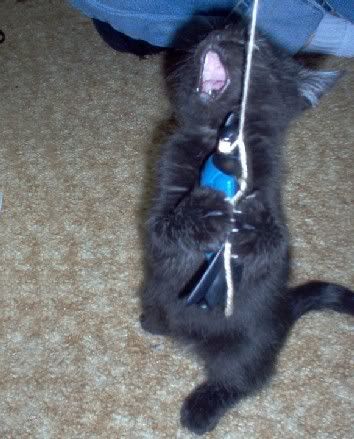 This is one of my favorite pictures of Isis. She was very small back then. Of course, she is quite big now. But I still love this photo. She is fearsome despite her small stature. She already had the enormous feet, though.
Lately she's been sleeping stretched out next to me under the covers. She kneads me with her oversized paws and purrs until she falls asleep. Sometimes she does that little twitching-in-her-dreams thing. I love that. Emma sleeps next to my pillow, facing Mr. O'Kitten's pillow. She keeps looking at me expectantly, as if I could just bring him home by wishing it so. Ah, if only.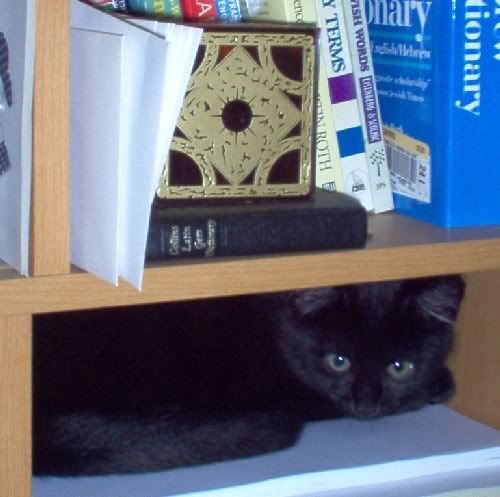 Friday Night Videos
While watching
The Wombats
over and over again last weekend, I was recalling how much I've always liked videos. When MTV went on the air way back when, we didn't have cable at my house. In fact, we only had four channels--ABC, CBS, NBC, and PBS (which was on another dial and usually rather fuzzy).
Hard to imagine this now when TV comes in the
hundreds
of channels. Not that there's anything better to watch than X-Files and CSI re-runs anyway. But I digress.
I was saved from my cable-less predicament (and hence, no MTV) by the advent of
Friday Night Videos
in 1983. For a full 90 minutes late Friday night, and on regular network television at that, I could watch Duran Duran prowl the jungle
Hungry Like the Wolf
and see Kim Carnes'
Betty Davis Eyes
. It was a godsend.
So, now--thanks to YouTube and this interweb thingamajig--I will inflict upon you my own Friday Night Video, which you can expect to be a regular O'Kitten feature (as much as I can manage to do anything regularly).
This week's feature is The White Stripes' "I Fell in Love With A Girl" and it renewed my hope for video a couple years back. And who doesn't love
Legos
?