Yes, it's Obsidian Kitten. If you haven't been with me for awhile, you may well be wondering what obsidian actually is. I once attempted to explain, with many pictures,
here
.
I lost a bit of my excitement about Ravelry when I realized I needed to upload all my photos to Flickr. Yes, I have a Flickr account. No, there is nothing in it. Yet.
For those of you who were sweet enough to make the lonely okitten your friend on Ravelry, I thank you--a bunch. Because now I have some Ravelry friends and I feel like one of the cool kids. Very soon I'll be able to move that silly list of FO's cluttering up my sidebar over there to Ravelry...as soon as I put the pics in Flickr. Feh.
Instead of playing with Ravelry today, I engaged in some fall housecleaning. I did laundry (even sheets and bathmat) and ran around the house with big black trash bags throwing things out. Even bedroom closets and under the bed. You know, worn out clothes and pants X sizes too big and thrift store shoes I never wore. I even hit the basement and cleaned the litter boxes. I actually had to run to the grocery store for more trash bags. It was
that
kind of a fit.
Emma always likes to help with the laundry.
And guess what? I have 100 hearts on etsy -- kind of a nice landmark to hit...it means that 100 etsians have bookmarked obsidiankitten.etsy.com. I haven't had many sales lately, but neither have I added anything new to
the shop
in awhile. If I could just get myself together enough to get my camera out, I do have a lot of new things to add, especially since I didn't really sell anything at the craft sale the other weekend. Things (including a funny holiday tree) kind of like this: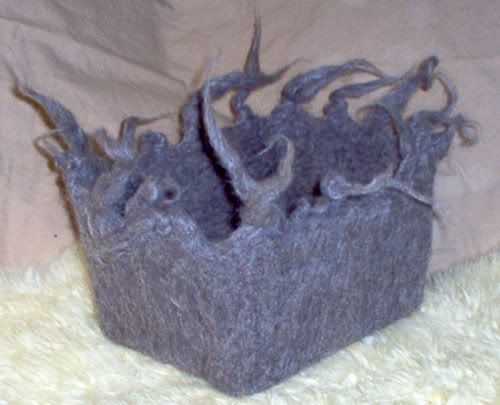 By the way, I've been talking to Mr. O'Kitten every day and he is sounding a bit better with each day that passes. Thanks to all of y'all for your many well-wishes and good healing energy. It must be working, so please keep it coming.
Now I must to bed because tomorrow I'll be at the
Spinning Loft
enjoying the company of my dear
Beth
and attending to (hopefully) some holiday shoppers. Plus--there'll be spinning. And thank goodness for that.