Look! Do you see it? Yep, the grass is actually beginning to turn that colour that I believe is commonly referred to as green. If you look closely (or make the pic bigger) you can just see Graty and Llannie back there in the pasture finding some of it to eat.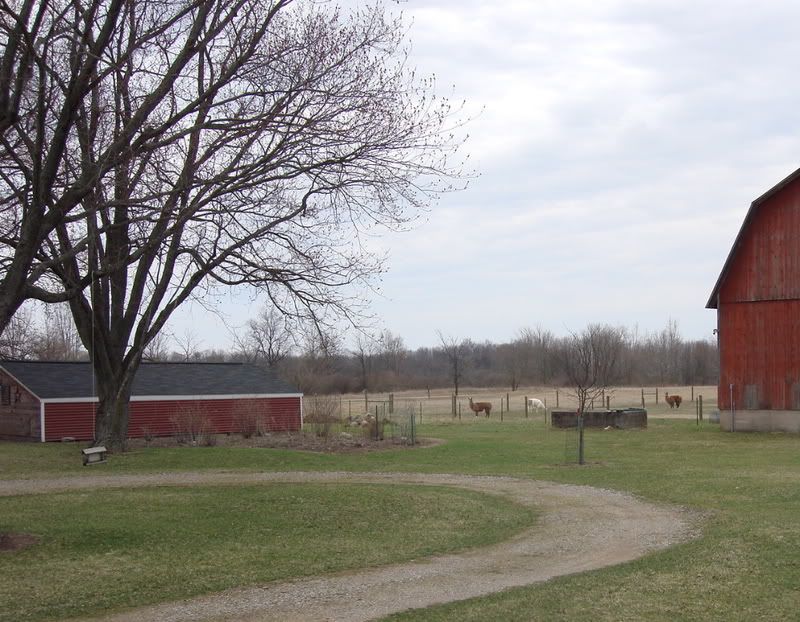 Lacey, Pepper, and Switzer are out grazing, too, so there must be more of it on this side of the barn. So it's 40 degrees F/5 C (and raining now, too), but still. It's a start.
Indoor cats don't seem to care what the temperature is outside. Precipitation doesn't affect them either. Lucky them. Here Emma and Morgan loll indifferently by the patio door. "Bah, weather! What weather?"
In response to my incessant complaints about the conditions outside, Isis makes this expression. "Weather? What weather?"
Before long, Emma returns to her default position--the Nap Curl.
These are the socks I just finished. The yarn is Mountain Colors Bearfoot (60% superwash wool, 25% mohair, 15% nylon) in the colorway Wilderness. Very nice.
I used Charlene Schurch's Sensational Knitted Socks book for the first time. It's a simple slipped-stitch rib pattern and it worked great except for the toe, and only because I can't do kitchener stitch. So I just used a different toe (the one I know how to do) and that worked fine.
I got this loverly hand-dyed superwash merino yarn from Bellamoden. I'm making it up into another pair of socks and it is an absolute delight to work with. And what colors! Incidentally, she blogs here--lots of knitting and cat pics. *grin*