I got a really great present from my dear friend R at
Purly Brites
. Lookee!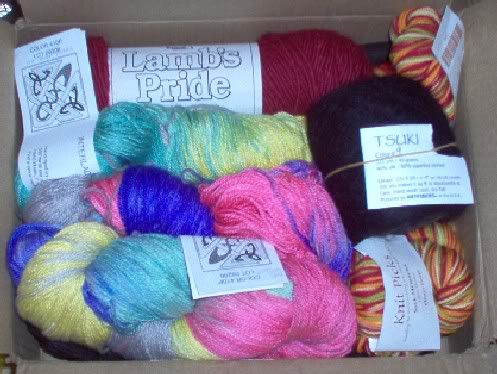 Not only did she send me her swag bag from the SF Giant's
Stitch'n'Pitch
, but she included a skein of raspberry (yum!) Lamb's Pride, 2 skeins of Knit Picks merino in a great fall colorway called "Flower Power," 515 yds. of lusciously fine silk/mohair Tsuki, and 1000 yds. of hand-dyed silk/merino from Interlacements. All these beautiful fibers and colors for me to play with!
The Stitch'n'Pitch tote is cute; it came with a pair of Clover needles (#4--handily, the one size of straight needles I didn't have), and two skeins of Caron Wintuk in SF Giants colors--orange and black which are, yes, conveniently: Halloween colors!
I leave you with a shot of treats friends brought over for dinner last night. They are little chocolate mice made out of Oreos and Hershey kisses. Eeeeek eeeek!