Or, More Superfluous Cat Pics
As soon as I get comfortable, so does the pack of animals.
This one may appear to be sleeping, but as soon as yarn or needles move,
it will awaken with a vengeance.
I've never had a polydactyl cat before. Yes, Isis has six toes on each front paw. Can you see how huge these mitts are? And six paw pads with six fully-formed front claws, perfect for swiping yarn and grabbing needles. I believe that cats have a secret plan to evolve opposable thumbs.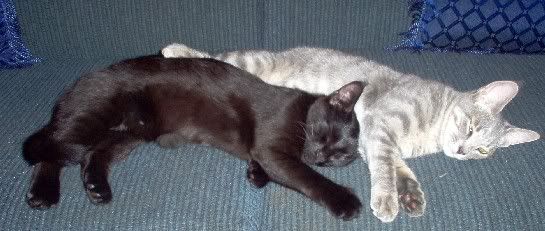 Sometimes they do sleep...
...but whenever Morgan notices I'm there, she stretches into this funny shape and starts purring like a lunatic. So most of the pics look like the above.
Once in a while I catch them unaware and then...
...Morgan remains unconscious, Isis snaps to attention and looks pretty irked.
Meanwhile, in other regions of the household...
Emma remains unimpressed with any kitten cutesiness.
Cute? You call that cute? I've got cute to spare.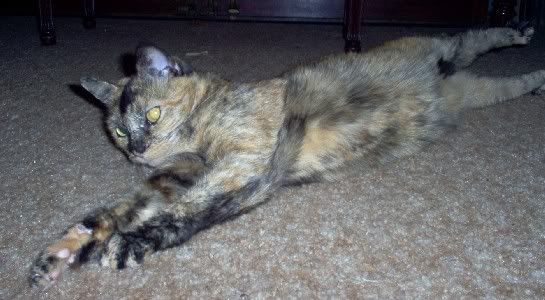 Those bratty young upstarts have nothing on me. I am and shall always remain queen of the realm. Harrumph!