...I'm Probably Lost in the Borean Tundra
I resisted for quite awhile, but I finally gave in and began playing
World of Warcraft
. Partly because it gives me something fun to do with Mr. O'Kitten, and partly because I really did think I would like it.
I must have been pretty young the first time heard about
Dungeons & Dragons
, because I remember thinking it was awfully disappointing that you couldn't actually play it in a
real
dungeon, or at least in a cave or someplace someone had made to
look
like a dungeon.
The thought of sitting around in someone's basement rolling dice and looking lots of things up in a book sounded extremely tedious to me.
But now, of course, you can go into dungeons online. And believe me, they are spectacular, as are the forests, mountains, oceans, deserts, and plains, replete with varying flora and fauna. It is really something for someone like me who still remembers Pong.
Remember
Pong
? Home Pong was released in the mid-1970s and, if you're too young to remember this moment in history, it probably sounds like a non-event. What was truly revolutionary about Pong was that it marked the first time you could actually
interact with
your television set.
Before Pong, television programming was merely broadcast into your home--and if your home was like mine, you got maybe four of five different channels. This meant that your TV set was merely a receiver for broadcasts. For the first time ever, Pong made it your TV set an
interactive
device.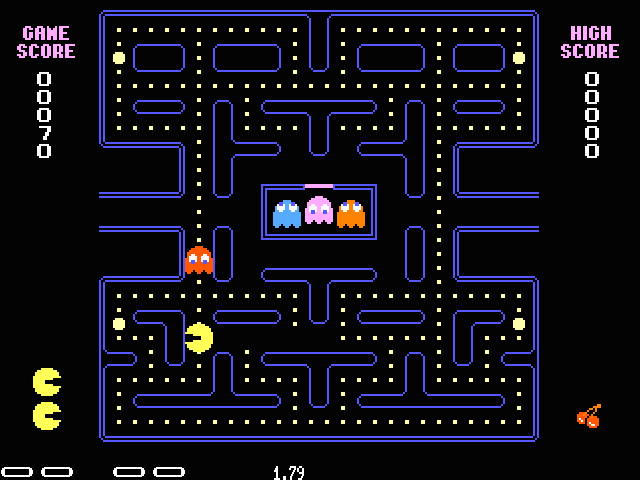 My family had Pong, but (revolutionary or not) it really was a snoozefest.
Pac-Man
, however, captured my imagination. "When Pac-Man was released [in 1980], most arcade video games in North America were primarily space shooters such as Space Invaders, Defender, or Asteroids. The most visible minority were sports games that were mostly derivative of Pong. Pac-Man succeeded by creating a new genre and appealing to both genders." I was 13, and appeal to me it did.
However, I am not of the joystick generation. Mr. O'Kitten, who is five years younger than me, is far more adept at all things arcade and videogame, from Space Invaders to Nintendo to mastering the finer points of the newer online games like
World of Warcraft
. By the time Pac-Man was installed in my local pizzeria, I just couldn't seem to develop the lightning-fast eye-hand coordination the game required. That didn't stop me from losing a few quarters, but I was never destined to become an arcade junkie.
So now I can be a big monster online. I really like being a monster--and even better, I'm a monster that can turn into a cat, which entertains me no end.