Knitting in Public
I mentioned
that I met someone with whom to knit. We got together again this week, and she'd finished the project she started when last we met. It's a lace soap sack, done up in some lovely Caron's cotton. The color is a nearly edible orange sherbert shade.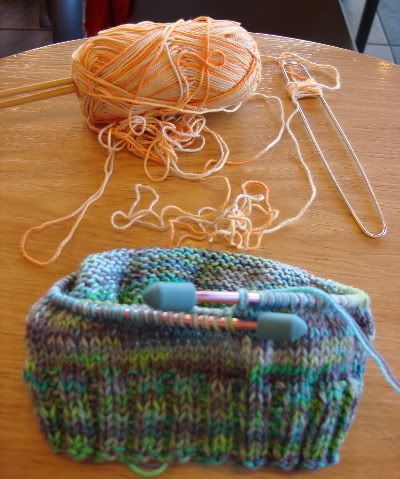 Above, the yarn she's about to cast on for a facecloth to coordinate with the soap sack. I kept working on my monster hats. Nothing like going round and round in stockinette. This one uses more of my favorites from
Yarn Lust
: her BFL held together with her merino-tencel or with KPPPM. Mmm--yummy. Now I have three hats ready for
monsterizing
, meaning that they still need their ears, eyes, and mouths. I also have two bunny hats that just want some ears.
Now for Something Completely Different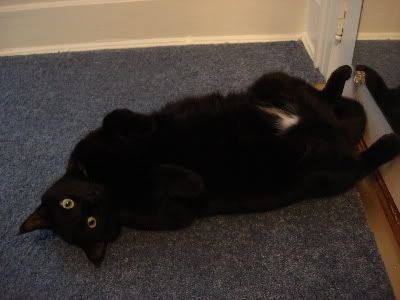 Isis shows off her voluptuous belly, marked, as it is, with a white "V" for Voluptuous. Or for Vendetta. Or Victory. Or something.

A lot of cats don't like to have their bellies rubbed, but Isis and Emma both enjoy it, and Morgan will even roll on her back and let you sneak in a belly rub or two before jumping up and darting away. I always say the belly is my favorite part of the cat. Of course, I like the velvety paws a lot, too. And the nose. But the belly is a very good part of the cat.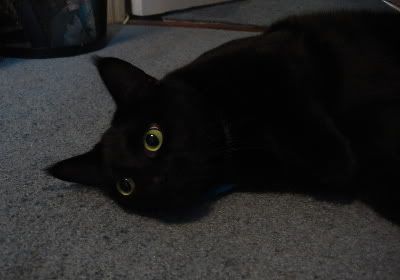 Here Isis continues to mug for the camera; as you can see, she's quite the ham. Meanwhile, I can barely get Emma to look at the camera, and Morgan will scarcely stop moving long enough for me to get her picture.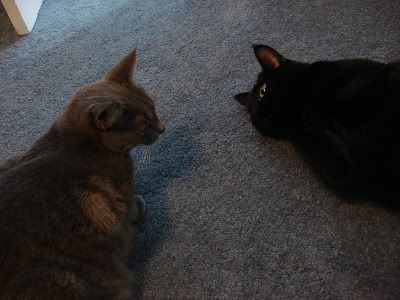 Isis: Don't hate me because I'm beautiful.
Morgan: Actually, I was just thinking that you're a huge ham.
Emphasis on

huge

. So there, you big ham.