On Socks
I finished the Conwy socks just in time for my mom's birthday--though not in time to block them, so they'd look better in the photos if they'd been washed and blocked.
I only did the twisted stitch pattern around the cuff, but I liked it that way. Rosalynn's Sinful Signature yarn (a hand-dyed merino-tencel blend--ooh, shiny!) looked so great in the p1,k3,p1,k1 rib that I used that for the body of the socks.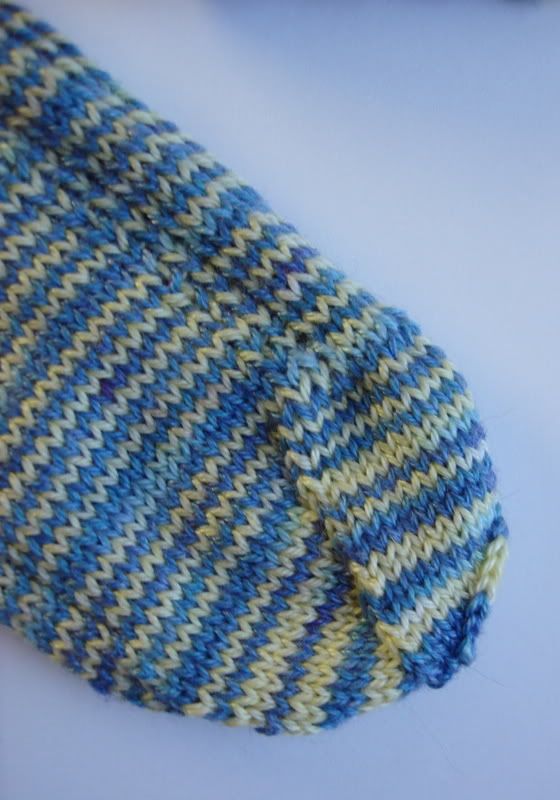 The pattern is from Nancy Bush's Knitting on the Road: Sock Patterns for the Traveling Knitter.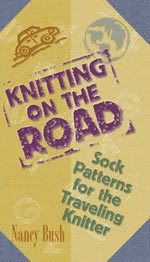 I've since started another pair of Friday Harbor socks from this same book for myself, because I love this pattern. I finished the first one in two days. (You'll find out below how that miracle happened.) Here you can learn why the Yarn Harlot loves Nancy Bush. Many thanks to Alison for sending me this book!
My mom seemed to like them...
On Spinning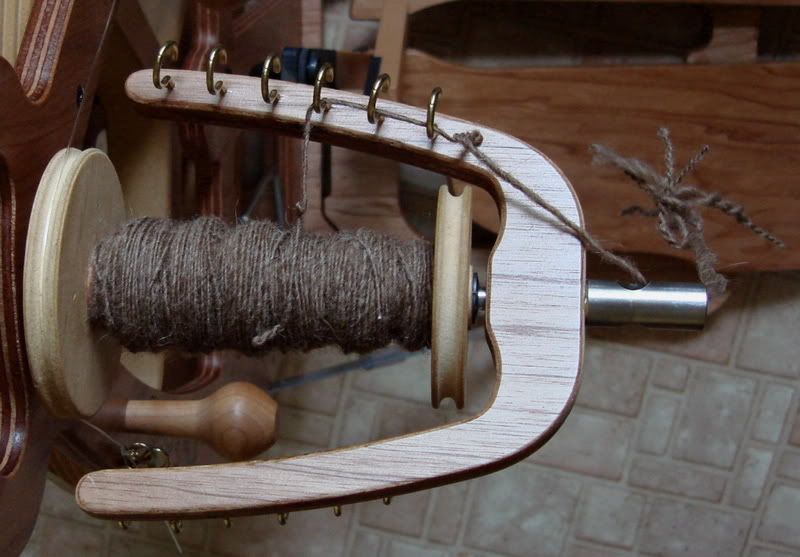 I've been busy spinning lately. This is the Lacey-Switzer-Shetland blend on the bobbin.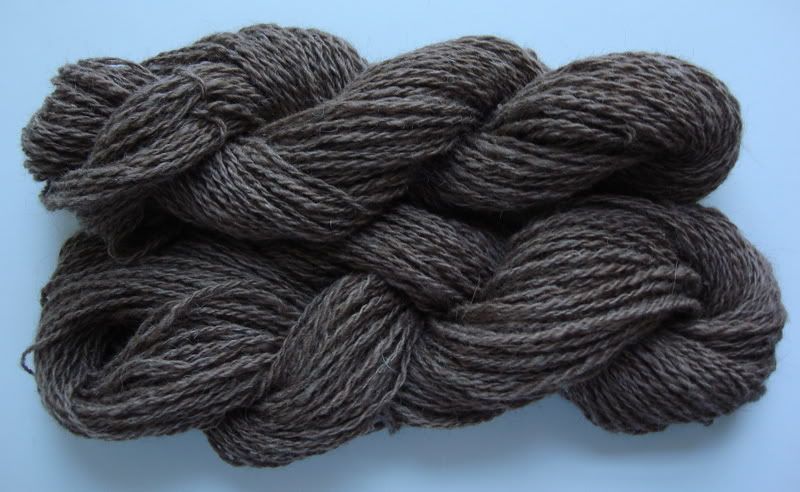 And here it is spun. I love the brown-sugary color. This is a two-ply. My spinning is finally getting more consistent, and I'm really happy with this yarn. Beth says I must be a llama-spinner.
Here's Llannie and black shetland...
...and a bobbin full. It doesn't look terribly impressive in the picture, just a big black blob, but I had to post it because I'm very proud of it. So feel free to pretend it looks like something, or just use your imagination.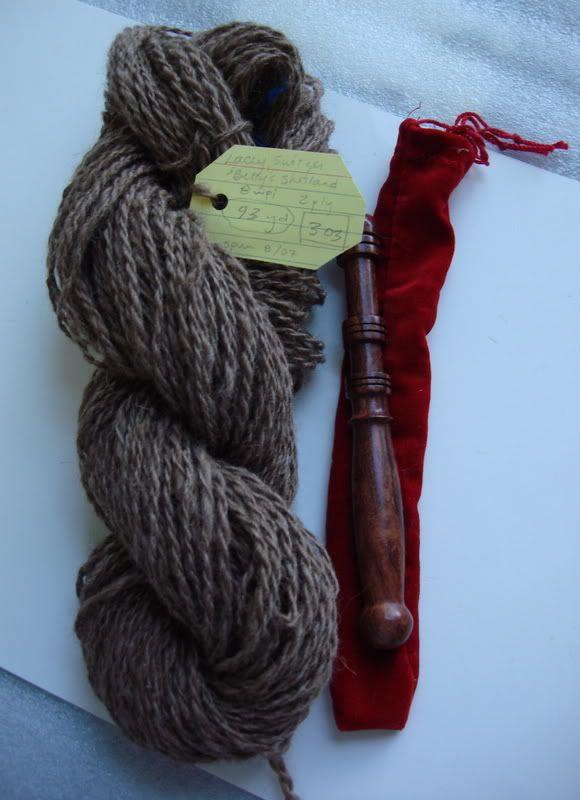 The thing on the right is a wraps-per-inch thingie. Isn't it beautiful? Made by Fancy Kitty (who also makes gorgeous carders), I got it at the Spinning Loft. The Lacey yarn is 8 wraps per inch.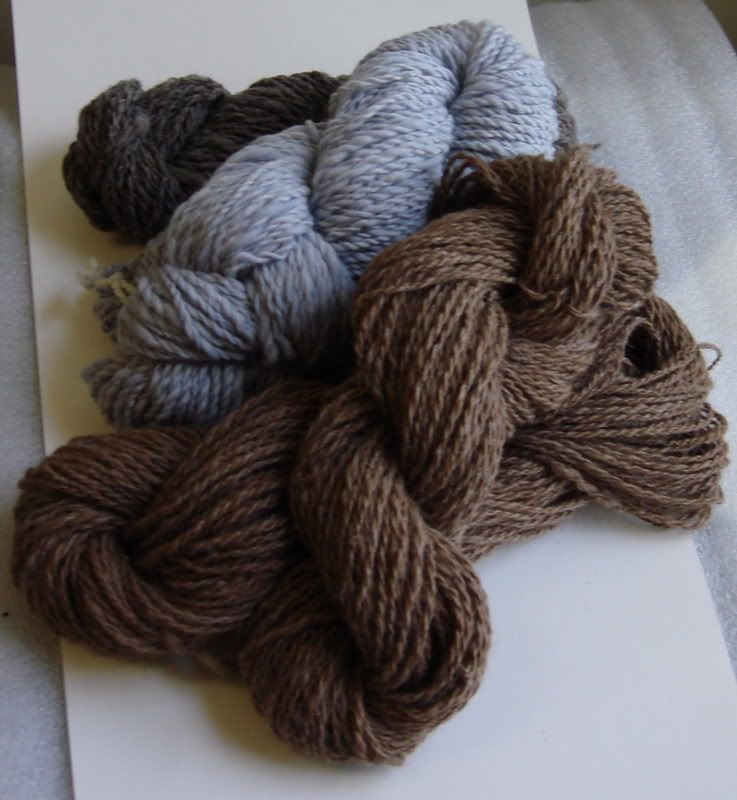 From back to front: corriedale I spun for my breeds class at the Spinning Loft, two skeins of lavender merino, and two skeins of Lacey (this photo shows them truest to color).
On Smoking (or Not)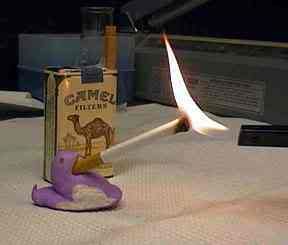 So--you may be wondering--how is that she's doing all of this spinning and knitting? Where does she find the time?
Well, this week I quit smoking. Today is Day 4. And I have to have something to do with my hands at all times or I'm absolutely crazy and cranky and crabby and...well, I knit a sock and spun a lot of yarn and am trying very hard not to inflict myself on other human beings at this time because (1) I am a ticking time bomb and (2) interaction with other human beings is challenging and makes me want to smoke.
So does:
My first cup of coffee
All subsequent cups of coffee
TV commercials
Any annoyance, minor or major
Leaving the house
Returning to the house
Being on the computer (well, Mr. O'Kitten's puter anyway, fortunately not mine)
Driving
Finishing any task (you know, doing the dishes, feeding the animals, etc. because any little thing should be rewarded with a smoke break)
Talking on the phone
Pausing to think
So I haven't even been on my computer (aside from checking the etsy shop very quickly) for the past few days for fear it would make me want to smoke. I've been sitting in front of the TV (a safe place, as we only smoke in Mr. O'Kitten's room) knitting and spinning like a fiend.
We're trying something new, a drug called
Chantix
, that addresses the need for dopamine in your system, as well as somehow blocks nicotine from cigarettes.
Anyway, Day 4 here. Wish me luck...I really don't want to be a smoking peep forever.